Better-for-you Banana Pancakes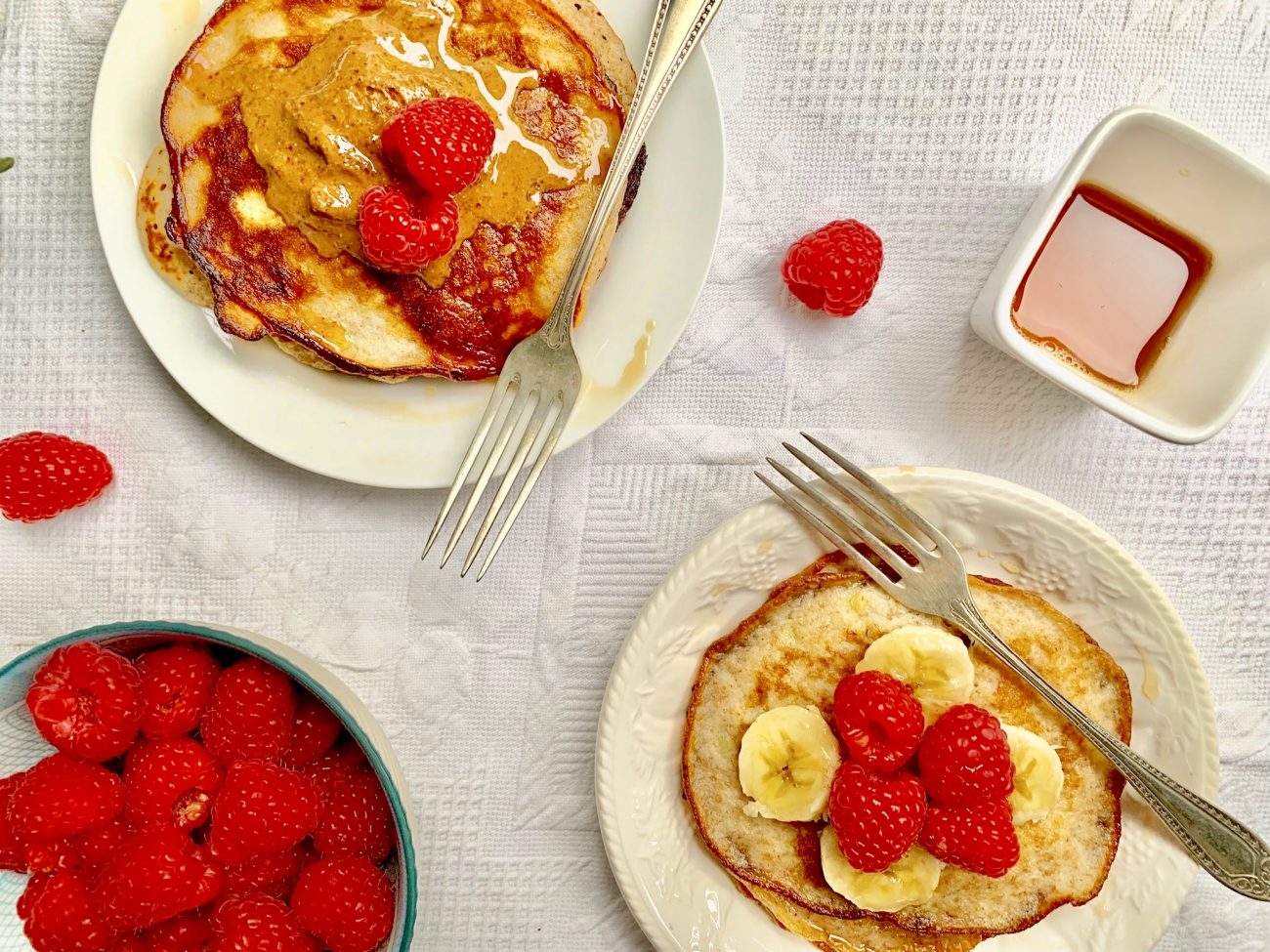 I am very much a breakfast person and I need something to keep me full all morning to prevent me from snacking at night. My go to is scrambled eggs on toast with avocado. It is so satisfying but I really fancied something sweet today.
It's been a while since my last post, it's been a busy couple of months with school holidays and a trip to France. During the holidays my son has entered a very fussy eating stage. I'm trying not to pay much attention and just let him eat when he wants to however he has started to even refuse his breakfast! So I needed to mix things up a bit and keep him interested. Pancakes were the answer.
I always make wholemeal pancakes and use a very simple recipe of 100g flour 2 eggs and 300ml of milk however I find they are pretty tasteless and thin. Thin and crispy is nice but I really longed for the thick American style pancake. I found Cookie and Kate's wholemeal and banana pancakes and adjusted the recipe. I discovered that the baking powder was the key to thicker, lighter and fluffier pancakes. As soon as the batter hit the hot pan I could immediately see the baking powder working.
I would usually add banana and maple syrup/honey to the pancakes as a topper but adding it into the batter made such a difference. The pancake was so sweet and the banana added a really nice texture.
Pancake tip: Less heat is better. There is nothing more heartbreaking than turning that pancake over and it's burnt.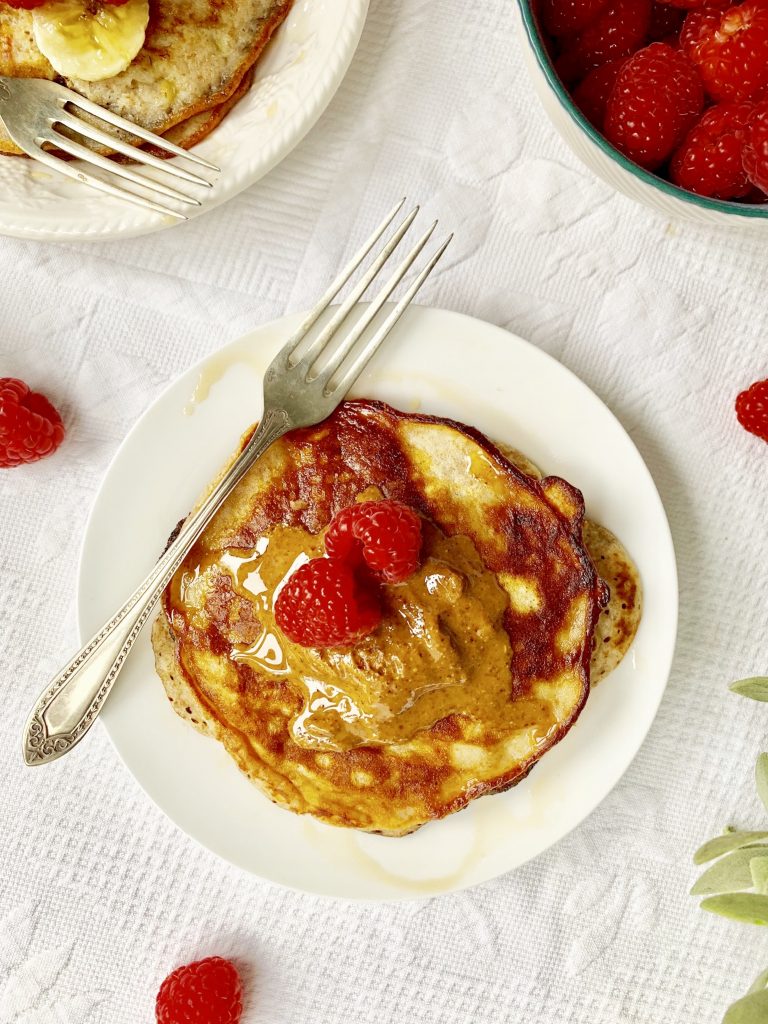 Prep Time: 10 minutes Cook Time: 15 minutes Total Time: 25 minutes Yield: 7 – 9
Ingredients
100g wholewheat flour
1 large egg
300ml almond milk (Any other milk will work)
1 ripe mashed banana
2 tablespoons honey
2 teaspoons baking powder
Coconut oil/butter
Toppings (I used almond butter, raspberries, maple syrup and banana)
Instructions
Weigh out the flour and sieve if needed. Sieve the baking powder into the flour.
Measure out the milk and crack the egg into it.
Add the honey to the milk also then whisk until combined. Dont over whisk or use an electric whisk as it will make the pancake rubbery.
Add the flour and baking powder mixture into the milk mixture, then whisk just until there are no lumps.
Put a frying pan on a low-medium heat. Add a small teaspoon of coconut oil.
Once the coconut oil is melted pour in a bit of the batter. If it's sizzling too much turn the heat down a little. It's all about getting the level heat right. Leave for 2 minutes. Once you can see it is golden around the edge and on top of the mixture it starts to look set about an inch in from the edge (The middle will still look raw) you can flip.
Now you will be able to see if it is successful by the colour. It should be golden. I always burn mine a little but i'm working on that. Slow and steady is the trick.
Cook for a further minute or 2.
Repeat the process until all of the batter is used. Wipe the pan with a paper towl every time to prevent the oil burning.
Layer them on top of each other other and top with your favourite toppings. Almond butter, raspberries and maple syrup is my favourite.
When I tasted these pancakes I couldn't believe what I had been missing out on. The texture is absolutely delicious. The honey and banana in the batter makes it so sweet. Literally a mouthful of heaven. What a special breakfast and my kids loved them.