Strawberry & White Chocolate Cupcakes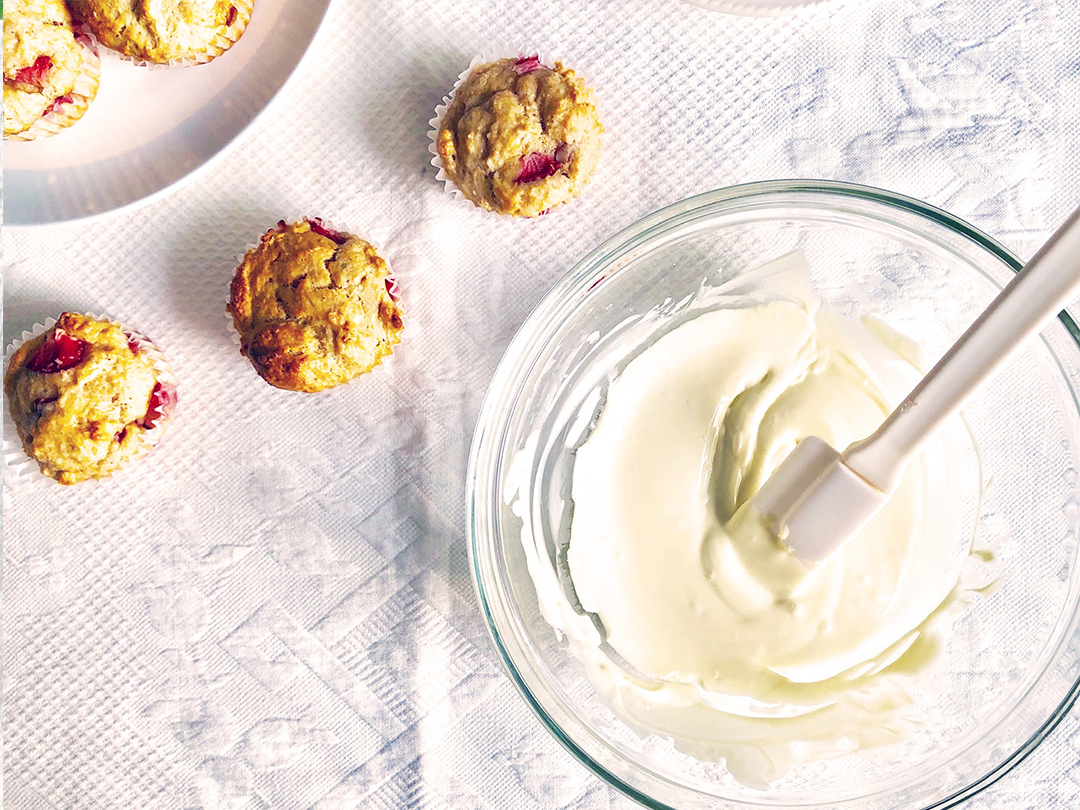 I once made these for a friends wedding however the naughty kind with butter, sugar and more butter on top. They were seriously amazing and my favourite cupcake flavour. With freshly chopped strawberries the taste is like no other.
I am such a berry lover, raspberries, blueberries, strawberries, blackberries, cranberries give them all to me. I eat berries everyday. I'm addicted to the sweetness and the superfood value. Will smith was once asked how he looks so young and he responded with "fruits and berries" so i'm hoping when i'm 50 it will pay off.
These cupcakes are a much lighter and healthier version of the ones I made for the wedding. Lately I pretty much always use coconut oil and honey as a substitute for butter and sugar and as the white chocolate and strawberry flavour is so sweet and light anyway I thought the coconut oil and honey would be a match made in heaven.
For the frosting I have used light cream cheese with not a whole load of white chocolate, just the perfect amount to really taste it. I also added half a strawberry on top for a pop of fruitiness, it really brought the whole thing together.
I literally ate about 10 of these in 24 hours so its a good job they're on the lighter side…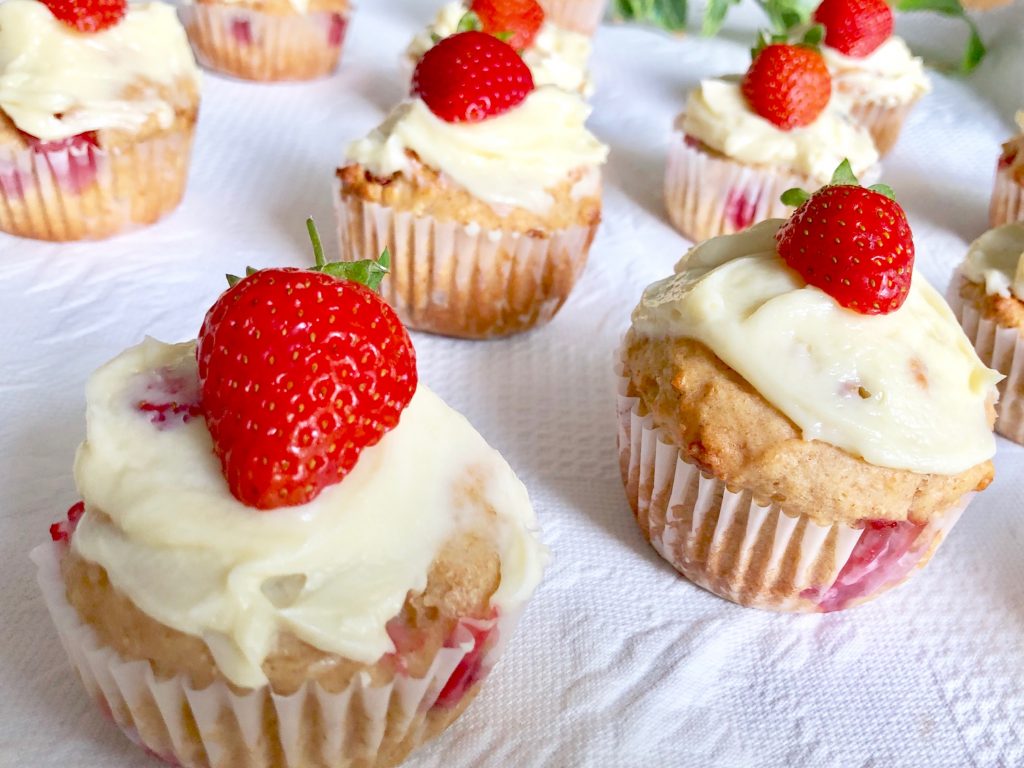 Prep Time: 30 minutes Cook Time: 20 minutes Total Time: 50 minutes Yield: 12 – 16
Ingredients
For the cupcakes
150g self raising flour
150g self raising wholemeal flour
50 grams coconut oil (melted and cooled slightly)
170g (1/2 cup) honey
125g (1/2 cup) natural/greek yoghurt
2 eggs
1 teaspoon vanilla extract
3 tablespoons almond/soya milk
50grams fresh strawberries
For the icing
150g light cream cheese
100g good quality white chocolate
1 teaspoon vanilla
Instructions
Preheat the oven to 160°C/350°F and fill a muffin tray with cases.
Sift the two flours into a large bowl.
In a separate bowl whisk together coconut oil, honey, yoghurt, eggs, vanilla and milk. Then pour into the flour mixture, mix until combined into a batter.
Reserve around 8 small strawberries. Wash and chop the rest of the fresh strawberries into tiny chunks. Mix them through the batter.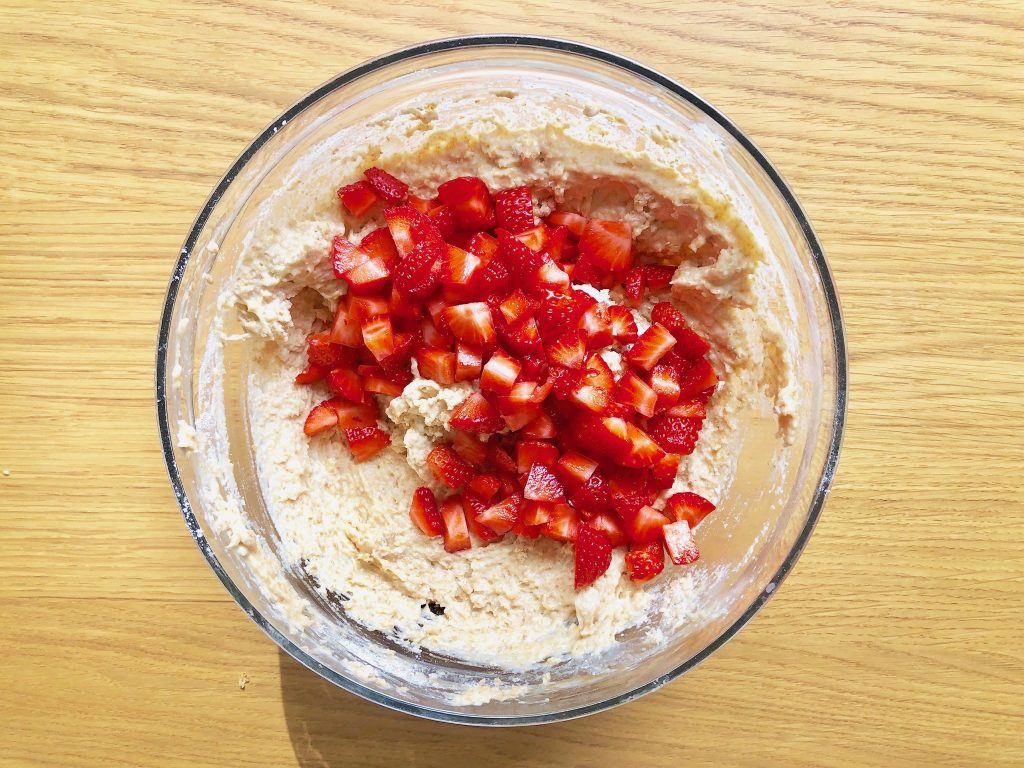 Scoop the batter into the cases until almost full.
Place the tray(s) into the oven for 20 – 25 minutes.
Once cooked allow to cool completely.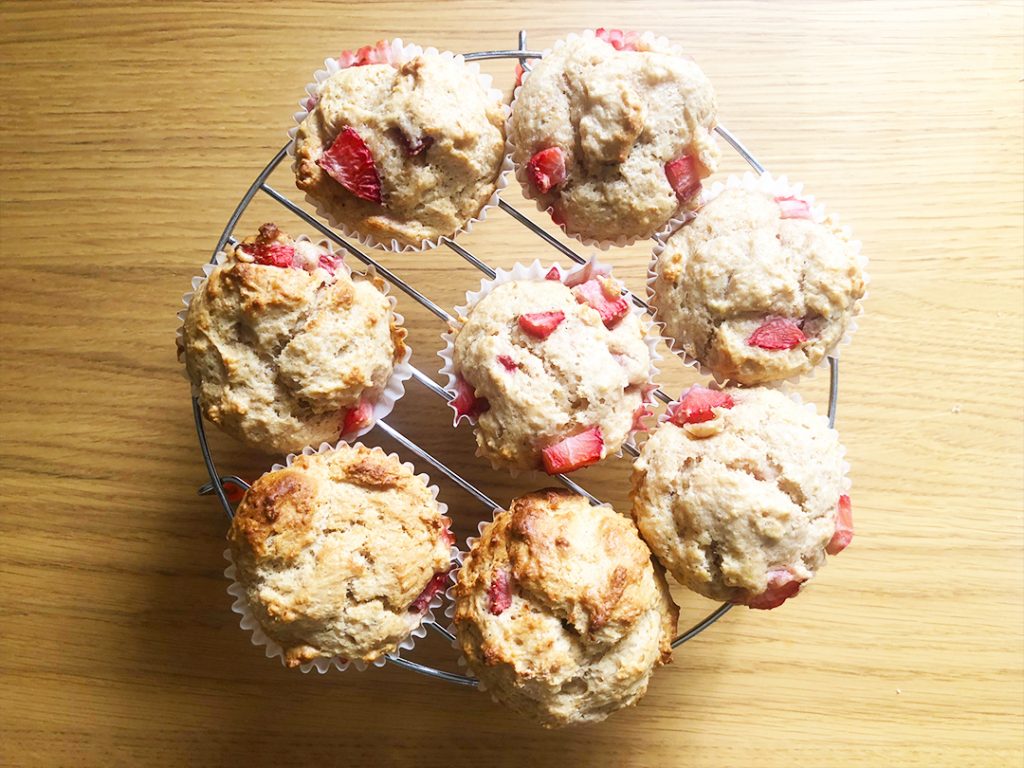 How to make the icing
Add an inch of water to a saucepan, bring to the boil then to a simmer. Put a heat proof bowl over the pan.
Break up the chocolate into the bowl and stir, gently melting the chocolate.
Once melted set aside and allow to cool slightly.
Stir in the cream cheese and vanilla.
Ice each cake with the chocolate mixture.
Half the remaining 8 strawberries and place one on top of each cake for a delicious pop of fresh strawberry. This literally completed it for me.
Yummmmmm! I made these for my boyfriend but ended up eating 12 to myself 😀