Healthier Cinnamon Rolls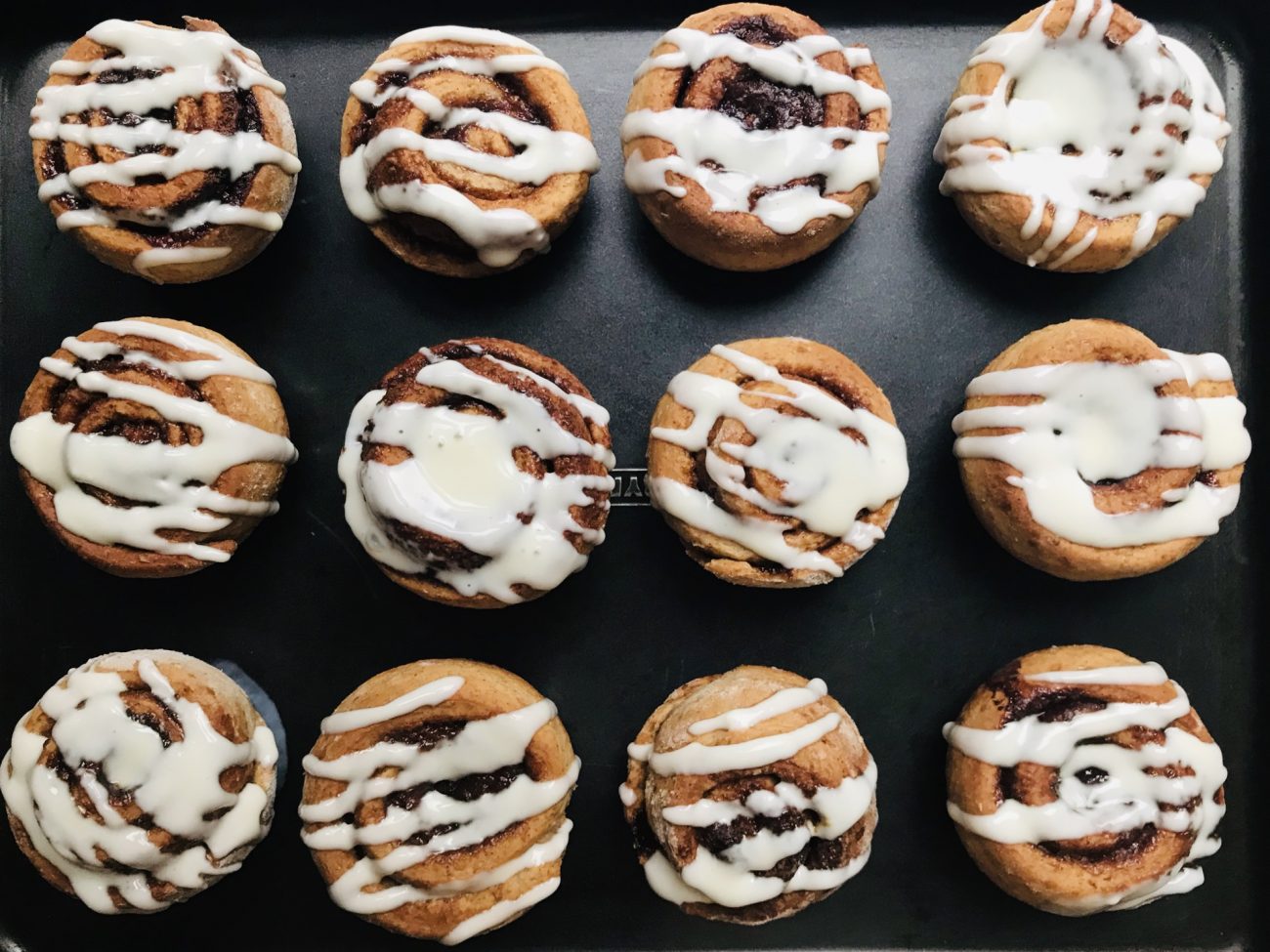 Autumn is creeping in, and I am excited. I thought i'd be sad about summer ending but when it does I'm actually so excited for the beauty of Autumn. A whole new range of seasonal fruit and vegetables and all of those wintery root vegetables and spices. Cinnamon sings autumn and winter to me so this can be my first Autumn style bake.
I noticed a cinnamon roll recipe on my absolute favourite baking blog – hummingbirdhigh.com a few weeks ago. It planted a seed in my subconscious and two weeks later I thought to myself – cinnamon rolls, I just need to make cinnamon rolls.
These cinnamon rolls are an extreme calorie improvement when comparing to traditional cinnamon rolls. These babies are made with half whole wheat flour and they ditch a load of butter and sugar. They also use pure natural ingredients like coconut sugar and pure maple syrup.
I did my research and found so many different methods and variations, which got me thinking how I can adjust a traditional recipe to make it taste amazing but as healthy as possible.
This recipe is adapted from Amy's Healthy Baking's Ultimate Healthy Cinnamon Rolls recipe. I love the idea of using coconut sugar as its caramely flavour, similar to brown sugar, goes so well with the nutty wholewheat flour and the deep cinnamon flavour. I have been looking for an opportunity to use coconut sugar.
The cream cheese glaze is inspired by the icing I used for my Maple Syrup & Parsnip Cake. Its light, tasty and subtlety sweetened by maple syrup. With only three ingredients it is so easy to make.
I'm eating one as I write this and omg its so doughy and delicious. Cinnamon is just to die for.
Make it vegan
Use almond/soya/coconut milk instead of cows milk for the dough
Use a vegan butter
Use a diary free yoghurt instead of cream cheese for the glaze. Coconut yoghurt would work very well and leave out the milk.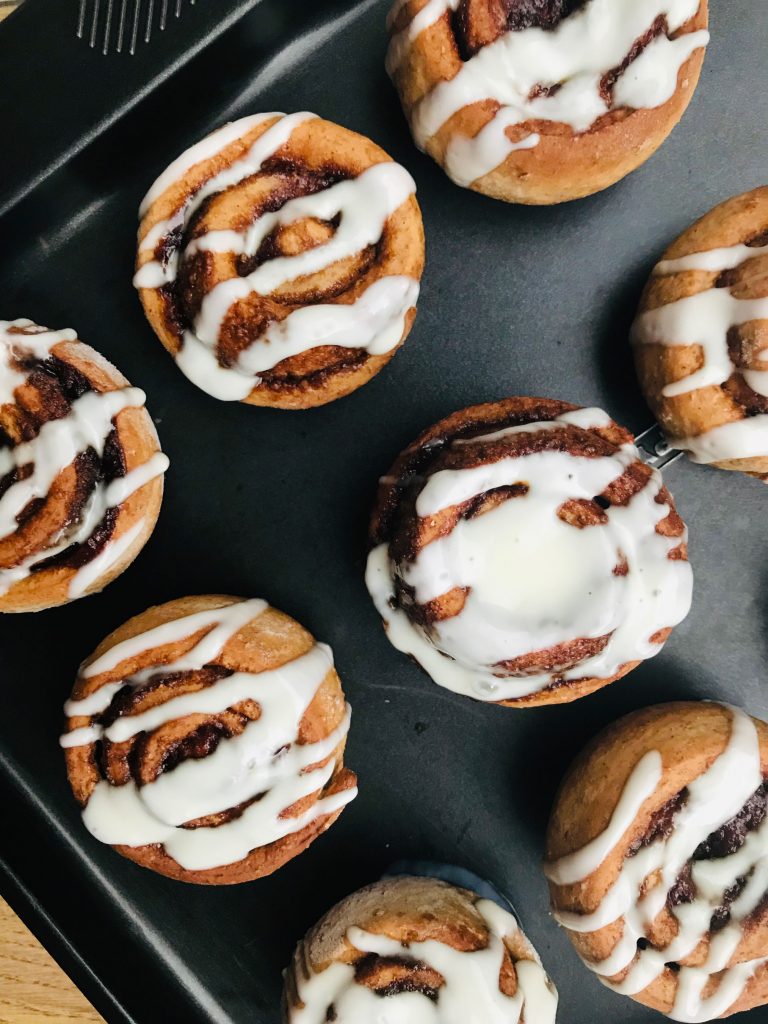 Prep Time: 2 hours 45 minutes Cook Time: 20 minutes Total Time: 3 hours 5 minutes Yield: 12 rolls
Ingredients
For the dough:
150g (1 1/3 cup) whole wheat flour
150g (1 1/3 cup) plain white flour
180ml (3/4 cup) warm semi skimmed milk (100-110°F)
20g butter melted and cooled
4 tablespoons raw maple syrup
1 tbsp (12g) raw coconut sugar
7g sachet (2 ¼ tsp) dry active yeast
½ tsp salt
1 1/2 tsp ground cinnamon
For the filling:
5 tbsp (60g) raw coconut sugar
2 tsp ground cinnamon
15g butter, melted
For the glaze:
110g light cream cheese, room temperature
1 tablespoon milk
3 tablespoons raw maple syrup
Instructions
Add the warm milk, melted butter, coconut sugar to bowl. The milk and butter should not be hot as this will kill the yeast. We want it warm, room temperature so create an environment for the yeast to activate. Stir well the milk, butter and sugar until combined. Sprinkle over the 7g sachet of yeast and leave for about 10 minutes for the yeast to activate.
Add the two flours together in a bowl, add the salt and cinnamon. Use a whisk to distribute everything evenly.
Once the yeast is activated it should make the top layer thick and throffy. It should look different.
Poor the yeast mixture into the flour mixture and add the maple syrup. Use a stand mixer with the dough attachment, on a medium speed to mix everything for 5 minutes. If you don't have a stand mixer use your hands. All of the dough ingredients should be combined now.
Very lightly oil a large bowl with olive oil. Move the ball of dough around in there to cover it with oil lightly. You can add a little more oil to the dough if needed. Cover with cling film and a tea towel. Leave it in a warm place for 90 minutes.
Once the time is nearly up melt the butter for the filling and combine the coconut sugar and cinnamon. Lightly grease a muffin tray with olive oil.
The dough now be doubled in size. Flour a clean surface and press the dough into a square shape. Use a rolling pin to roll out into a large rectangle. Approximately 12 inches wide.
Brush the melted butter onto the dough with a pastry brush. Sprinkle over all of the cinnamon mixture evenly.
Use a pizza cutter to cut 1inch thick strips. Roll them up and put each one into the muffin tray. You should get 12 rolls.
Cover the filled muffin tray with a tea towel and leave to rise again for 45 minutes.
When time is nearly up heat the oven to 175°C/350°F.
Put the rolls in for 18 – 22 minutes.
While they cook prepare the glaze. Mix together the milk, cream cheese and maple syrup. Its ready!
When the cinnamon rolls are cooked transfer them to a cooling rack. I am very impatient so I glazed them right away. I then sprinkled them with some left over cinnamon and sugar mixture.
BEAUTIFUL. I can't even express how wonderful the flavour is. I am in love. Happy Autumn.