Raw Chocolate Orange Brownie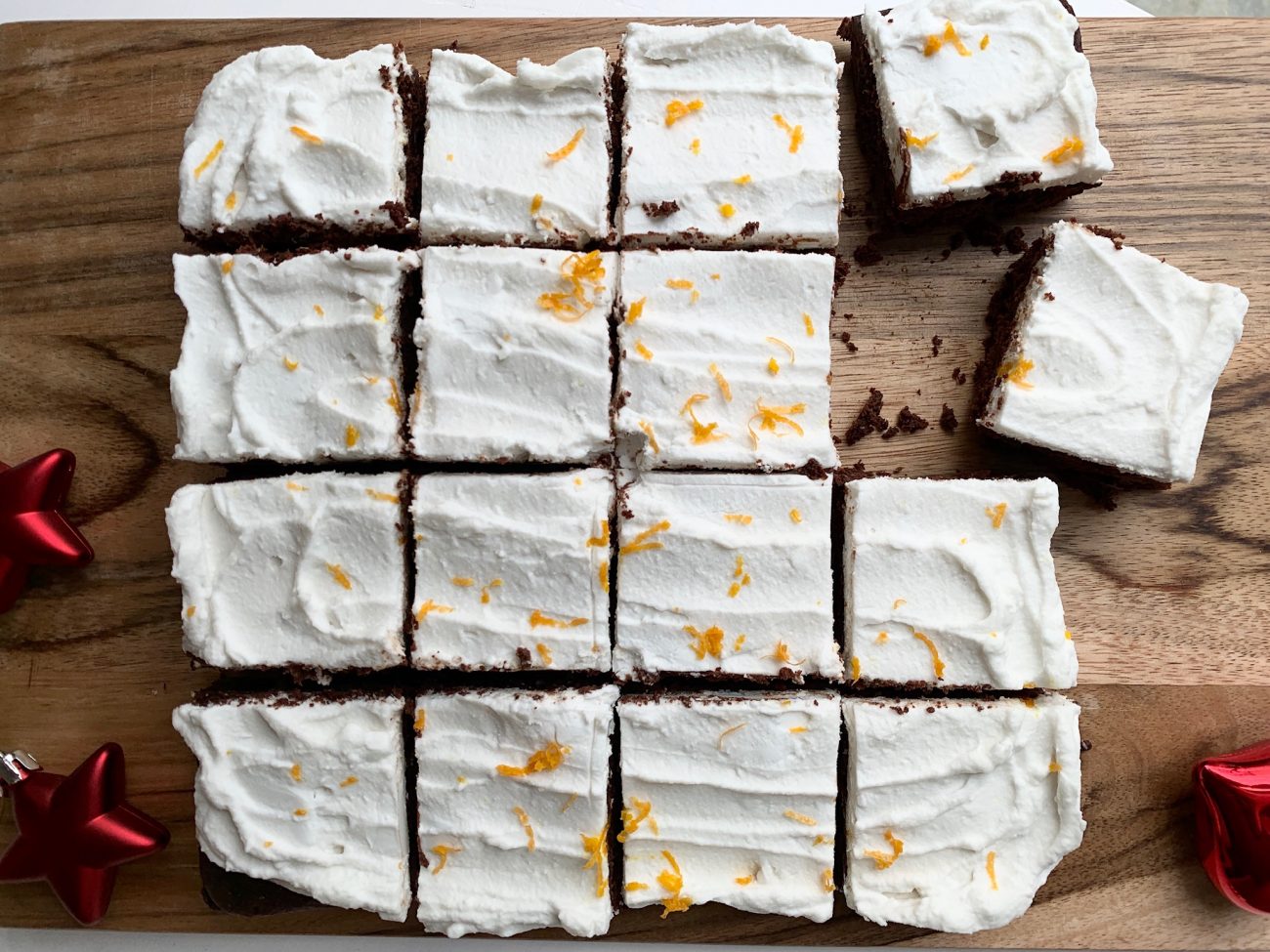 Enjoy this raw chocolate orange brownie this Christmas. Raw, decadent indulgence without the weight gain worry. For months I have been excited to experiment with all of those wonderful Christmas flavours. Ginger is one of my favourites but chocolate orange is my absolute number one. It is so rich and I only seem to indulge in this flavour around Christmas time. Also who only seems to eat Terrys chocolate orange at Christmas?
I wanted to make the most chocolatey orangey intense desert so it just had to be a brownie! Topped with an optional coconut whipped cream layer to bring another level of flavour and texture to this brownie. The contrast of the fudgey rich brownie with the light and airy coconut cream is a thing of beauty.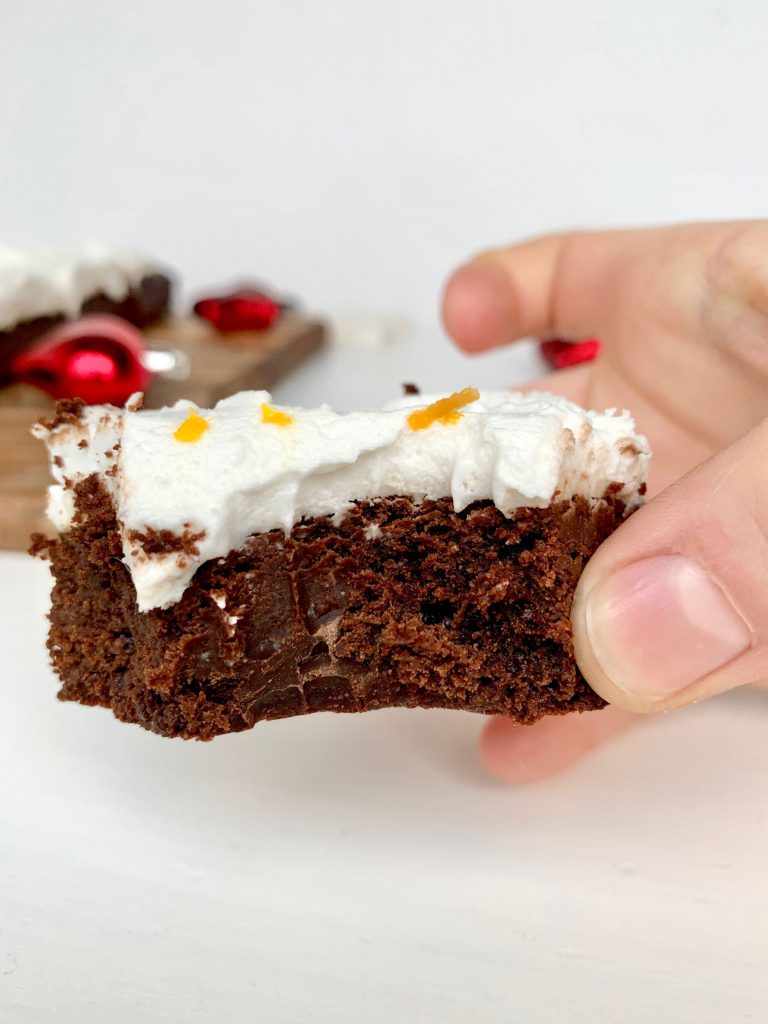 What makes this Chocolate Orange Brownie raw?
High quality dark chocolate – the richness of the dark chocolate works so well with the orange flavour. I used Lindt Excellence Dark 70%
High quality cocoa powder – the quality of the cocoa really impacts the intensity of the chocolate taste. I use 97% cocoa solids which gives amazing flavour and richness. I used Green & Blacks Organic Cocoa
Fresh orange zest – which gives a beautifully fresh and natural flavour and its really easy!
Coconut oil & coconut sugar – Makes the brownie lighter and healthier without compromising any flavour. The absence of butter and granulated sugar does change the texture of the brownie but you wont be disappointed.
Coconut flour – There are so many health benefits of replacing refined white wheat flour with coconut flour. Coconut flour is free from gluten, low in carbs and fat.
Coconut cream – The optional creamy layer is simply made with fresh coconut cream and honey.
A lot of coconut based ingredients! But it just shows what an amazing nut it is.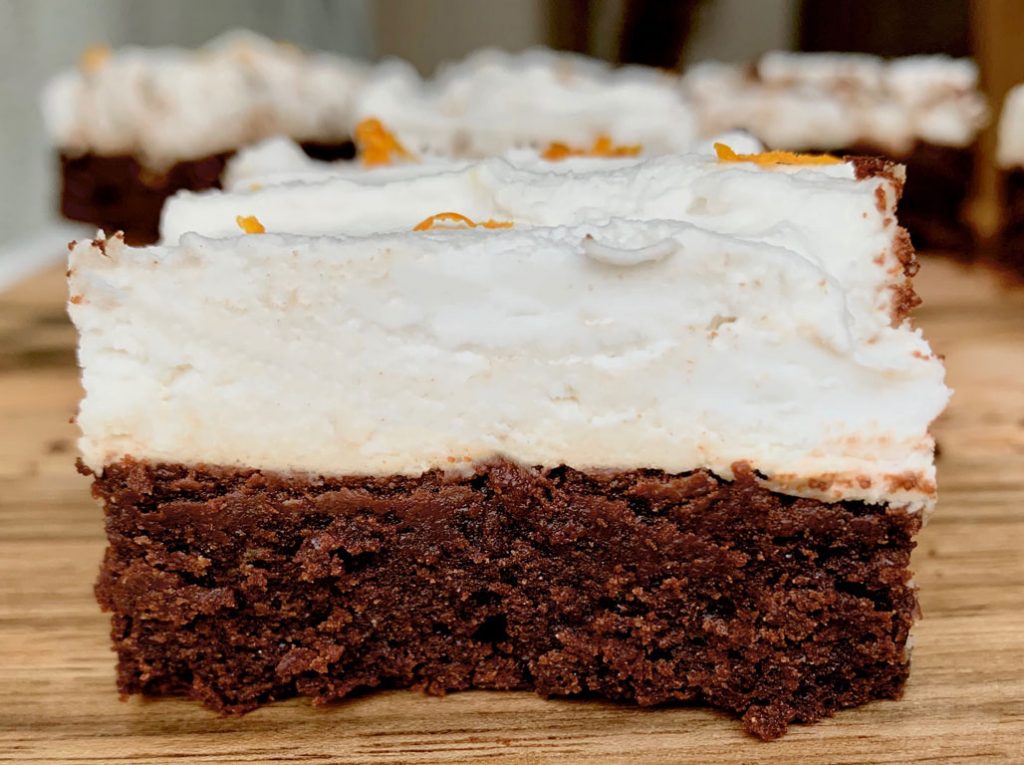 Prep Time: 15 minutes Cook Time: 20 minutes Total Time: 35 minutes Yield: 16 squares Difficulty: Easy
Equipment
8×8 inch square baking tin
Electric stand mixer with whisk attachment
Silicon spatular
Small boiling pan & heatproof bowl
Greaseproof paper
Ingredients
125g (4 1/2 oz) 70%+ dark chocolate
50g (1/4 cup) coconut oil
3 medium room temperature eggs
170g (1 1/4 cup) coconut sugar
1/4 cup coconut flour
30g (1/4 cup) cocoa powder
65g dark chocolate chunks
pinch of salt
Zest of two large oranges
For The Whipped Coconut Cream
300g (2 cartons) coconut cream
90g (1/4 cup) honey
Method
For the Raw Chocolate Orange Brownie
Pre-heat the oven to 180ºC (355ºF) and line an 8×8 inch (20×20 cm) square baking tin with greaseproof paper.
Bring some water in a boiling pan to a simmer (around 2 inches deep). Use a heatproof bowl over the pan to gently melt the 125g dark chocolate and coconut oil together. Stir constantly to avoid burning the chocolate.
Once melted set aside to cool. While the chocolate is cooling whisk together on highest speed, the eggs and coconut sugar for 5 minutes until tripled in volume.
Turn the mixer to the lowest speed and mix in the orange juice, followed by the chocolate and coconut oil mixer. Drizzle it in slowly to retain the air we whisked in.
Next, by hand with a spatular, fold in the coconut flour, cocoa powder and salt.
Once incorporated mix in the chocolate chunks and orange zest.
Pour the mixture into the lined baking tin and put it in the oven for 18 minutes.
Once cooked take out of the oven and allow it to come to room temperature in the pan.
Either take it out of the pan and indulge or move onto the creamy layer.
For the Whipped Coconut Cream
Very simply separate the coconut cream from any water that comes with it. Keep it to one side incase you need to loosen your cream.
Whip the cream with the honey with an electric whisk until there are no lumps and it reaches a light and fluffy consistency.
Add a dash of coconut water if required.
Spread on your cool brownie.
Sprinkle on top some orange zest to give a clue of the flavour.
Merry Christmas!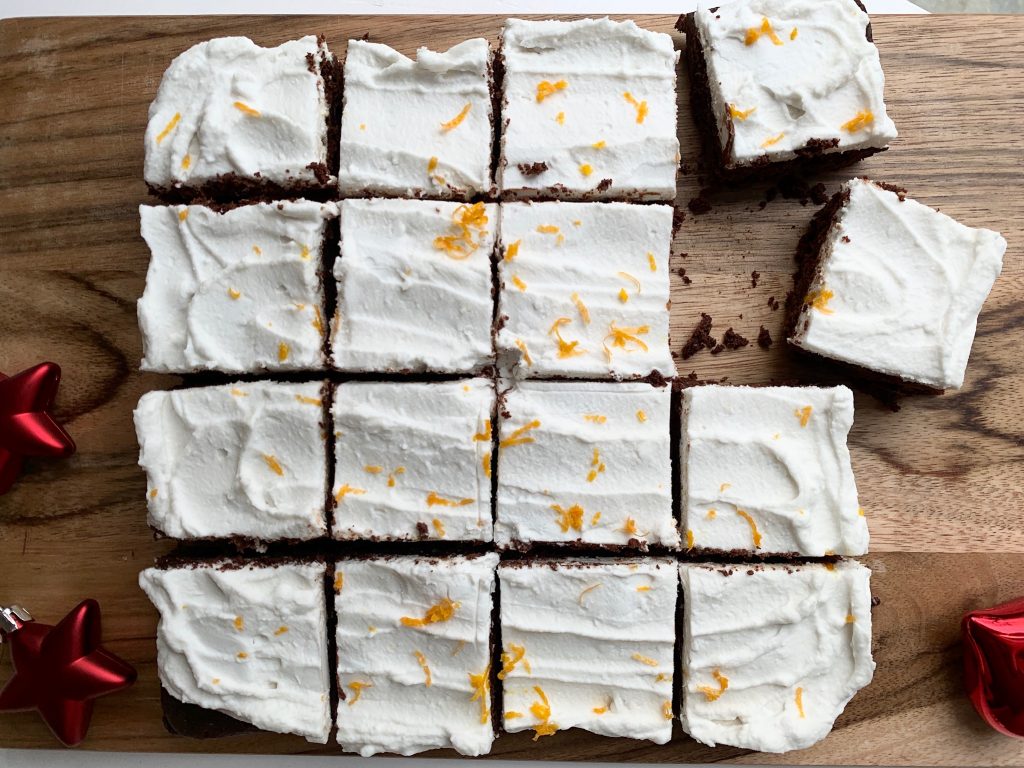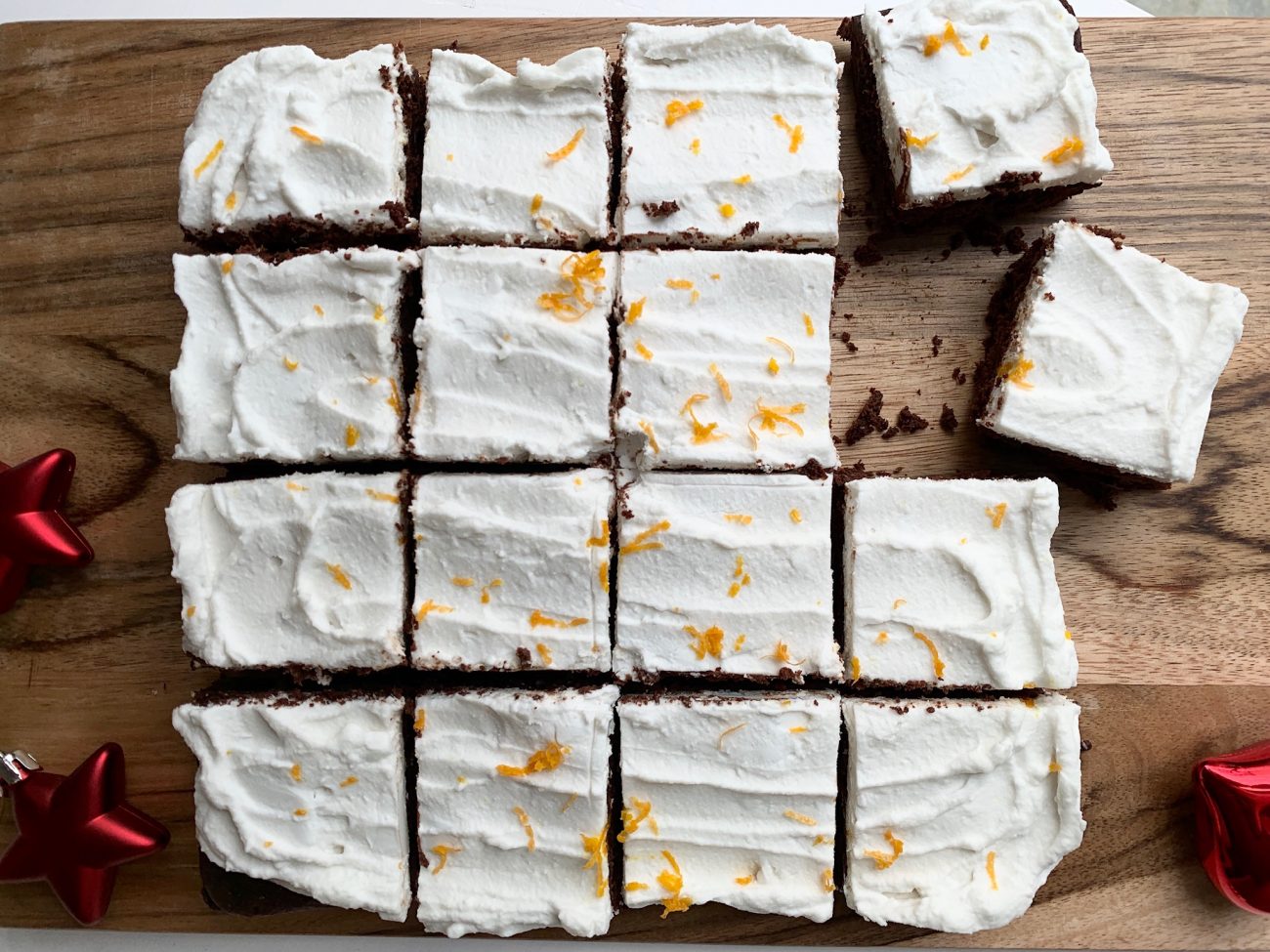 Like using coconut flour in brownies? Try this Keto Peanut Butter & Banana Brownie