'Keto' Peanut Butter & Banana Brownies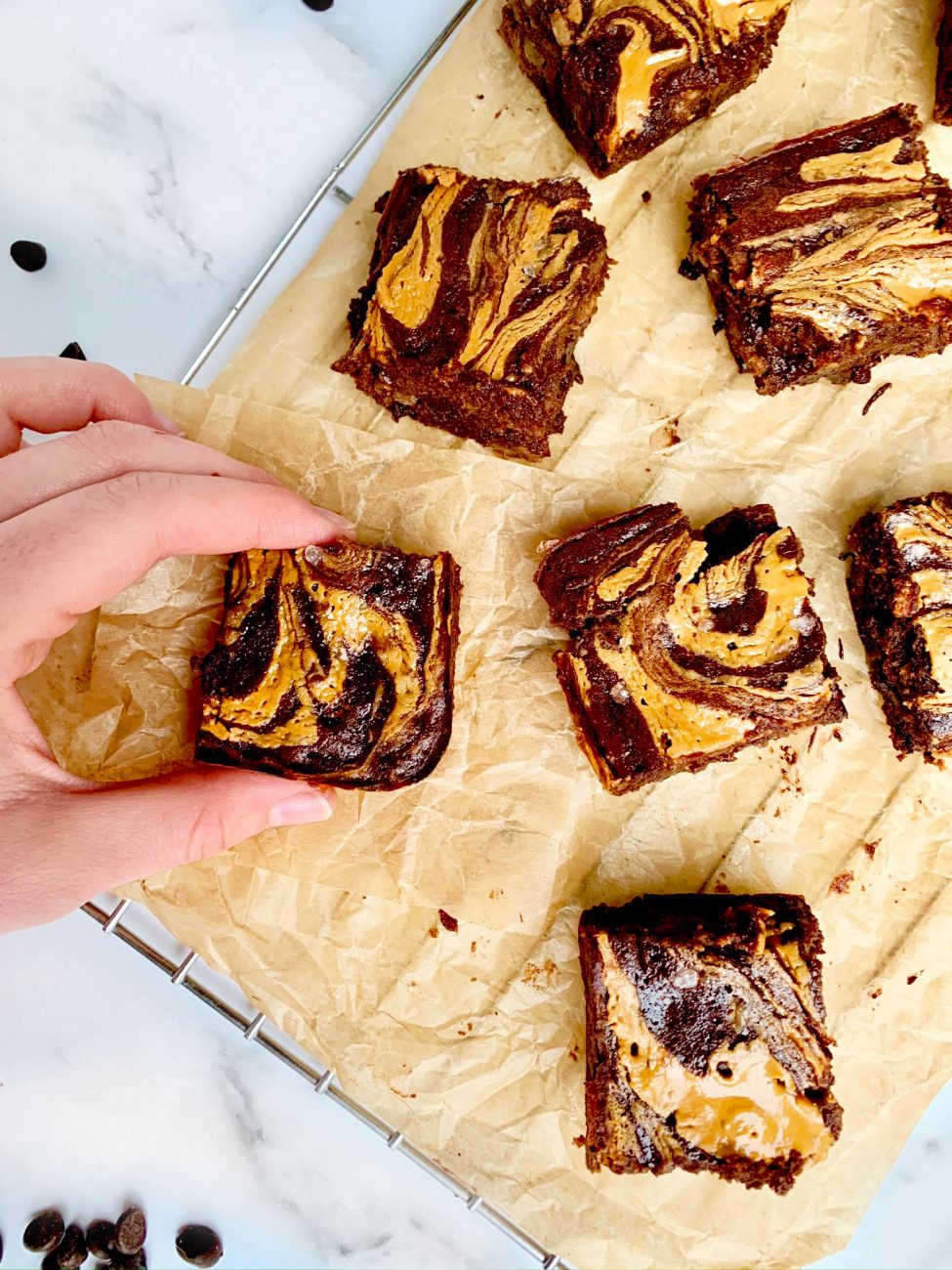 This is another one of those recipes where there are too many words to put into the title to describe how amazing it is. These brownies are super healthy, yet rich and chocolatey with hints of nuttiness and sea salt. They are made with raw, whole food ingredients like bananas, super healthy coconut flour and coconut sugar. They are gluten free, grain free, free from refined sugar and are full of nutrients and monounsaturated fats (good fats).
Not only are they healthy, they are everything you want from a brownie – an intense hit of chocolate with a fudgey texture. If like me you want to feel good inside or you have a restrictive diet, but just love or NEED a chocolatey treat then you should try these out. They don't leave you feeling sluggish or send your blood sugars sky high.
I had a 'banana brownie' at Ask Italian last week and since then I have absolutely needed to recreate it somehow, yet even more healthy. These brownies are so yummy, refined sugar and fatty butter just have no place here. I cant believe it has taken me until now to post my first brownie recipe – big moment.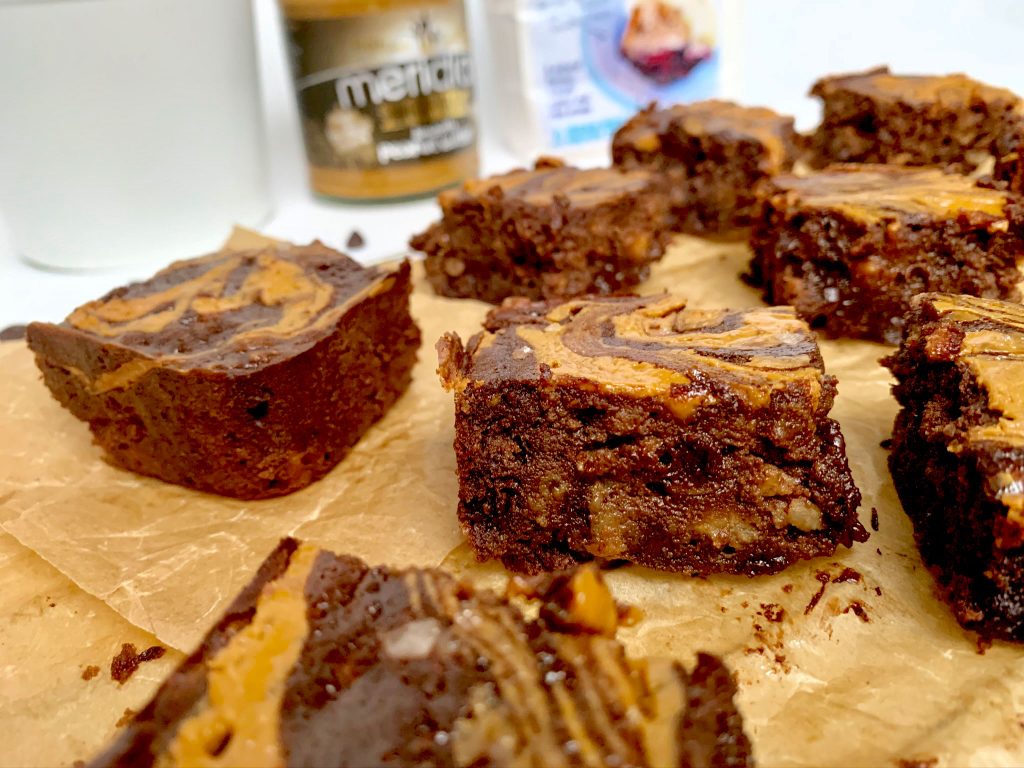 What makes these brownies healthy?
They contain a natural raw sweetener – coconut sugar. You can buy this in the supermarket. It does not give the brownie an overly sweet taste but a very natural sweetness. The use of bananas in this recipe also adds a big boost of sweetness, especially when they are very ripe.
Coconut flour is used as appose to a refined flour. Coconut flour actually contains a lot of fibre meaning it is good for digestion. It also promotes stable blood sugar – the complete opposite of what a traditional brownie would do. Ditching the refined or wheat flour we usually use means that these brownies are also gluten free and suitable for a 'keto' diet.
Coconut oil is used in this recipe instead of butter which has many benefits for the body and also acts as an appetite suppressant. Coconut oil is full of healthy fats which actually aid fat loss.
These brownies are made with dark chocolate, at least 70% cocoa solids. The higher the cocoa solids the better. Raw cocoa contains many nutrients and benefits for the body and is considered a superfood. It is a powerful source of antioxidants, can lower blood pressure, protect against heart disease and improve brain function.
They contain bananas which are a good source energy, aid digestion, are a source of manganese for your skin and potassium for your heart.
They are topped with raw peanut butter which are also a source of monounsaturated fatty acids. Peanut butter is one of them foods that are very satisfying for your body. It leaves you feeling full and full of energy without the sluggish feeling. I love it.
Make it vegan
Replace the eggs with 4 tablespoons of flaxseed and 12 tablespoons of water. Whisk until combined and leave until it becomes gelatinous (a bit gloopy and jelly like) this will act as a binder and also proving extra nutrition!
What makes these brownies fudgey?
The bananas! I love using bananas in baking, especially when making something more dense and fudgey.
Don't have coconut flour?
You can use 1 cup or 90g of almond flour. If you cant get your hands on almond flour either, use 1 cup or 90g of plain four. If you are not using coconut flour, you will need to use one less egg in this recipe as I have added an extra egg due to coconut flour being very absorbent.
Let's go.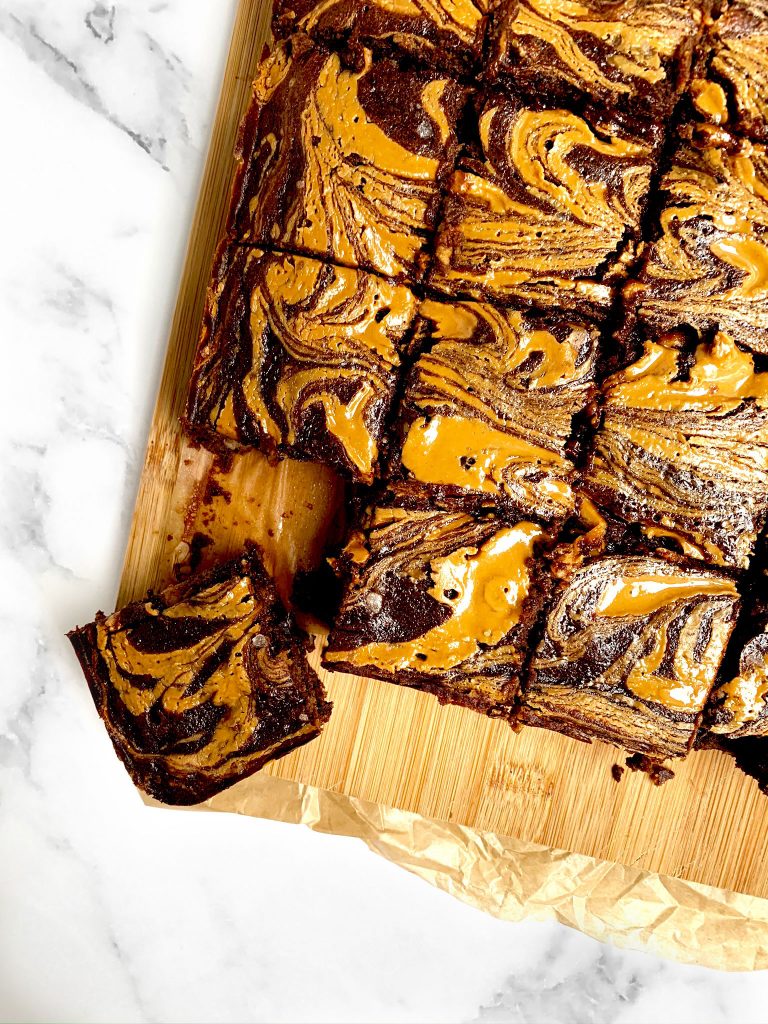 Prep Time: 15 minutes Cook Time: 20 minutes Total Time: 35 minutes Yield: 16 squares Difficulty: Easy
Equipment
8×8 inch square baking tin
Electric stand mixer with whisk attachment
Silicon spatular
Ingredients
28g (1/4 cup) coconut flour
2 small/medium ripe bananas
4 medium eggs
100g (1/2 cup) coconut sugar
55g extra virgin coconut oil
125g dark chocolate (80% cocoa)
100g (1/2 cup) dark chocolate chips
1 teaspoon vanilla extract
1/2 teaspoon sea salt (pink himalayan if possible)
2 heaped tablespoons raw smooth peanut butter
Instructions
To begin, prepare and weigh out all of your ingredients.
Grease an 8 x 8 square cake tin lightly with coconut oil. Line it with greaseproof paper. Preheat the oven to 175°C/350°F.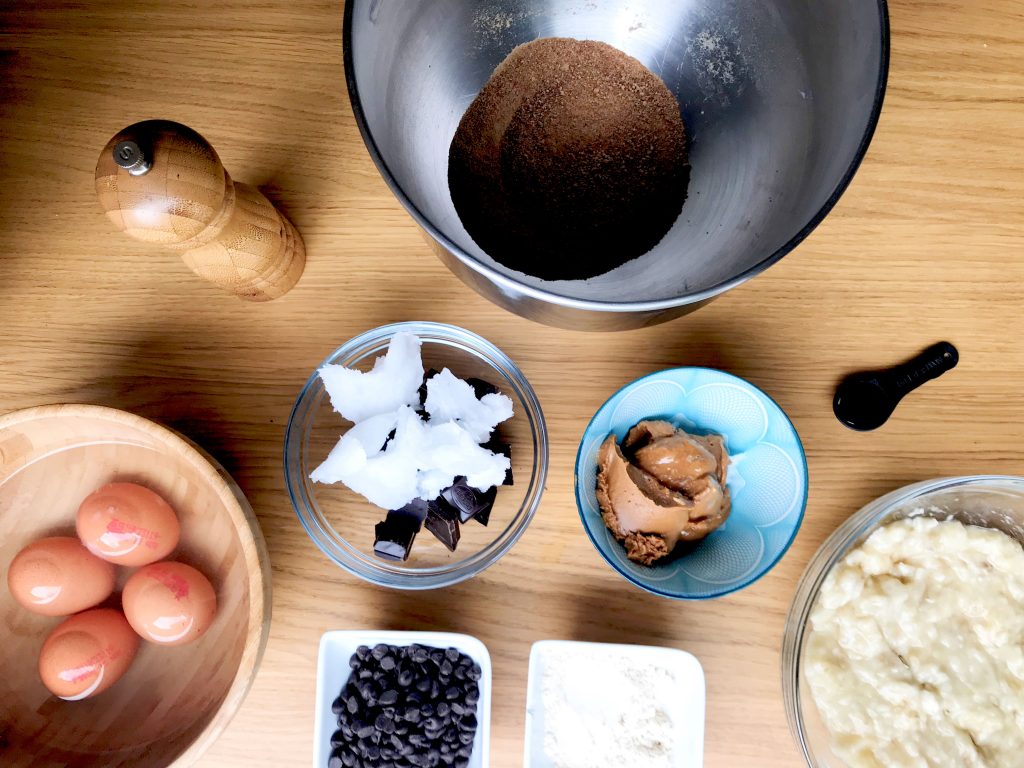 Mash your bananas. Ensure your eggs are room temperature. If, like me you always forget to take them out of the fridge, put them in a bowl of warm water for about 5 – 10 minutes. Not too hot.
Weigh out your coconut sugar in a stand mixer bowl, add in the eggs. Whisk together on a high speed for a few minutes until tripled in volume.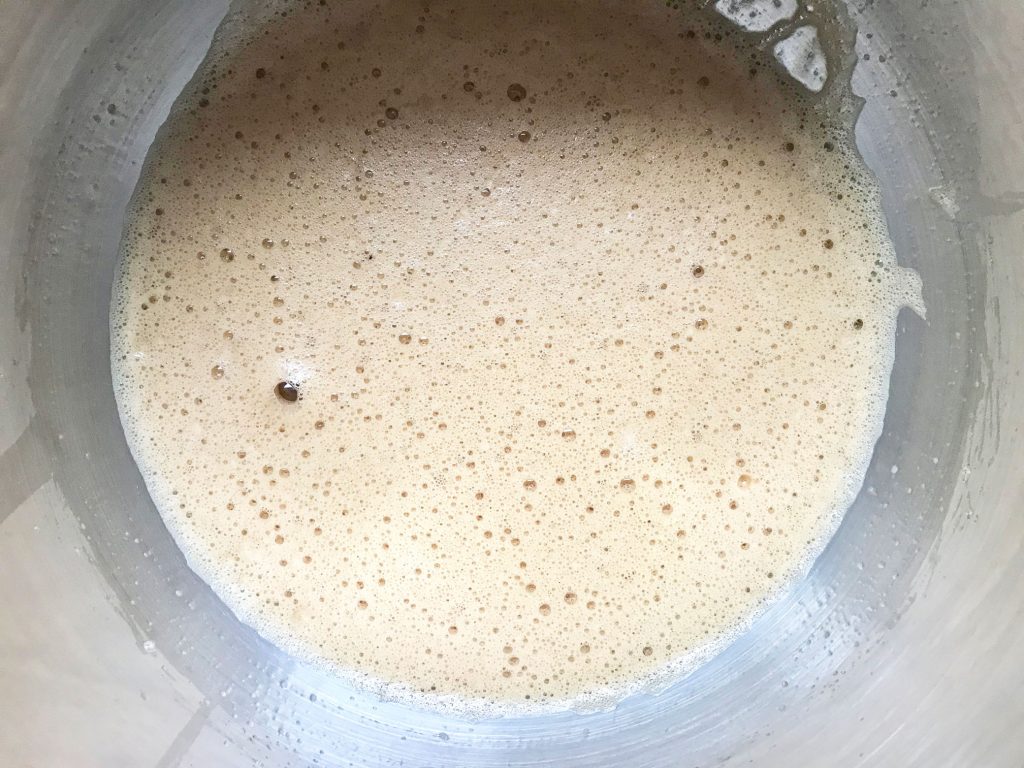 Melt your dark chocolate and 50g of the coconut oil (leaving 5g for later) together in the microwave. Melt the dark chocolate first as this takes a bit longer, then add in the coconut oil for the last 20 seconds.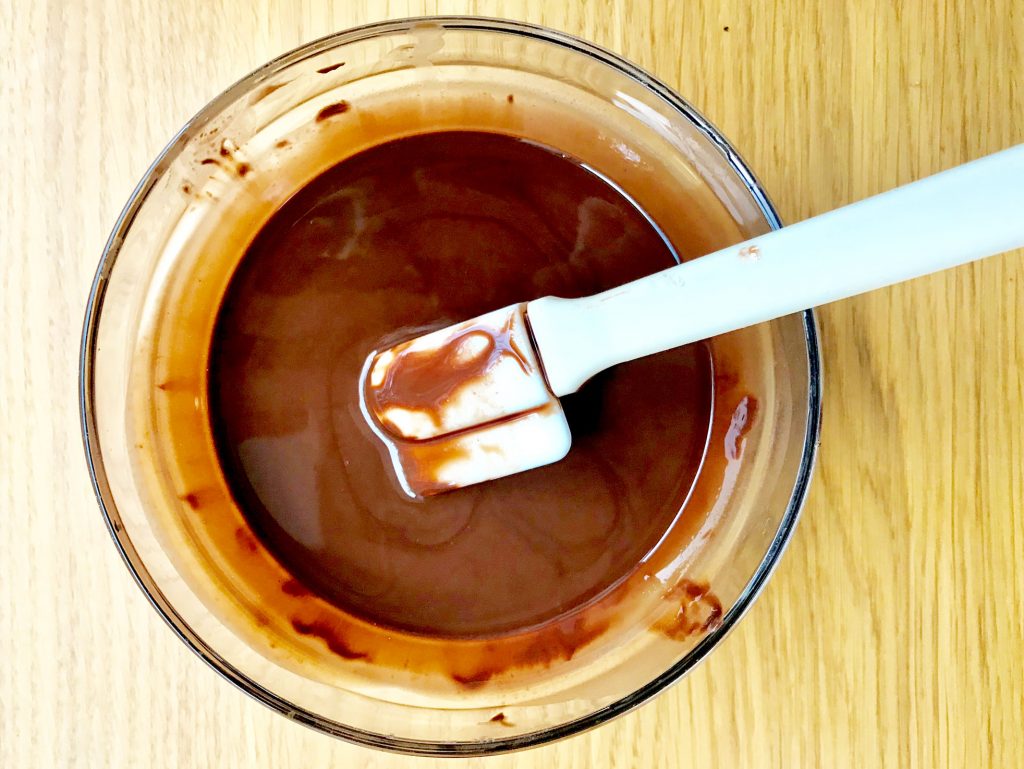 Gently fold the melted chocolate and coconut oil into the foamy eggs. Try to retain the air we have whipped in.
Next, fold in the mashed bananas, coconut flour, vanilla and chocolate chips.
Pour into your cake tin.
In the microwave melt the peanut butter with the remaining 5g or teaspoon of coconut oil for a few second. Mix it up until really smooth and runny.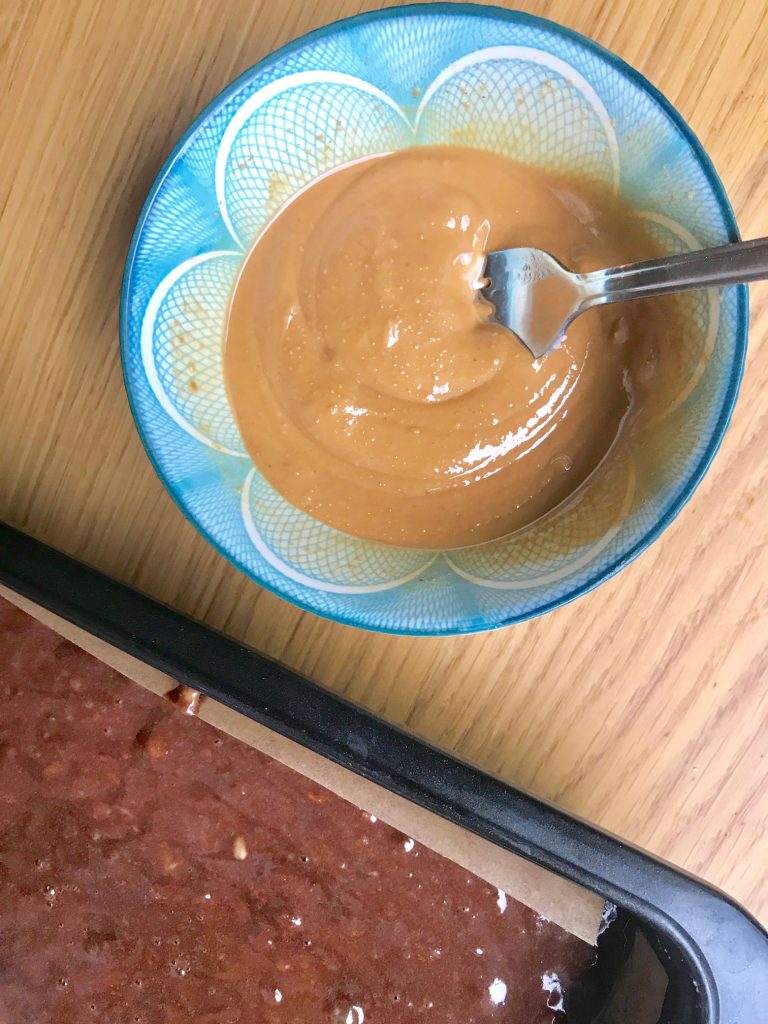 Drizzle the peanut butter over the brownie mixture.
Use a knife to swirl the peanut butter into the mixture.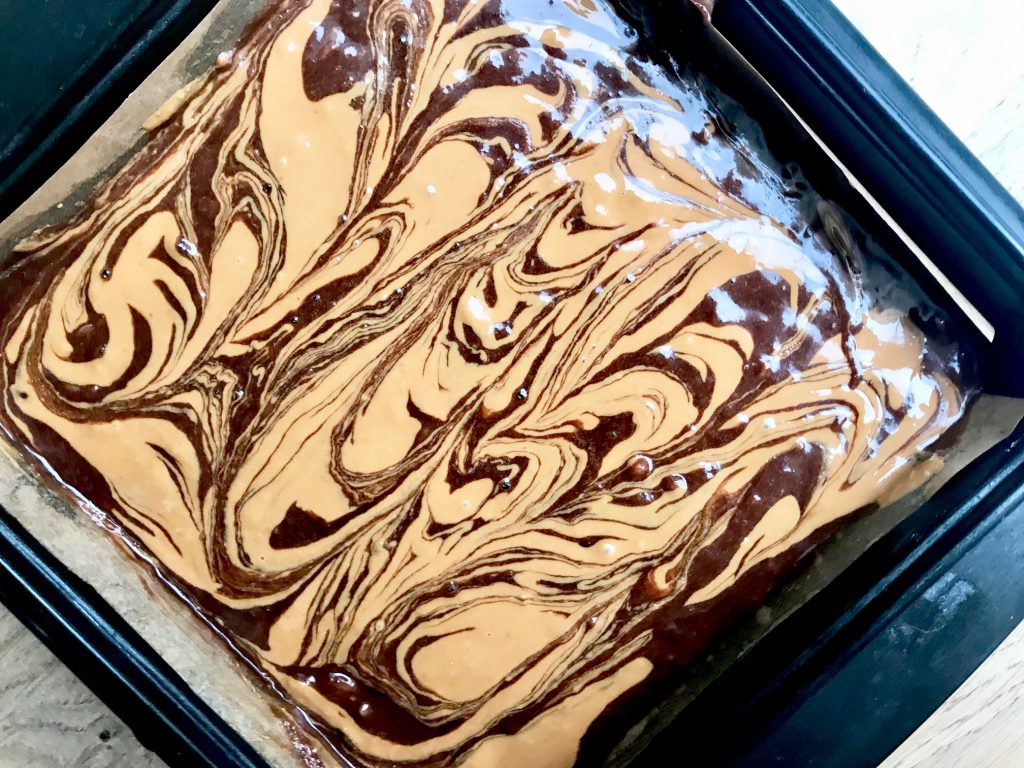 Grind over a generous amount of pink Himalayan or regular sea salt.
Put it into the oven for 20 minutes.
Absolutely enjoy them warm 🙂