Crispy Tofu with Soy, Honey & Garlic Dressing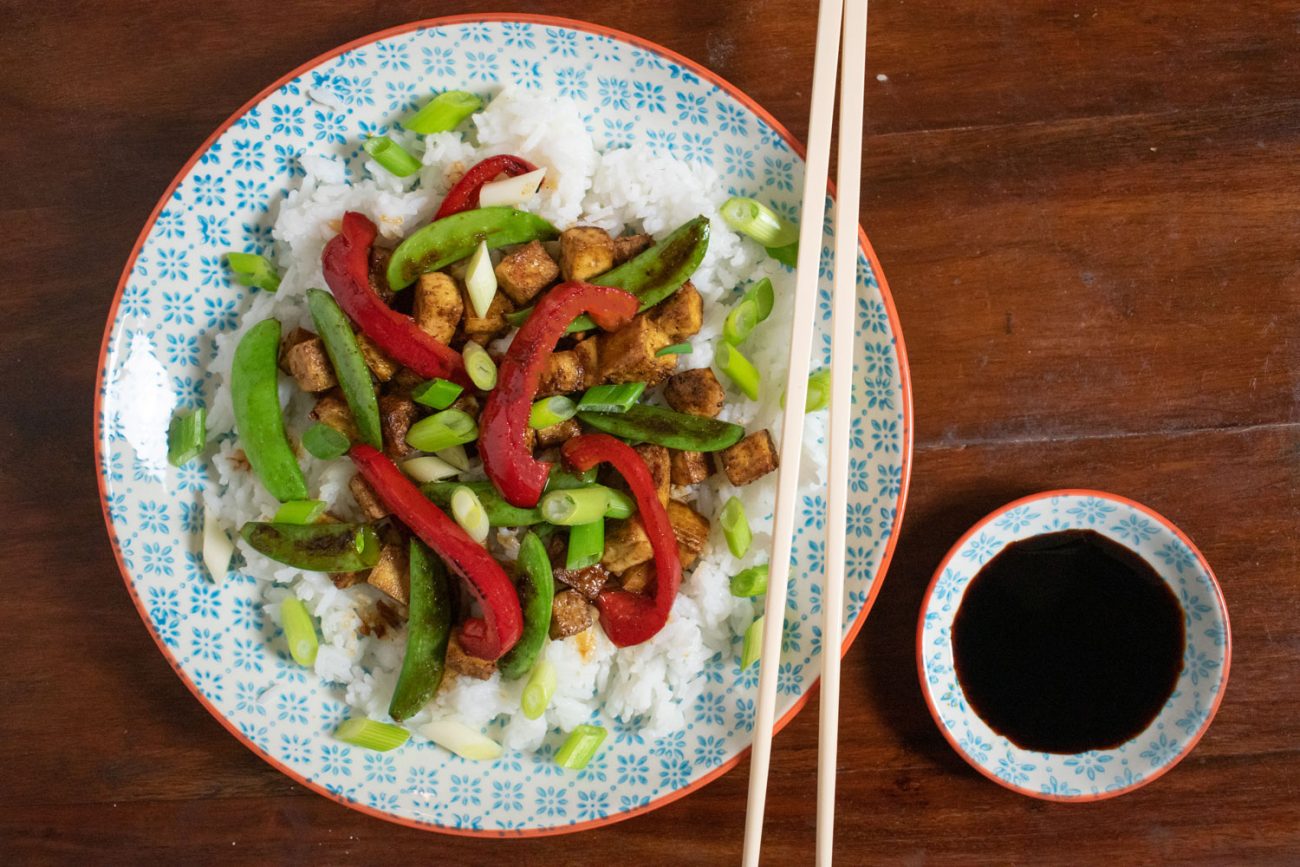 Tofu as it is comes wet, spongey and completely tasteless however it is a wonderful blank canvas we can do anything with. Apply any flavour and different textures. Tofu is so versatile you can add it into so many dishes, stir fry, salad, or on their own as a little snack. My favourite is crispy tofu with asian flavours with rice and veggies.
I pack a load of flavours onto my tofu then bake it with a little bit of oil to create these little cubes of deliciousness.
What kind of tofu makes crispy tofu?
There are two main types of tofu and they are silken and regular tofu. Regular tofu come in different firmness ranging from soft to extra firm. For this recipe we want non silken extra firm tofu.
I use Cauldrons organic tofu.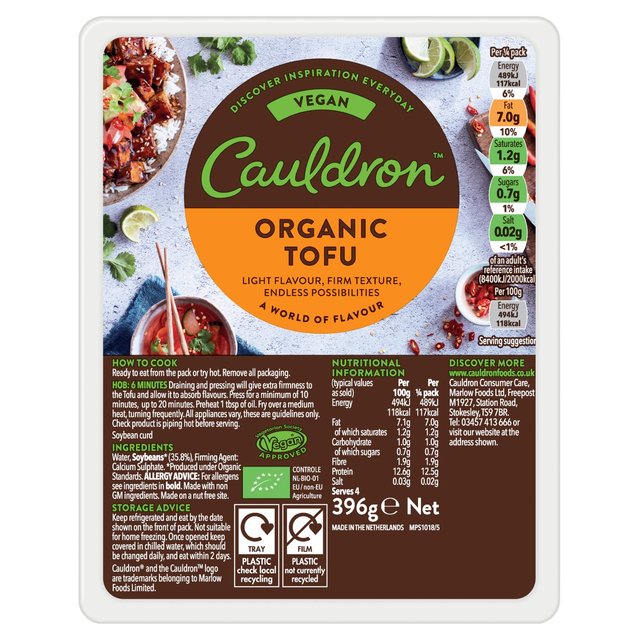 Here is a guide to all of the different types of tofu and how they are commonly used.
How to make crispy tofu
The biggest key to getting your tofu crispy is the pressing process. About an hour before I want to use it, I drain the water from the packet. Lay a tea towel on a baking tray and the tofu on top. Layer another tea towel over the tofu then again another baking tray. On top of that I pile about 3 heavy books on top to apply pressure. After an hour the tea towels will be wet and the tofu less wet 🙂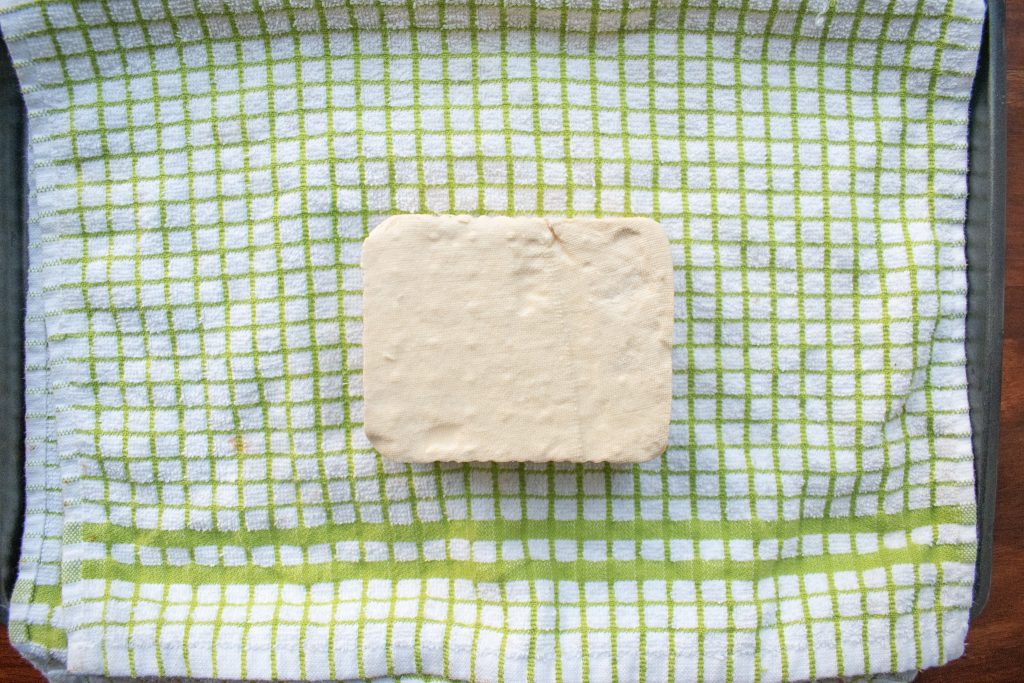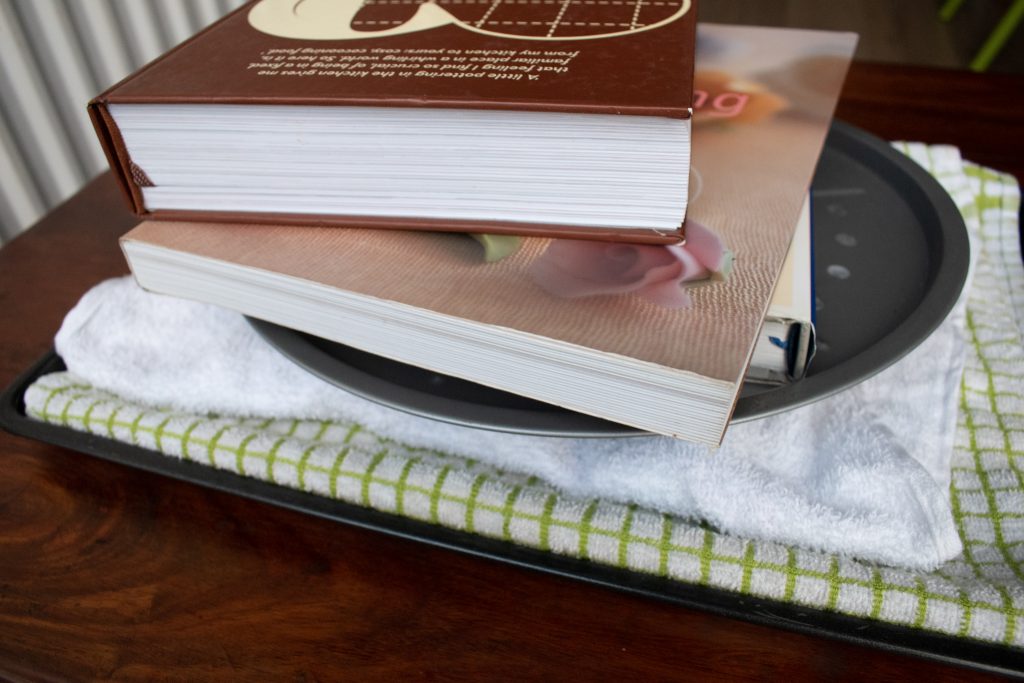 I then season and bake the tofu with a little oil for about 30 minutes.
The dressing
There's just something about super crispy food that is then made slightly softer when covered with a sauce. Do you feel me? Like sweet and sour chicken. Thats why I love to coat this crispy tofu in a soy, honey, garlic and sesame oil dressing. It's so simple by quickly mixing 4 ingredients together but it packs so much flavour.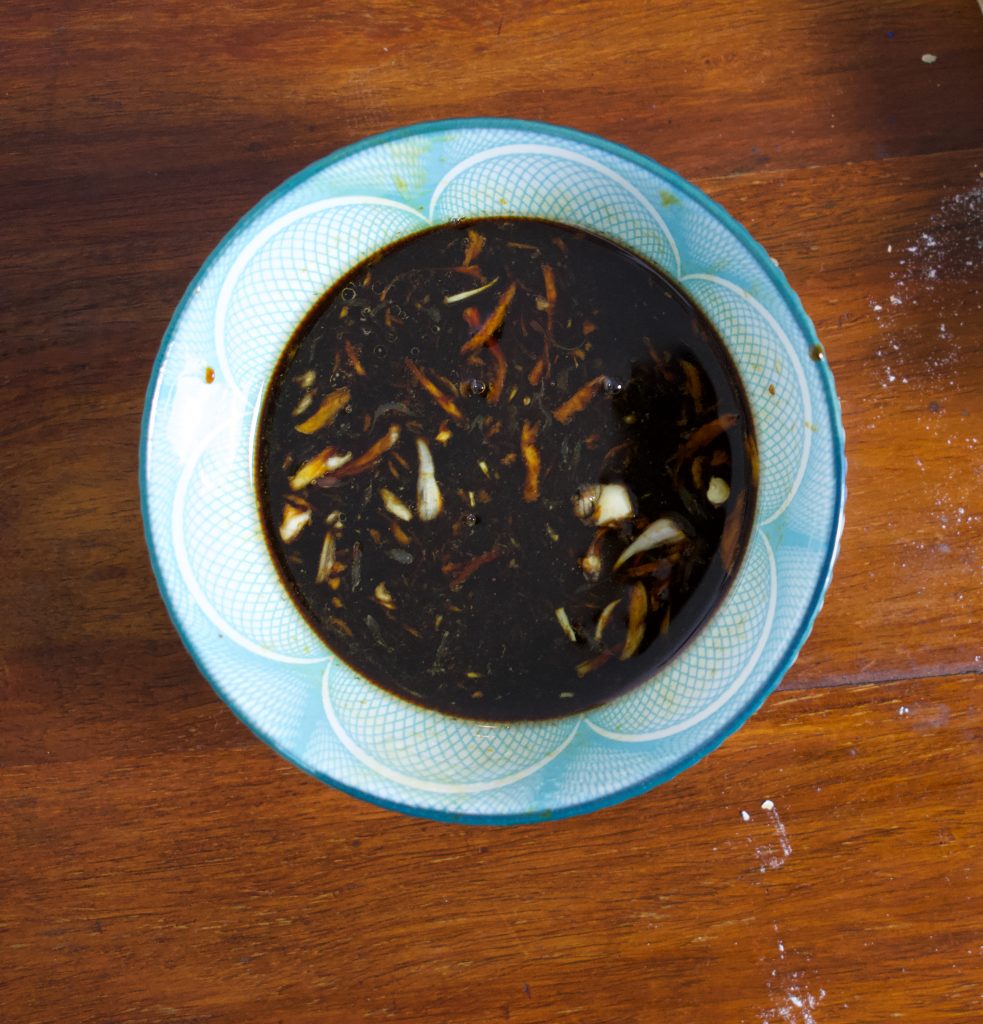 Prep Time: 10 minutes Cook Time: 30 minutes Total Time: 40 minutes Serves: 2 Difficulty: Easy
Ingredients
For the stir-fry
2 cups cooked cold rice
1 red bell pepper sliced
1 cup sugar snap peas
4 spring onions
Juice of 1 lime
For the tofu
1 pack of firm tofu (drained and diced)
2 tsp Chinese five spice seasoning
1 teaspoon sesame oil
For the dressing
1 tablespoon sesame oil
2 tablespoon runny honey
2 tablespoon soy sauce
1 clove of garlic grated
Method
Drain the tofu from the liquid in its packet. Place a tea towel on a baking tray. Place the tofu on top. Place another tea towel on top of the tofu and then another baking tray. Put something heavy on top to weigh it down. I used a few books. Leave it for an hour – 3 hours.
Pre-heat the oven to 180°C/160°C fan/350°C/Gas 4.
Once the most of the liquid has been pressed out of the tofu, slice into small cubes. I cut them about 1.5cm. In a large bowl add the tofu, sesame oil and the five spice. Mix it until all of the tofu is coated. Spread the tofu over a baking tray and into the oven for 30 minutes. Half way through, give the tofu a toss and return to the oven to get the other sides crispy.
While the tofu cooks we can make our dressing. Combine all of the dressing ingredients together in a small bowl and whisk with a fork until combined. Set aside.
Remove the tofu from the oven once cooked then fry the red pepper and sugar snap peas with a little oil for 3 – 5 minutes until slightly charred.
Lay the cooked rice in a dish. Layer on the tofu, veggies and pour over the dressing. Scatter over some chopped spring onion and squeeze over some fresh lime juice.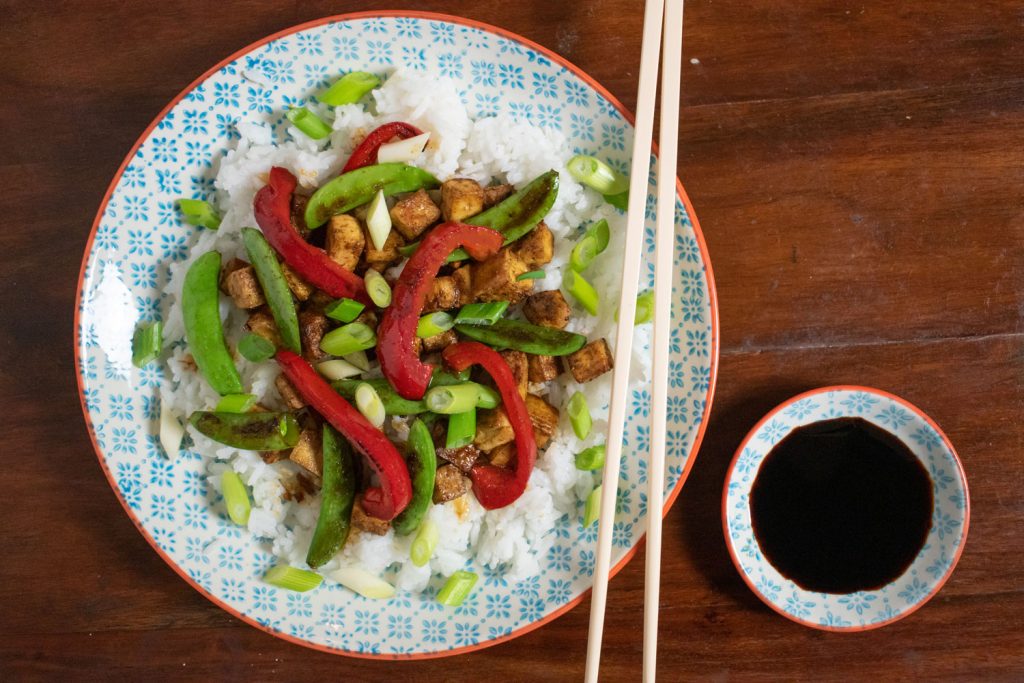 This is so delicious and so simple to do. A perfect weeknight dinner.
Like delicious vegetarian food? Try this AMAZING Beetroot & Quinoa Burger