Coconut Flour Pancakes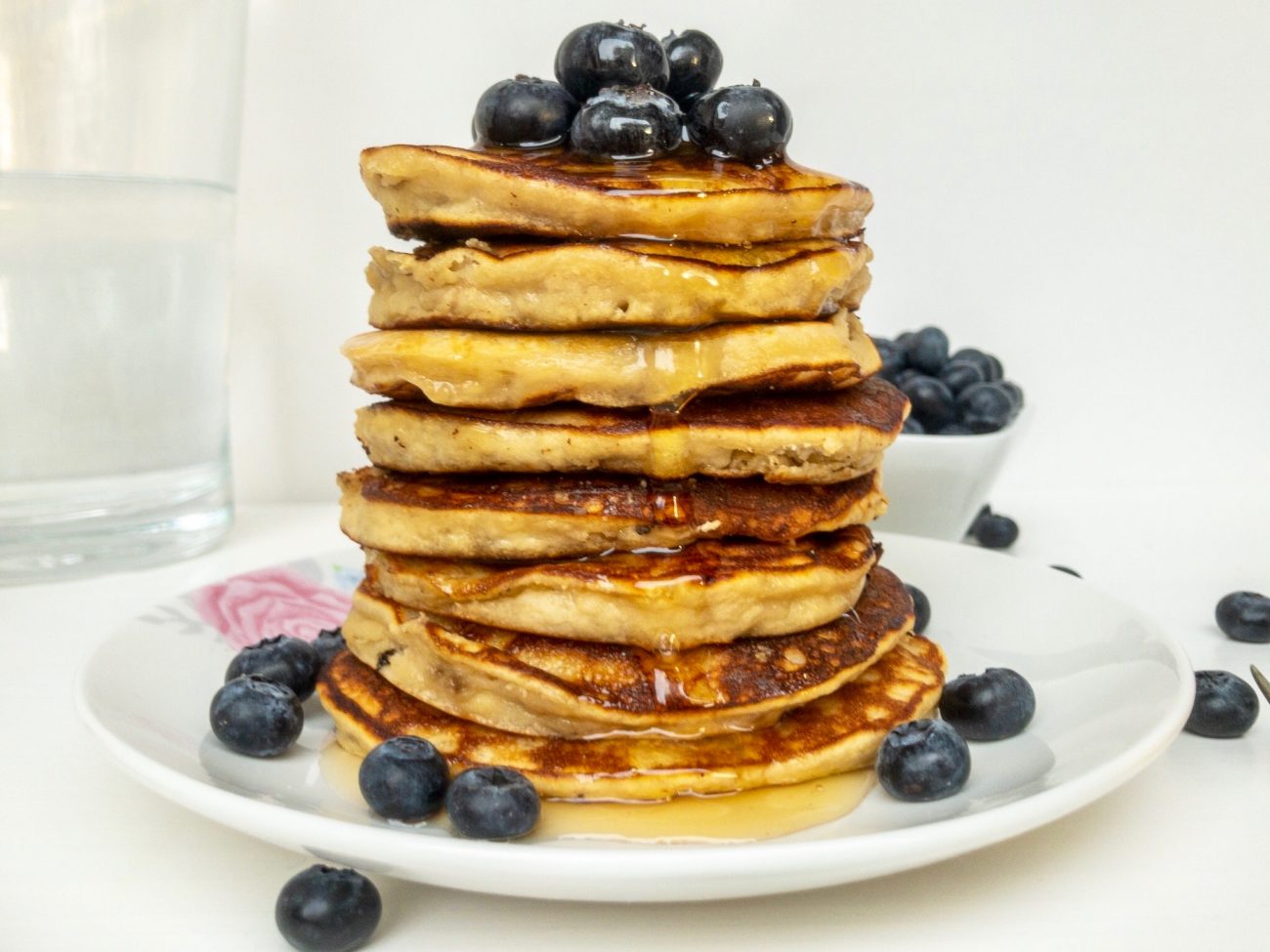 Whenever I want to make breakfast more interesting I always gravitate towards pancakes. I love the way they go so well with fruit and I love to eat fruit for breakfast. My go to pancake recipe is usually these Better-for-you Banana Pancakes which uses wholemeal flour, however I wanted to step it up a notch and make these even healthier and even more nutritious by making them coconut flour pancakes.
These pancakes are so light and fluffy thanks to the coconut flour. I love the texture it gives. They also taste delicious thanks to the natural sweetness of the banana and honey. When you eat these it will not feel like a restrictive alternative, they are filling and absolutely delicious! And who doesn't love thick pancakes? This batter is thick and doesn't pour out too much in the pan so they stay thick a dreamy until cooked.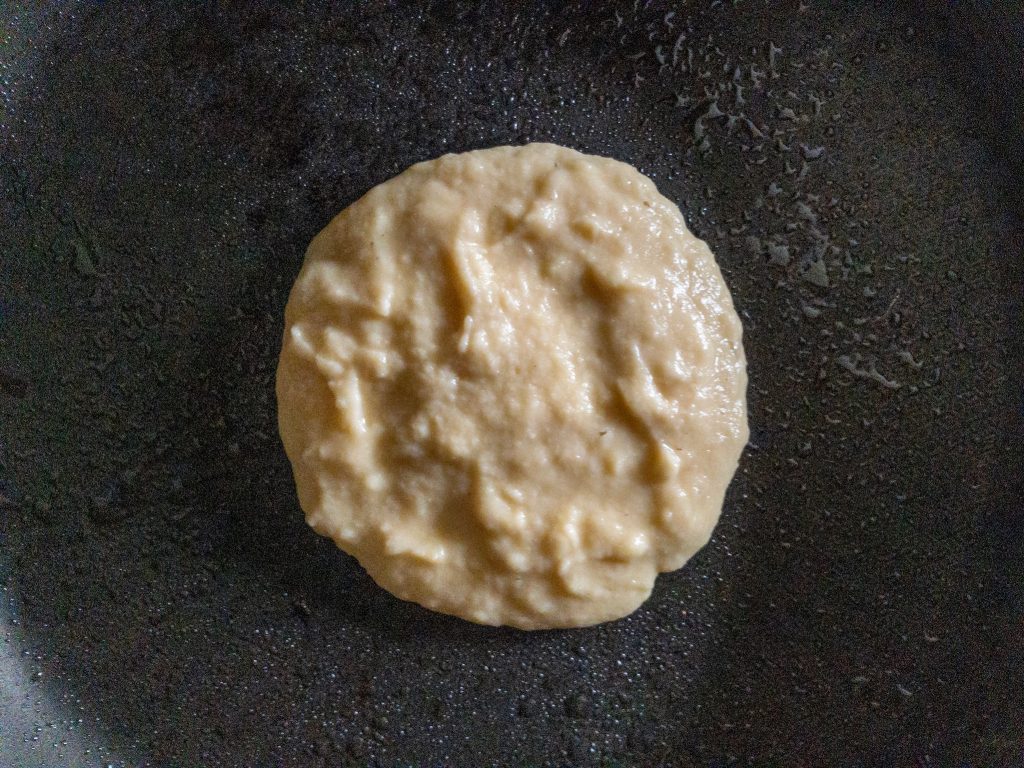 What is Coconut Flour?
As you can imagine coconut flour is coconut pulp dried and ground into a fine flour.
Coconut flour is a grain free alternative to our usual grain flours. It is suitable for a gluten-free diet and ketogenic diet.
It acts very differently to all purpose flour. It is very dense and very absorbant, therefore when creating a recipe with coconut flour you need to add more of the wet ingredients than usual. For example for this recipe I have doubled the amount of eggs.
It is most commonly used for baking and I find that it gives baked goods a very light and airy texture which can be a very good thing!
Coconut Flour Nutrition
Coconut flour is high in fibre and protein which is fantastic for our digestion and keeping us fuller for longer. It is also a good source of manganese which is an essential mineral for the body to function properly. It helps your body properly utilise other nutrients in the body too.
Coconut flour is also very low in carbohydrates which is great for weight loss.
Substituting
If you want to substitute all purpose flour for coconut flour then I usually use 1/4 of the amount so for example if a recipe calls for 100g of all purpose flour, use 25g of coconut flour. You may also need to add extra moisture with milk or an extra egg.
The same rule applies for replacing coconut flour with almond flour or vice versa.
Where Can I Find It?
Coconut flour is becoming increasingly more popular. I found coconut flour in Asda. I used the brand Lucy Bee. Another popular brand available in Tesco is Groovy Food coconut flour.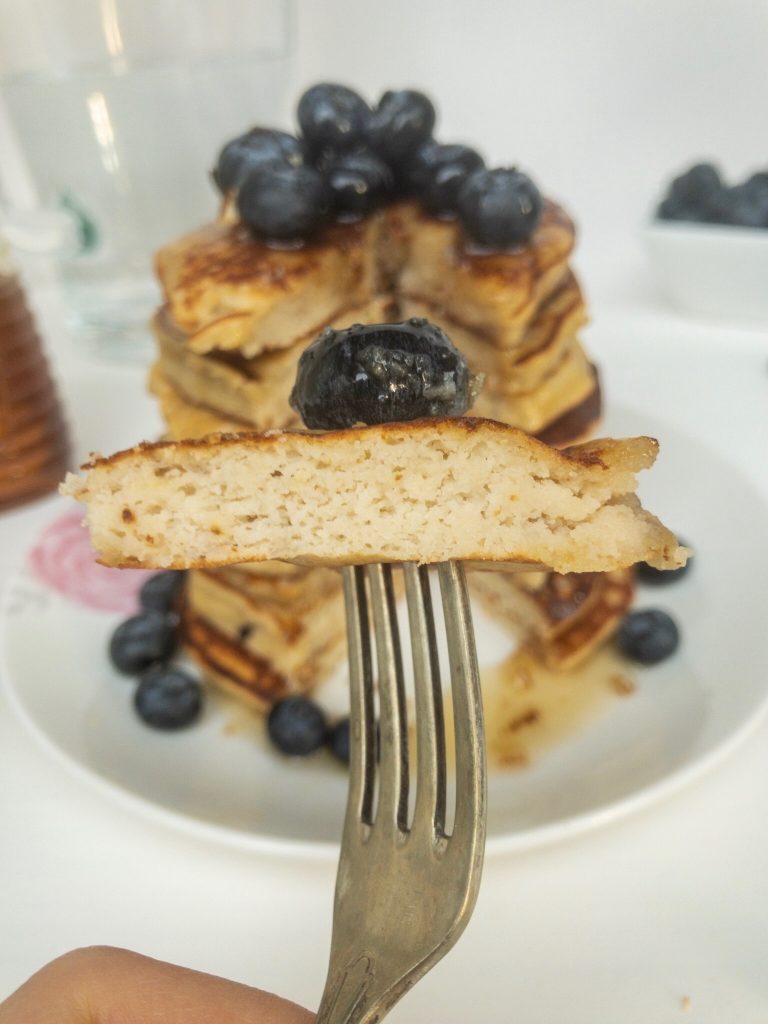 Prep Time: 10 minutes Cook Time: 8 minutes per pancake Total Time: 18 minutes Makes: 7 pancakes Difficulty: Easy
Ingredients for Coconut Flour Pancakes
1/2 cup (50g) coconut flour
1 teaspoon baking soda
1 tablespoons honey
2 large free range eggs
1 banana mashed
1/2 cup almond milk, unsweetened
1/4 teaspoon Himalayan salt
Coconut oil for cooking
Method
In a large bowl whisk together the coconut flour, baking powder and salt.
In another medium bowl mash the bananas. Mix in the milk, honey and eggs.
Pour the wet mixture into the flour mixture. Mix until combined. The batter will be a little thick.
Heat a large frying pan on a medium heat. It is very important that the heat is not too high, we need to cook these through without them burning on the outside.
Either melt a little coconut oil in the pan or spray the pan with cooking spray.
Use a 1/4 cup measurer to scoop some of the batter out of the bowl and pour into the pan. If your pan is big enough you can do 3 – 4 of these at the same time.
Cook on this side for 4 -5 minutes. Flip once the pancake seem set and cook for another 2 – 3 minutes.
Top with your favourite toppings.
Topping ideas:
Honey or maple syrup
Raspberries, blueberries, strawberries
Banana
Almond butter or peanut butter
Melted dark chocolate
Delicious nutritious!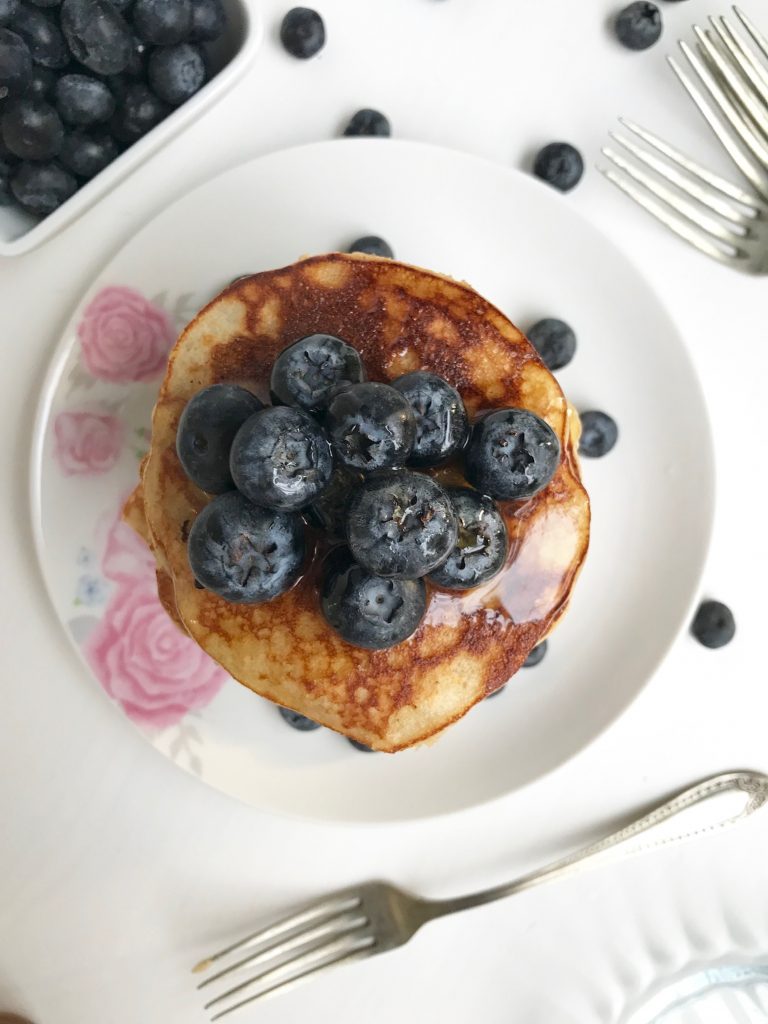 Like baking with coconut flour? Try these Keto Peanut Butter & Banana Brownies.