Caramel Cupcakes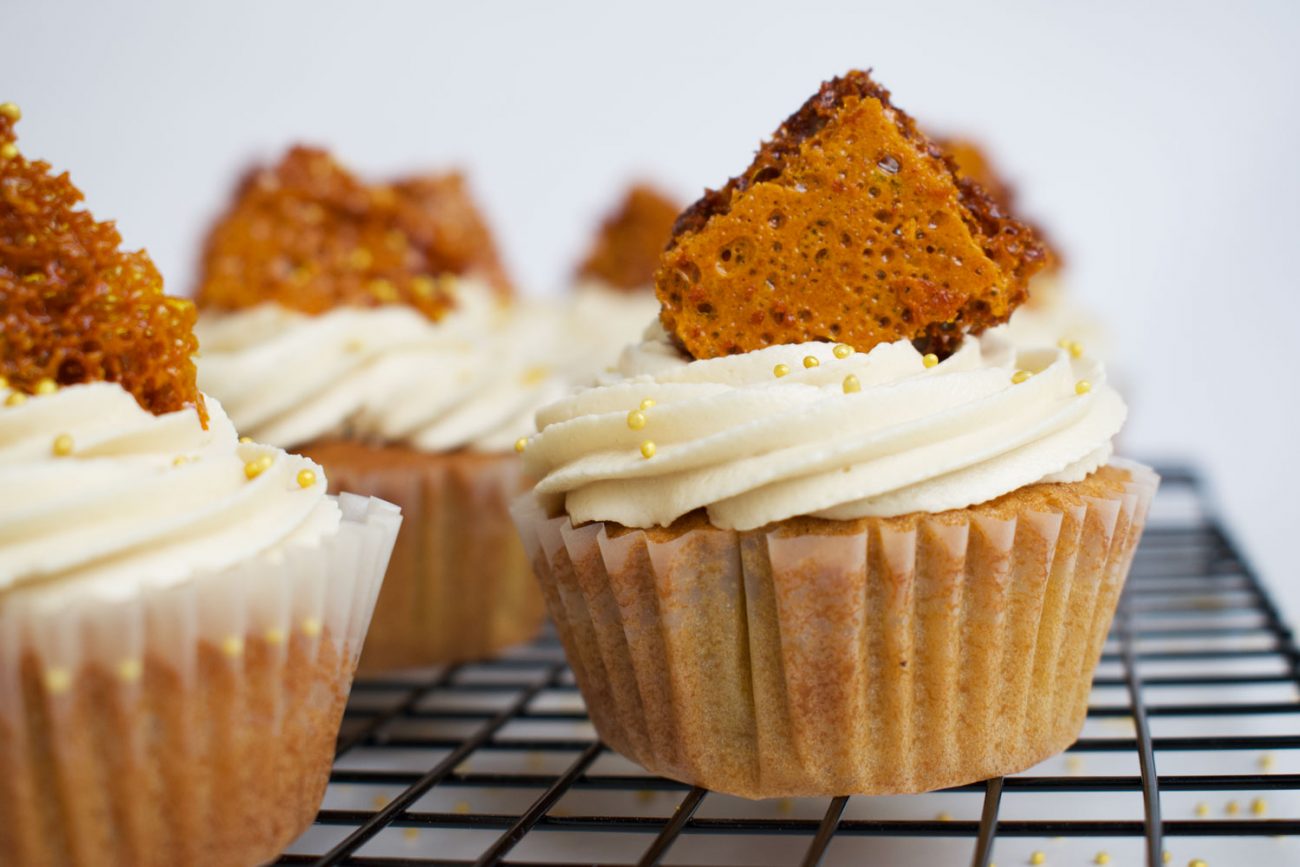 Christmas is over, New Year is coming. I love this period when all of the Christmas craziness and stress is over, we play with new toys and be lazy. My new toys are new cook books and a camera. Nothing could excite me more. Maybe except caramel cupcakes…
It is my dads tradition to buy me a cook book every Christmas so this caramel cupcake recipe is one from the Great British Bake Offs Amazing Cakes book. I love this book because it is full of traditional recipes. I chose this recipe because I also wanted something pretty to photograph, cupcakes are always pretty and these just sounded absolutely delicious, they lived up to that.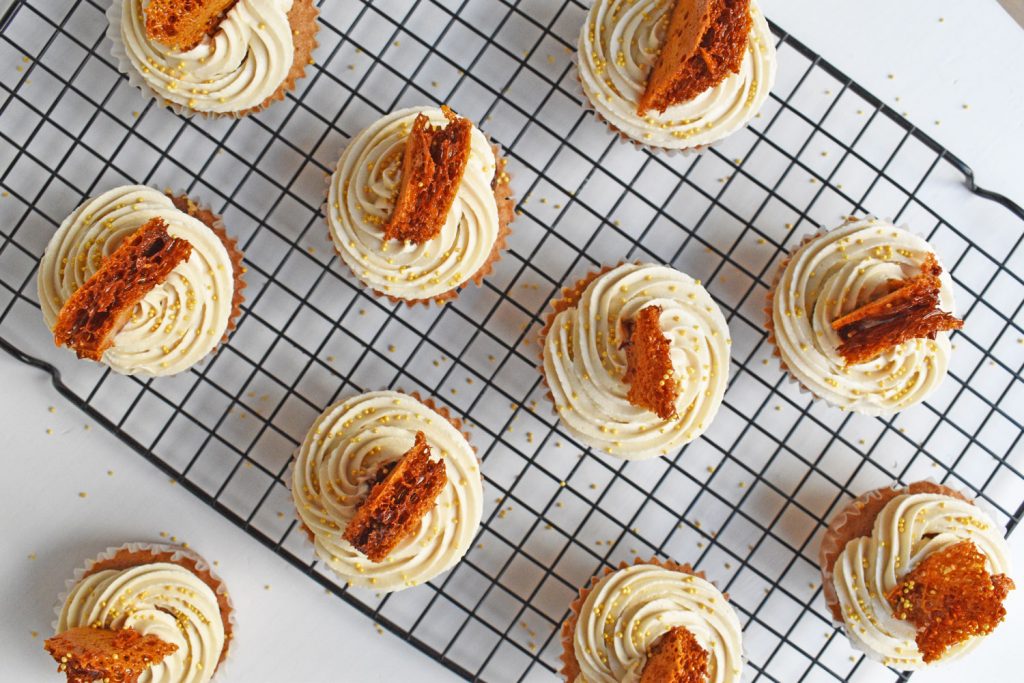 Every aspect of these cakes speak caramel. The muscovado sugar makes the sponge sticky and caramely. The butter cream has caramel in it, they are filled with caramel and the honeycomb on top, well that just takes it all to another level.
Surprisingly making caramel and honeycomb from scratch was easy! It only uses a couple of ingredients and you just boil it until it reached the right consistency. Theres something very satifysing about the process of melting sugar too. I changed the recipe for the caramel slightly by using soya cream rather than oat cream as it was difficult to get hold of. (This is a dairy-free recipe)
When you take a bite of one of these you will melt with satisfaction. They are DELICIOUS.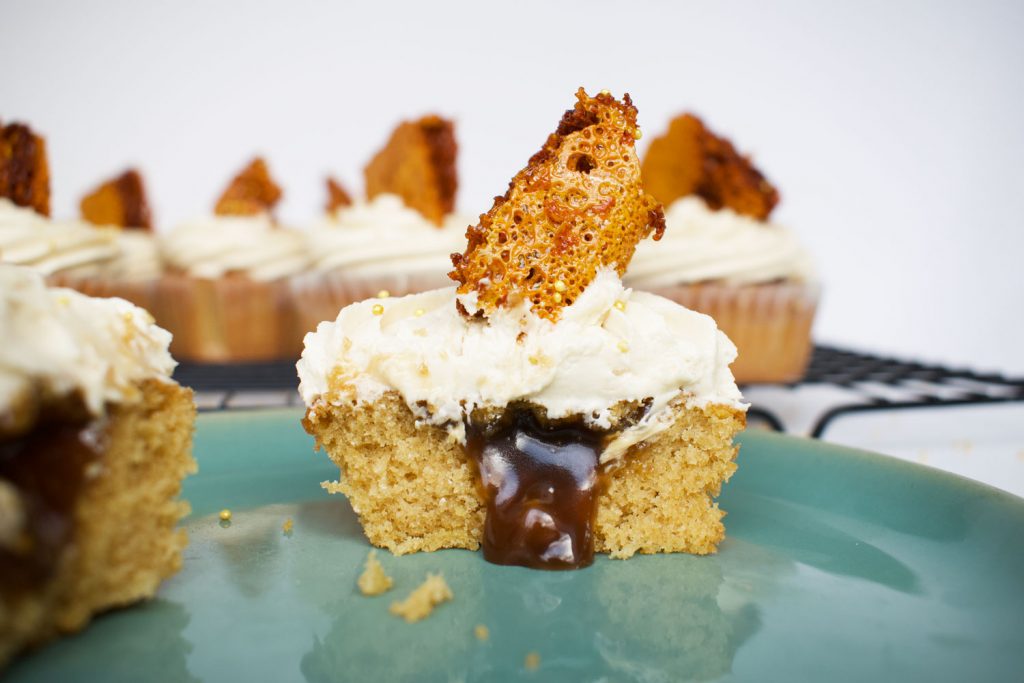 Prep Time: 40 minutes Cook Time: 20 minutes Total Time: 1 hour Yield: 12 Difficulty: Moderate
Equipment
12 hole muffin tray lined with cupcake cases
8×8 inch square baking tin
Electric stand mixer with whisk attachment
Piping bag with medium star nozzle
Boiling pans
Greaseproof paper
Caramel Cupcakes Ingredients
For the cupcakes
125g light muscovado sugar
125g dairy free spread
1/2 tsp vanilla extract
2 eggs
2 tbsp dairy-free milk
125g self raising flour
1/2 tsp baking powder
For the caramel
90g light muscovado sugar
150ml soya cream
25g dairy-free spread
1/2 tsp salt
For the honeycomb
100g caster sugar
23g runny honey
1 tsp bicarbonate of soda
For the buttercream
100g dairy-free spread
200g icing sugar, sifted
1 tsp vanilla extract
Left over caramel
Method
Heat the oven to 180°C/160°C fan/350°C/Gas 4.
Beat all of the cupcake ingredients together in a stand mixer fitted with a beating attachment, on medium speed for 3 – 4 minutes until well combined and creamy.
Spoon the mixture evenly into the 12 cupcake cases and bake for 15 – 20 minutes until golden and firm to touch. Remove them from the tray and let them cool on a wire rack.
Place all of the caramel ingredients in a small pan over a medium heat. Bring to the boil and boil for 5 – 10 minutes until the caramel has gone thick. Be careful to not go too thick as it will turn into nut brittle. Just until until its not watery. Pour into a bowl and leave to chill for 15 minutes, then into the fridge for an hour.
For the honey comb heat the sugar and honey in a medium pan over a low heat until the sugar dissolves, around 5 minutes. Turn up the heat and boil for 4 – 5 minutes until the mixture turns a golden caramel colour. Remove from the heat and whisk in the bicarbonate of soda. Be careful as it will foam and be very hot. This can easily burn so don't put it back on the heat. Pour into the lined 8×8 baking tin to cool. Leave to set for 45 minutes then keep it in the fridge until you use it.
Meanwhile, make the buttercream. With a whisk attachment on your mixer, mix the spread and sifted icing sugar on a low-medium speed until the sugar starts to combine. You may need it keep scraping down the sides to make sure it mixes properly. Once the sugar is incorporated, turn up the speed and whisk in the vanilla and caramel. Whisk until it becomes light and fluffy.
Using a little sharp knife, cut a little hole out of the middle of the caramel cupcakes and remove the sponge. Fill the hole with caramel. slice off the top of the sponge and put it back on the cupcake like a lid.
Fill the piping bag with buttercream and pipe around the edge of the cupcake working your way into the middle as a spiral.
Cut the honeycomb into chunks and arrange over the top of the cupcakes.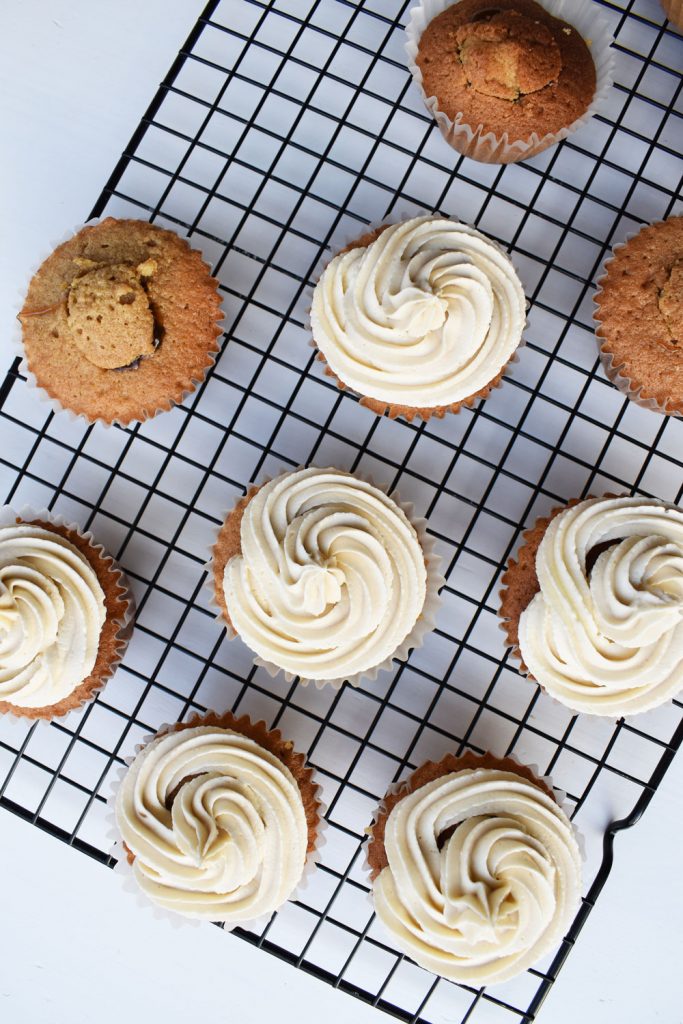 Love cupcakes? Try this strawberry and white chocolate cupcake recipe.