Beetroot & Quinoa Vegan Burger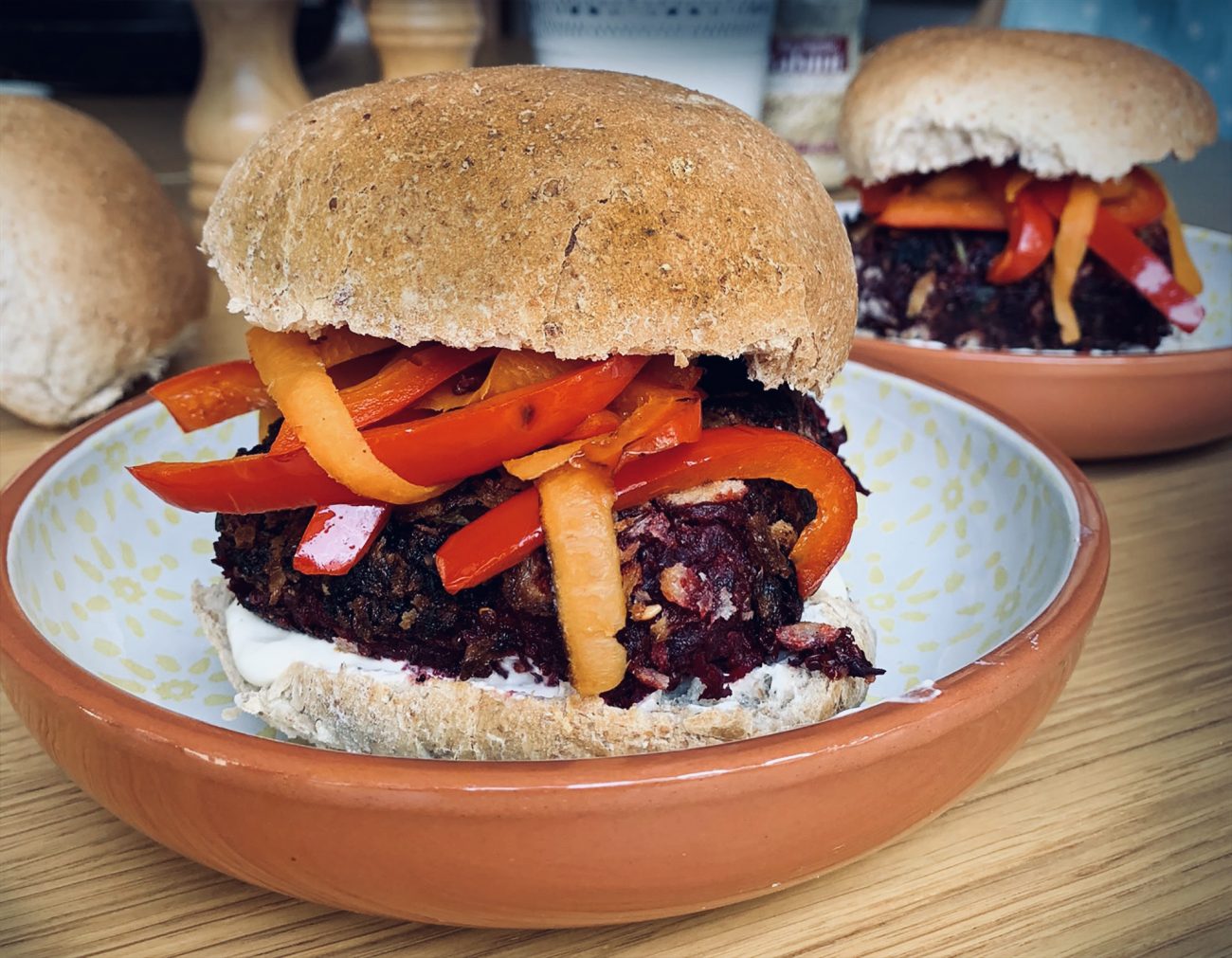 I made this vegan beetroot and quinoa burger for my non vegetable eating, meat loving brother yesterday and he couldn't believe how delicious it was! I couldn't believe how delicious it was! It also got a thumbs up from my passionate vegan best friend.
Like most people when they hear 'beetroot burger' I wasn't too sure about the idea, but when I took a bite, I melted with amazement at the taste. Everybody wants to be healthier right? And everybody loves a burger too. This is the perfect thing to satisfy those tastebuds and not feel guilty or sluggish after it. With beetroot making up 70% of the patty, this burger is PACKED with nutrients. What more could you want?
The inspiration for this burger comes from THE BEST veggie burger I ever had at the Giraffe Restaurant. This is their vegan option on the menu. It blew me away and ever since I have just needed to recreate it.
The things that make this Beetroot & Quinoa Vegan Burger so amazing are:
The size
The crunchy coating
The delicious flavours
It's healthy!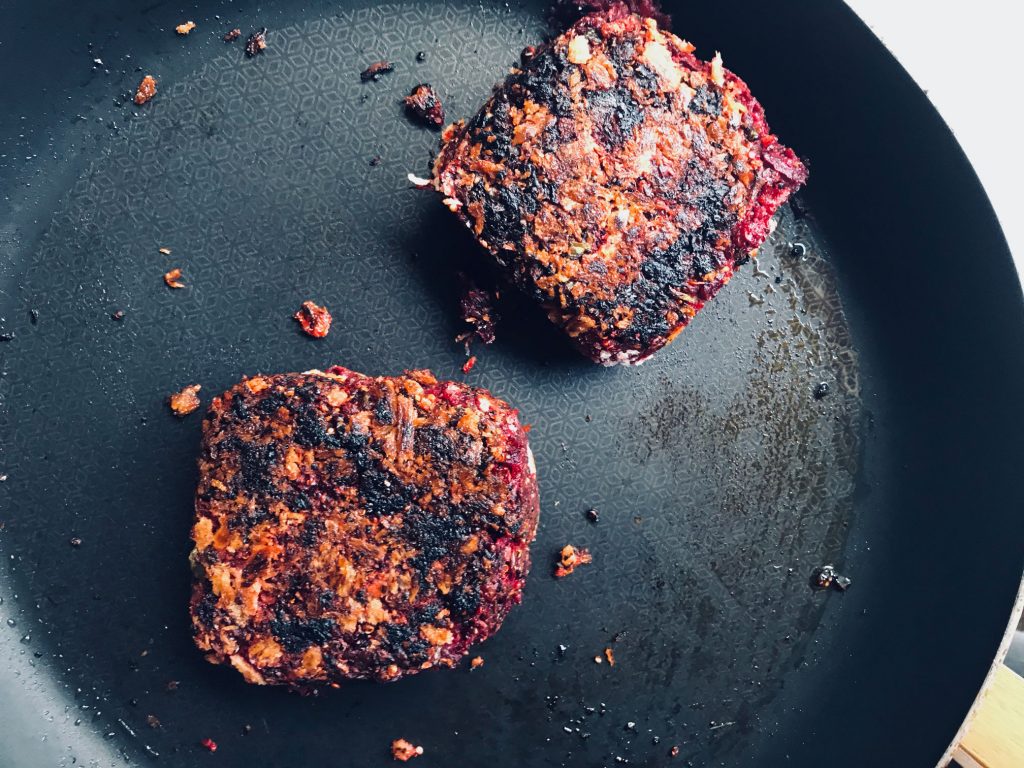 This Beetroot & Quinoa Vegan Burger is absolutely packed with nutrition
Beetroot – Antioxidants, vitamins, minerals, fibre, immune system boosting, lowers blood pressure, helps weight loss
Quinoa – Protein, digestion, prevents cancer, lowers blood sugar
Flaxseed – Omega-3, antioxidants, fibre, healthy skin, hair, digestion, weight control, anti-ageing, immune boosting, hormone balancing.
Mint – Digestion, weight loss, healthy skin, fights virus's and IBS
Spring onion – Healthy heart, eyes, anti inflammatory, antioxidant, prevents cancers
Quite amazing what healthy whole foods can do for our body isn't it?
Substitutes
Flaxseed – flaxseed acts as the binder and used for the dredging (making the breadcrumbs stick to the patty) if you are not vegan you can use 1 egg inside the patty to replace the 2 tablespoons of flaxseed. Then 1 egg whisked to dredge your burger.
Coconut yoghurt – If you cant get hold of coconut yoghurt you can use 2 smashed avocados in its place or if you are not vegan you can use greek yoghurt, I love the tang yoghurt adds to this burger.
Panko breadcrumbs – These aren't always available in the supermarket, while they give the most amazing crunch you can miss the coating out completely and still get an amazing crispy outside frying the burger. You can use any breadcrumbs inside the patty mixture. You can use any breadcrumb for the coating too.
Tahini – Instead of tahini you can use a smooth peanut butter.
Za'atar – this is a mix of dried herbs including sesame seed, sumac, oregano, thyme, ground cumin and ground coriander seed. You can use any dried herbs that you like!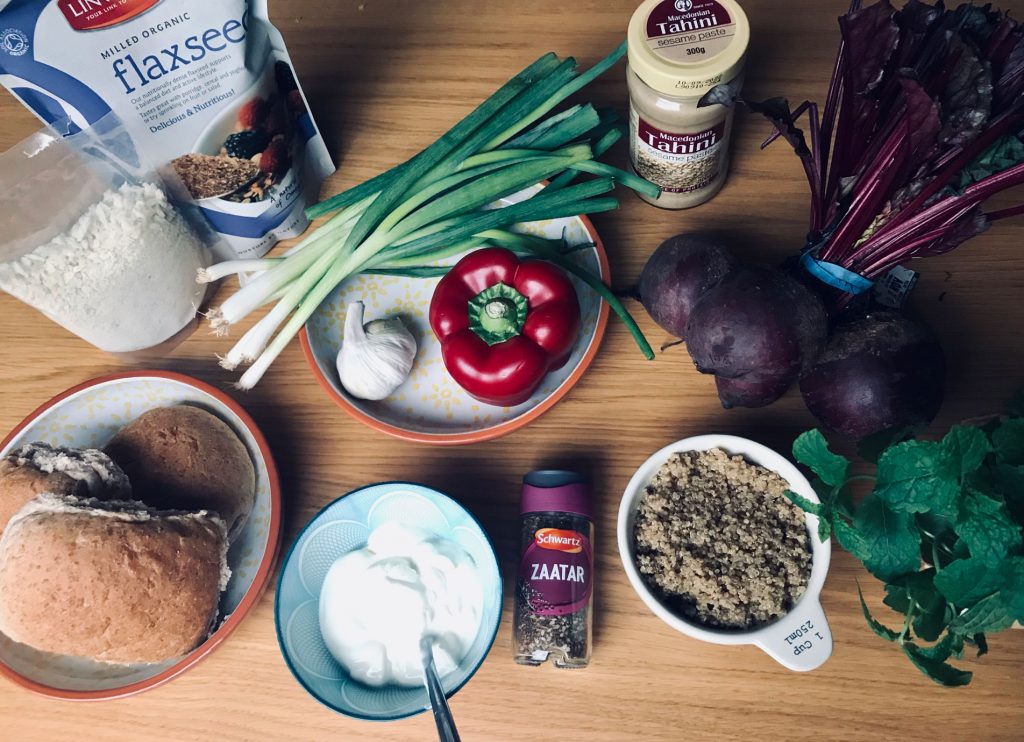 As it is time consuming to follow this whole recipe in one go, I recommend doing this in two phases. First making the beetroot patties. Then secondly coating, cooking, and assembling. I also like to do this so that the flavours have time to ferment into the burger – intensifying the flavours.
Prep Time: 40 minutes Cook Time: 15 minutes Total Time: 55 minutes Yield: 4 burgers Difficulty: Moderate
Beetroot & Quinoa Vegan Burger Ingredients
Patty
4x burgers buns (I used wholemeal)
3 large beetroots or 4 medium washed
1 cup cooked Quinoa
50g panko bread crumbs (20g for coating)
4 spring onions finely chopped
2 garlic cloves finely chopped
1 tablespoon tahini
4 tablespoon flaxseed
1 tablespoon za'atar seasoning
handful fresh mint finely chopped
Toppings
1 red pepper sliced into sticks
1 carrot peeled and sliced
Sauce
1 cup coconut, dairy free or greek yoghurt
1 lemon
Salt & pepper
Method
Phase 1 – Making the patties
Wash and dry your beetroots. No need to peel. Chop each end off and grate the lot until you have a big pile of beetroot.
Heat a large frying pan on medium heat. Add 1 tablespoon of olive oil and fry the beetroot, za'atar seasoning chopped garlic and spring onions gently for 7 minutes until reduced.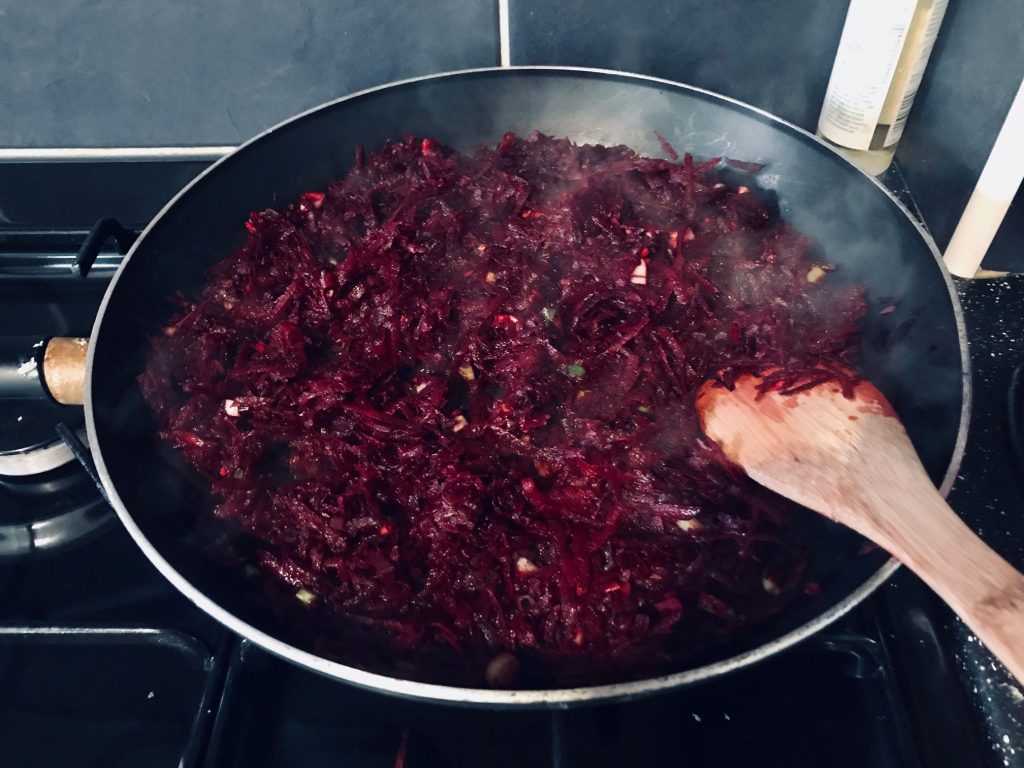 Transfer to a large bowl and leave to cool for 5 minutes.
Once cooled add to the bowl the cooked quinoa, 2 tablespoons of the flaxseed, tahini, mint, 30g of the panko breadcrumbs and a good grind of black pepper and sea salt.
Mix everything together well.
Shape into 4 large patties.
Move onto Phase 2 or leave them in the fridge until you want to cook them. If you are leaving them overnight, put clingfilm over the patties.
Phase 2 – Assembely
Mix the remaining 2 tablespoons of flaxseed with 100ml tap water. Whisk for a minute or so then set aside for 5 minutes until the mixture goes gelatinous (if you stick your finger in it, it will feel a bit gloopy).
While we wait for the flax mixture, use a speed peeler to slice off thin pieces of carrot. Chop your red pepper into sticks if you haven't already.
Spread out the remaining panko onto a plate.
Heat 2 tablespoons of olive oil in a large frying pan on medium-high heat. Not too hot as we don't want to burn the burger before it cooks through.
Dip each patty in the flaxseed mixture and then onto the panko. Roll it around getting panko on both sides and around the edges.
Pop straight onto the heated frying pan along with the carrot and red pepper. Fry each side of the patty for 7 – 10 minutes and then try to stand it on its edges to crisp up around the edge too.
Remove the red pepper and carrot onto a plate once charred.
While the patty is cooking you can make your sauce by mixing the yoghurt or smashing 2 avocados. Squeeze in the juice of 1 lemon and add in some salt and pepper. Mix well.
Once the patties are cooked add your halved burger buns (inside touching the pan) to heat them slightly.
Add your sauce to the bottom of the bun, then patty then carrot and pepper and put the lid on.
So that's my version of a vegan beetroot and quinoa burger. I hope you try it out and enjoy the deliciousness!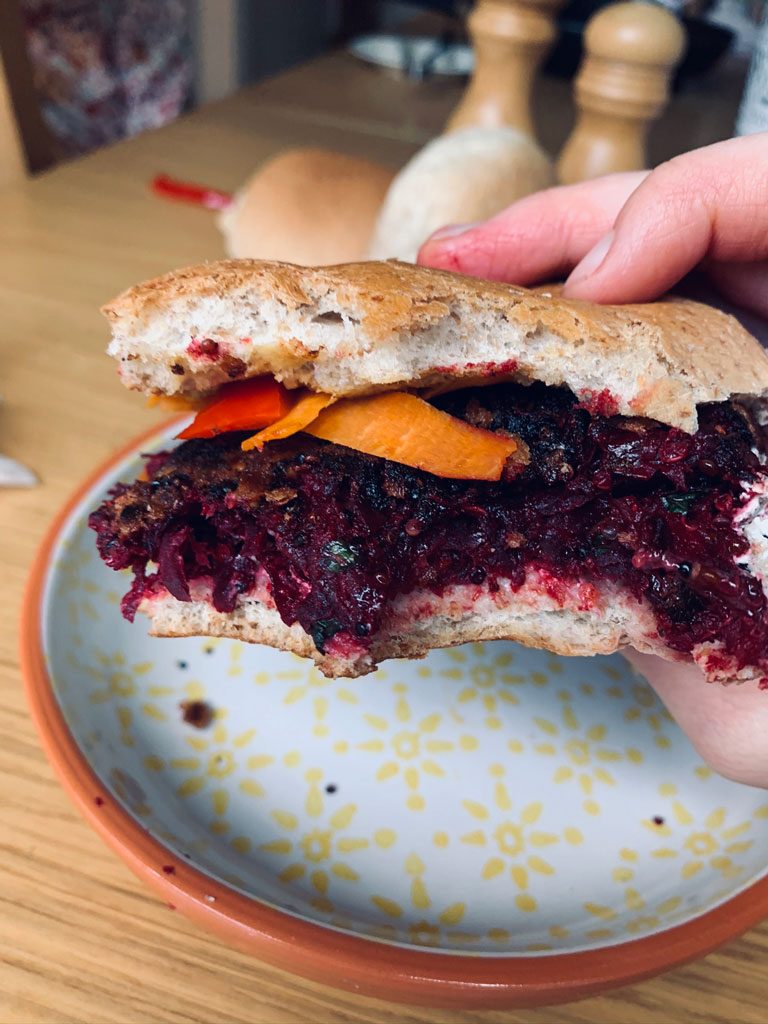 Now craving desert? Try my super healthy and also vegan Super Seed Flapjacks.