Bakewell Blondies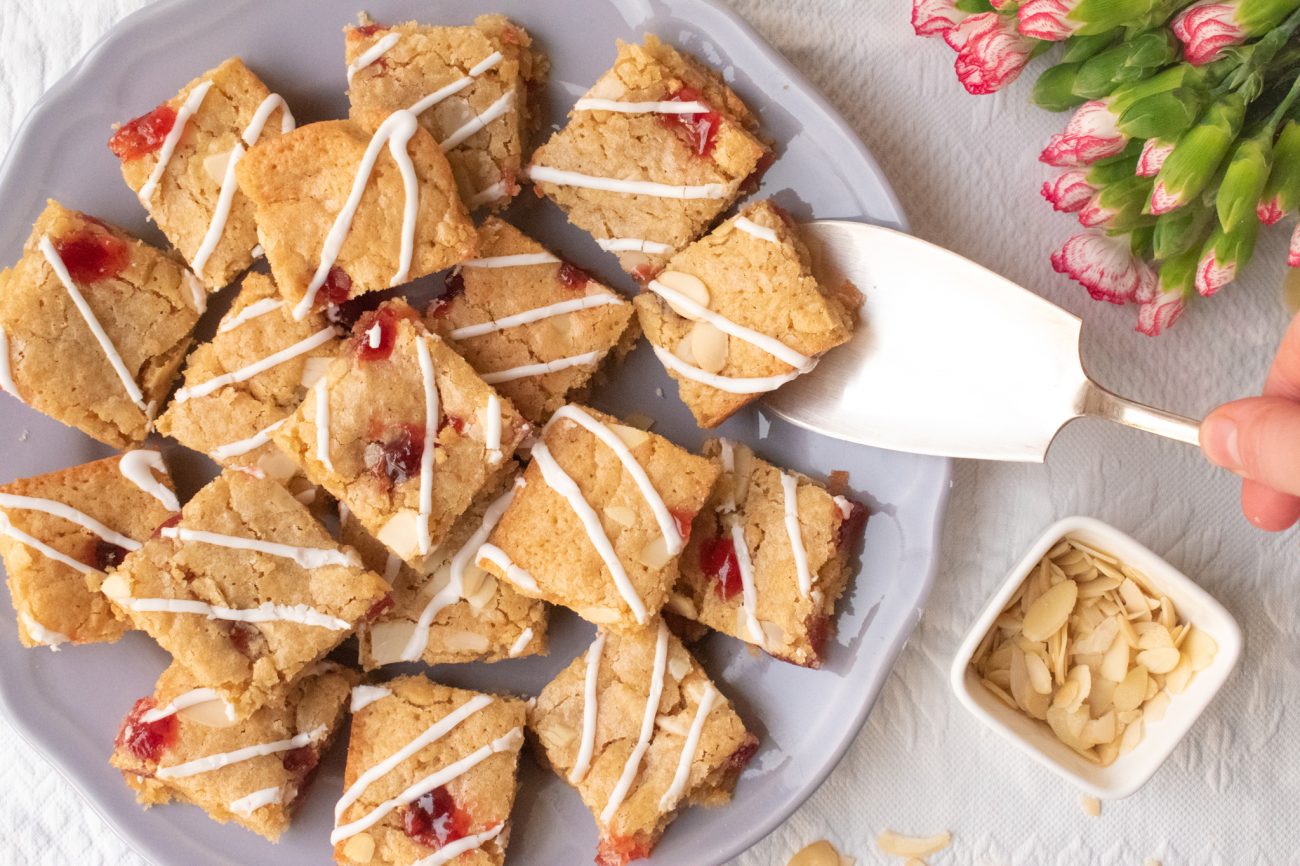 So my boyfriend requested I make some strawberry blondies but I wanted to be more creative and thought to make cherry bakewell blondies! Genius right? I took all of the wonderful elements of a cherry bakewell and mashed them up into a bakewell blondie. My god they are just mm!
Cherry bakewells were one of my favourite deserts as a child, mainly because of that chewy glazed cherry on top – my favourite bit. I was never a fan of the actual pastry bit though so these bakewell blondies are an upgrade for me. Almond, cherry AND white, yes please.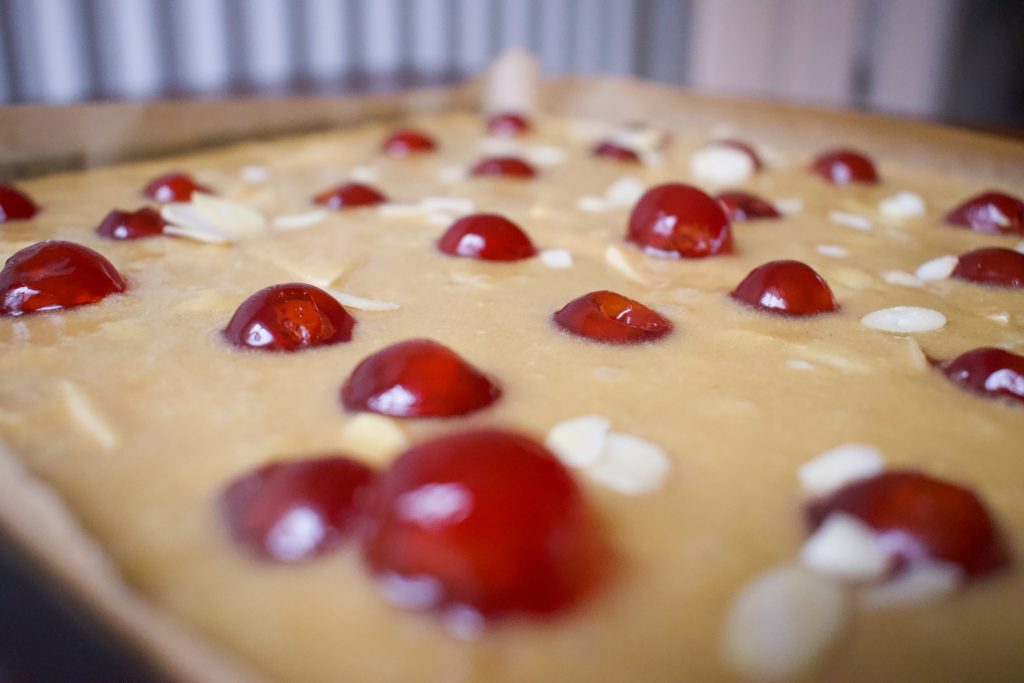 How to get the bakewell blondies flavour
So what makes a cherry bakewell tart a cherry bakewell tart?
Pastry – replace this element with the blondie
Cherry jam – blob it in
Glazed cherries – use them as a mix in
Almond flavour – ground and flaked almonds
Icing – decorate the top with royal icing
How to get the almond flavour
I used a blondie recipe as the base and replaced part of the dry ingredient with ground almond. I used flaked almonds in the batter and on top. I also used almond extract rather than vanilla. I also used light brown sugar majority to enhance the nutty flavour.
Bakewell Blondies Tips
Melting the sugar with butter
These bakewell blondies are so fudgey and soft. The fudginess does depend on the point you take them out of the oven. However I find the method of melting sugar with butter at the beginning of the process helps to make it a smoother, fudgier cake rather than sandy or sticky.
I have found in the past that because I like to take my blondies out of the oven on the quicker end of the cooking time for a fudgier blondie, sometimes the sugar hasn't dissolved properly. But using this method of melting the sugar first we can ensure it is cooked and incorporated properly.
Ensure the butter and sugar has cooled right down before adding in the eggs as we don't want scrambled egg blondies 🙂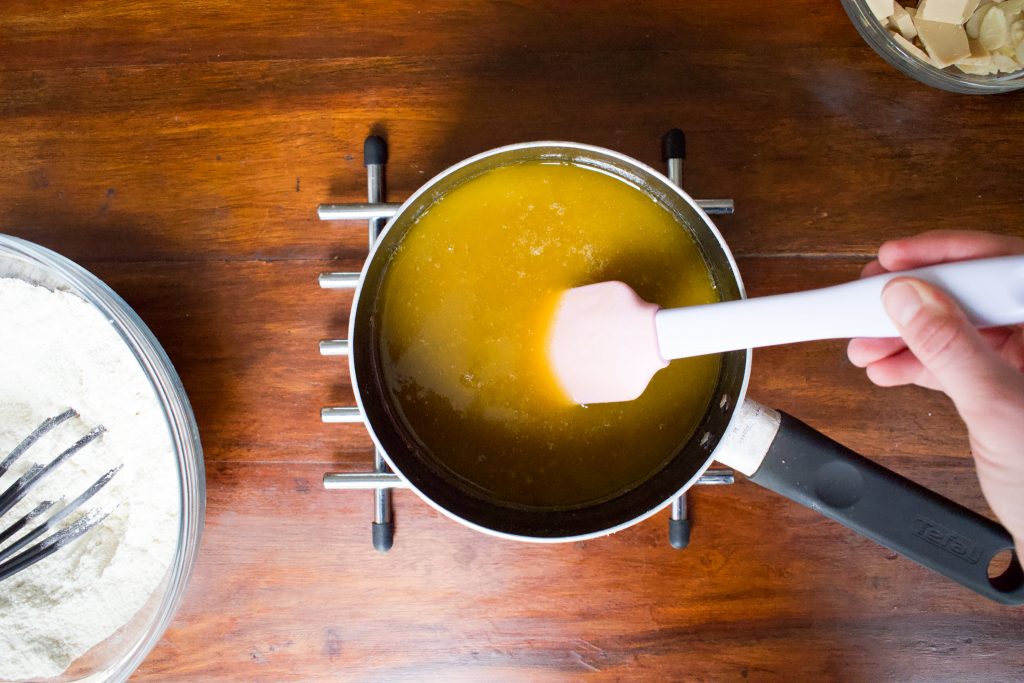 Whipping the eggs
Whenever I make brownies or blondies I will whip the eggs until they are 3 times the volume, why? Because this incorporates a lot of air into the batter, making the batter smooth, luxurious and airy. I find if I don't whip the eggs it makes the blondies a bit pasty and dense. Whipping the eggs makes the blondies more soft, creamy and they rise a hell of a lot more.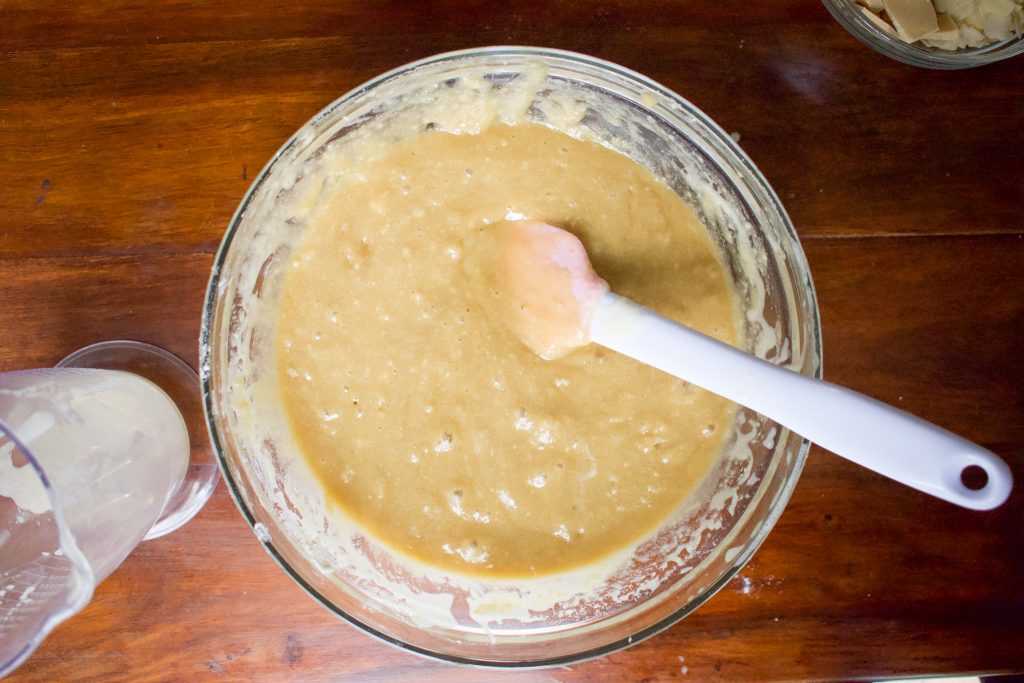 This recipe is a large batch – great for parties.
Ready for a serious treat?
Prep Time: 20 minutes Cook Time: 25 minutes Total Time: 45 minutes Makes: 30 Difficulty: Easy
Equipment
30 X 20 X 3 cm baking tray lined with baking paper
Electric whisk
Ingredients
225g unsalted butter
200g light brown sugar
100g caster sugar
200g plain flour
75g ground almonds
1 tsp baking powder
½ tsp fine sea salt
3 large eggs, beaten
1 1/2 tsp almond extract, optional
150g white chocolate, chopped
300g glazed cherries
1 tbsp cherry jam
75g flaked almonds
For the icing
1 cup icing sugar, sifted
1/4 egg white
2 tsp water
Method
Heat the oven to 180°C/160°C fan/350°C/Gas 4.
Gently melt the butter, light brown sugar and caster sugar in a small saucepan. Leave to cool to room temperature. Meanwhile, combine the flour, ground almonds, baking powder and salt into a large bowl and stir to distribute everything evenly.
Add the 3 eggs and vanilla to a separate bowl and whisk until white, fluffy and tripled in volume. Once the butter and sugar is cooled, gently fold in the eggs and vanilla. Be sure not to knock out the air we have incorporated.
Next gently fold in the flour mixture until combined and then white chocolate and flaked almonds. Pour into the prepared baking tray and level out. Scatter the glazed cherries over the mixture. Bake in the centre of the oven for 22 – 25 minutes. Turning the baking tray around for the last 10 minutes for an even bake. 22 minutes for fudgey, 25 minutes for cakey.
Once out of the oven, leave to cool for a few minutes then transfer to a cooling rack. Meanwhile make the royal icing by combining all of the ingredients in a small bowl and whisking with a fork. You may need to add a few more drops of water. Blob the cherry jam top and drizzle over the icing onto the cooled blondie with a spoon or piping bag. Cut the blondie into 30 squares 5cm X 5cm.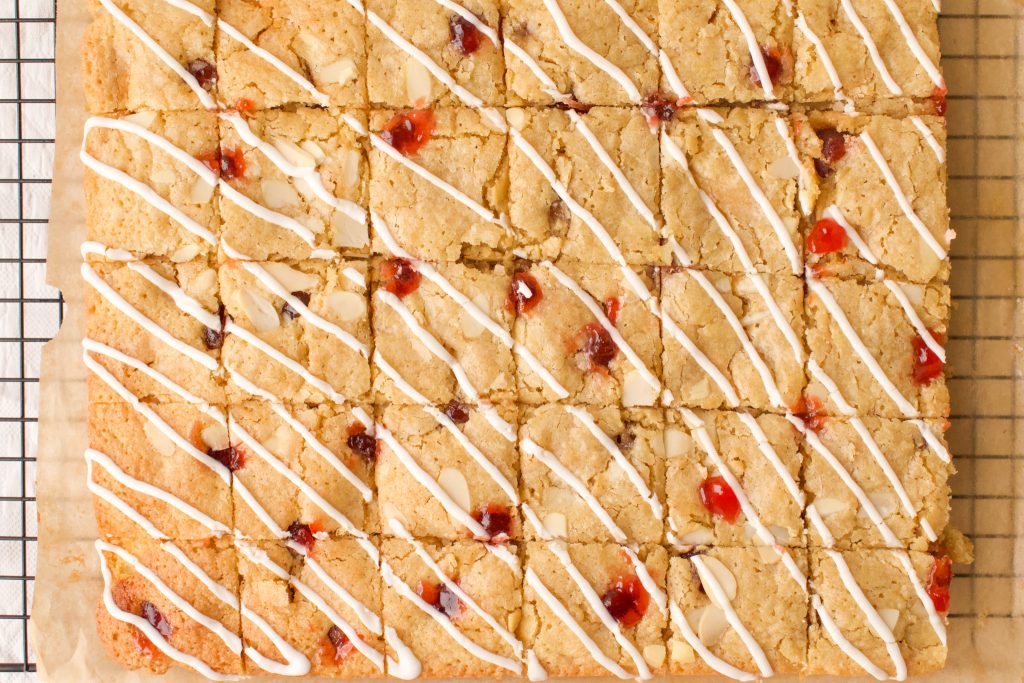 Love white chocolate? Try this giant white chocolate cookie.