Oat, Raisin & Dark Chocolate Cookies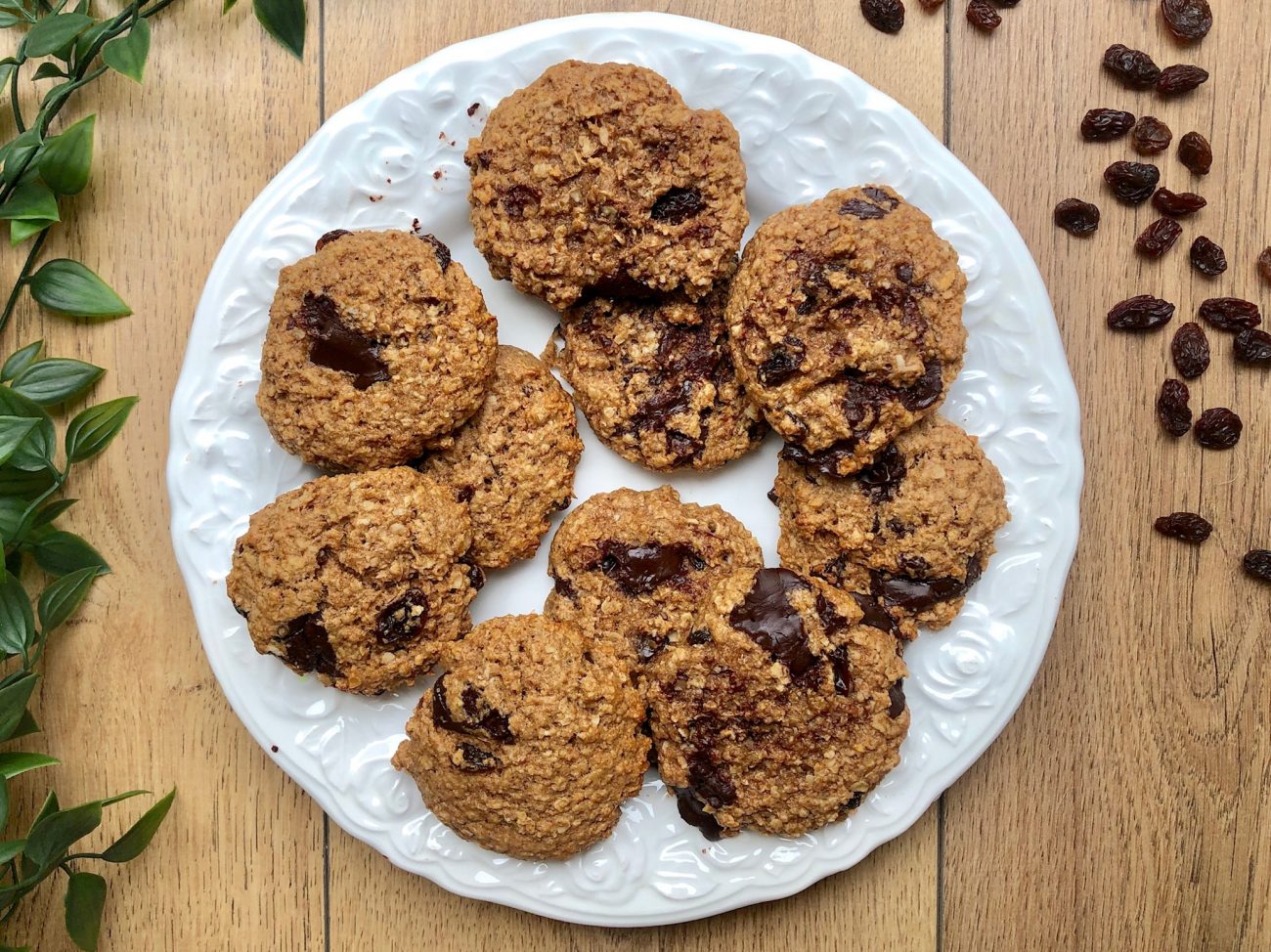 Okay there were too many adjectives to describe these cookie. I had to ditch the chewy and the healthier from the title so I'll just inform you about those aspects right away because they are very important ones. These cookies do not taste healthy, even my sugar fiend of a boyfriend likes them.
The more I bake without butter and sugar the more I see less of a need for them. I used my usual replacements – coconut oil and honey however less honey this time and used coconut sugar too. I found coconut sugar in a health food shop a couple of months ago. I got really excited about it but have only used it in my cups of tea so far. Ive been waiting for the perfect baking moment and this was it.
Coconut sugar reminds me of light brown sugar it has that caramel, toffee scent and taste to it. I thought it would go really well with the cinnamon. You can of course substitute the coconut sugar for brown sugar however it will be less healthy. Coconut sugar is totally unrefined where as brown sugar is refined white sugar with the molasses added back into it.
The coconut sugar provides plenty of sweetness, but I added a small amount of honey just to make the dough form better.
I've been thinking about making oat and raisin cookies for a while, I adore their chewiness and deep flavour and just to deepen the taste on another level I added some 85% dark chocolate into the cookies which added a lovely melty chocolatiness – is that a word? The dark chocolate could of overpowered the cinnamon if too much was added so be sure to not over do it.
I just love how decadent these cookies are without the unhealthiness. I don't think I will be making oat and raisin with butter and sugar ever again! You should totally try them out, and here is how…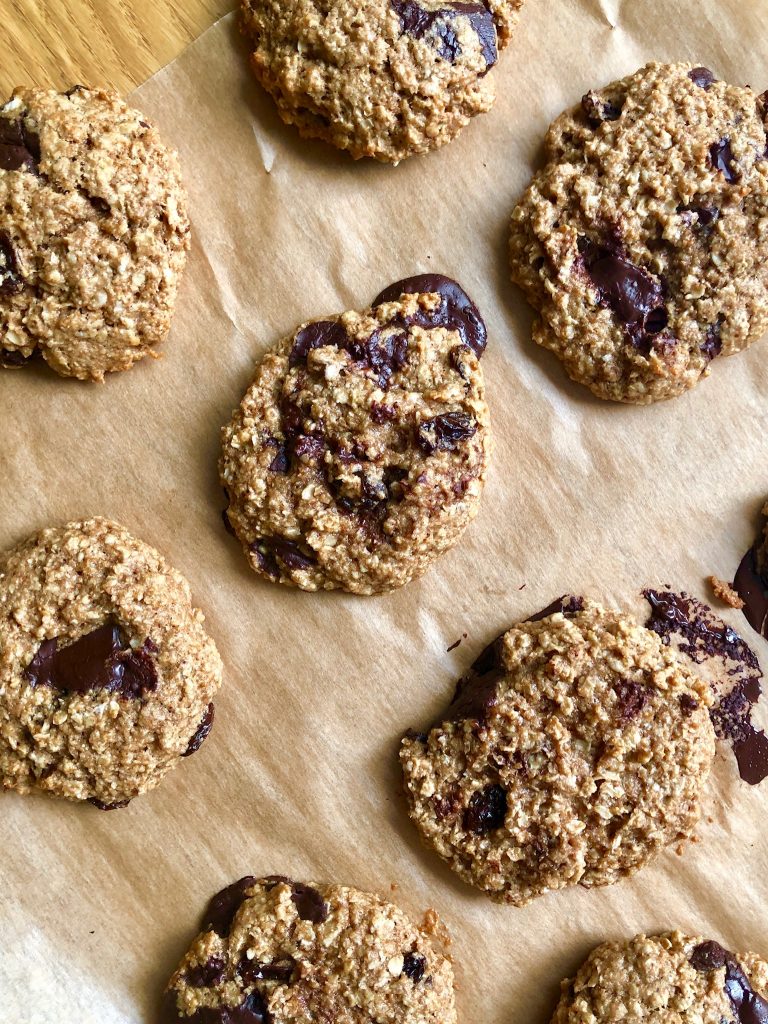 Prep Time: 15 minutes Cook Time: 10 – 14 minutes Total Time: 30 minutes Yield: 8 – 12
Ingredients
1 cup (100g) oats
3/4 cup 90g whole wheat flour
1 1/2 tsp ground cinnamon
1 1/2 tsp baking powder
1 1/2 tsp vanilla extract
1 medium egg
2 tablespoons honey
1/2 cup (110g) coconut sugar (or brown sugar)
2 tablespoons (30g) raw extra virgin coconut oil, melted
1/4 cup (60ml) almond milk
1/2 cup raisins
1/4 cup dark chocolate broken up
Preheat your oven to 160°C/325°F. Line 2 baking sheets with grease proof paper.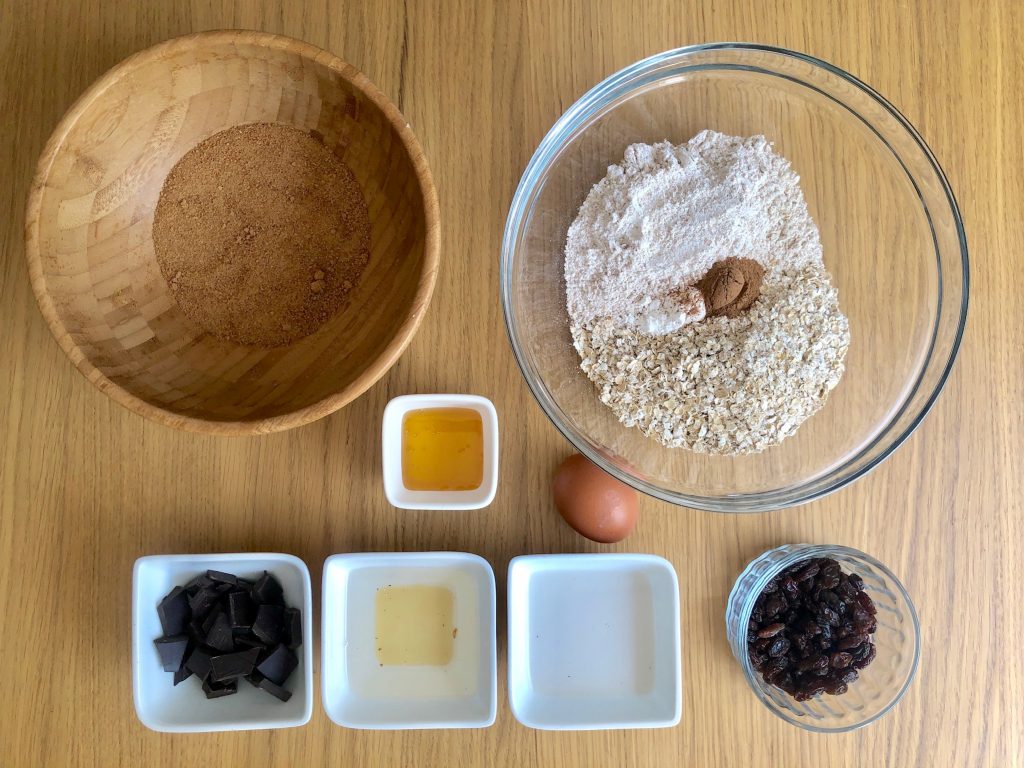 In a large bowl add the oats, flour, cinnamon and baking powder. Mix with a hand held whisk (not electric) or just a spoon or fork. Add in the coconut sugar and mix again until everything is evenly distributed.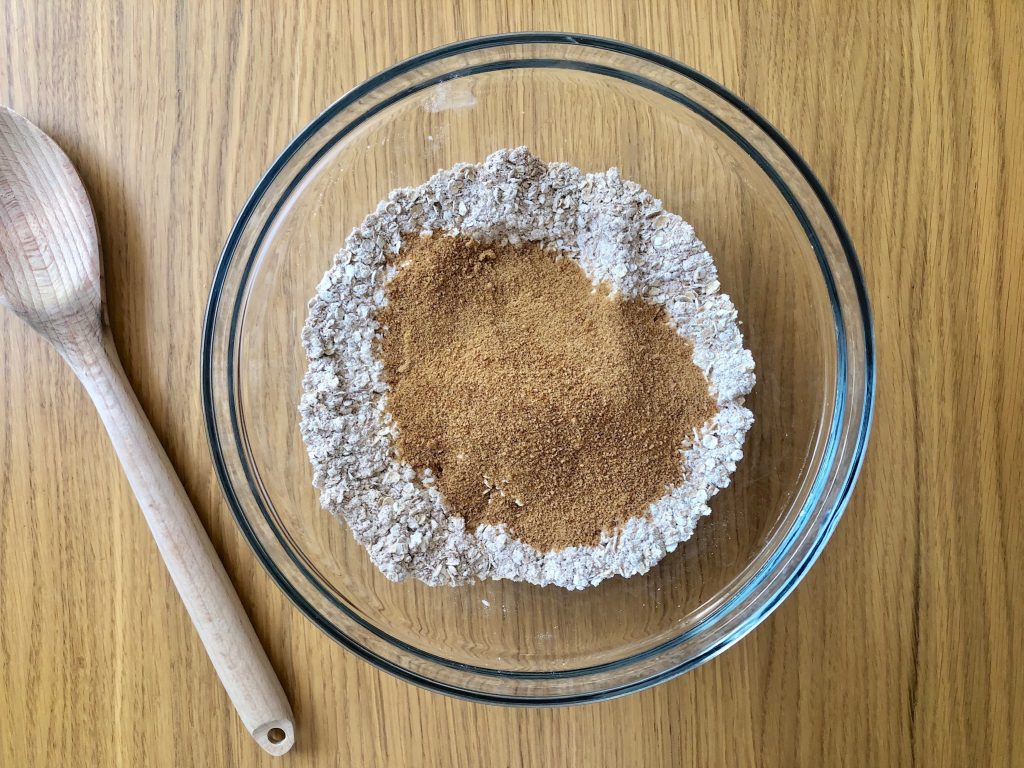 Add in the coconut oil, vanilla, egg and milk. Mix again.
It will start to get sticky and doughy now. Next add in the raisins and dark chocolate. Mix until evenly distributed.
Form into golf ball sized balls and put onto your baking sheets. I got 12 balls from this mix and put 6 each onto 2 baking sheets.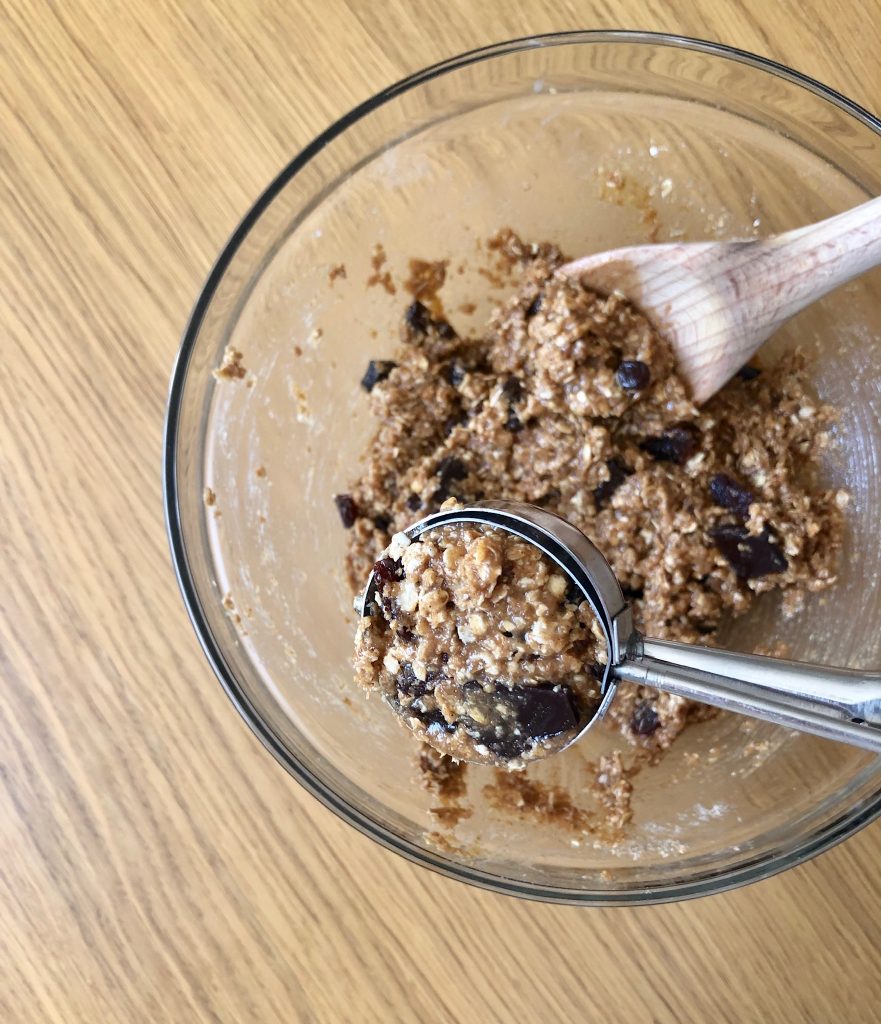 Make sure they have enough space around them to melt out.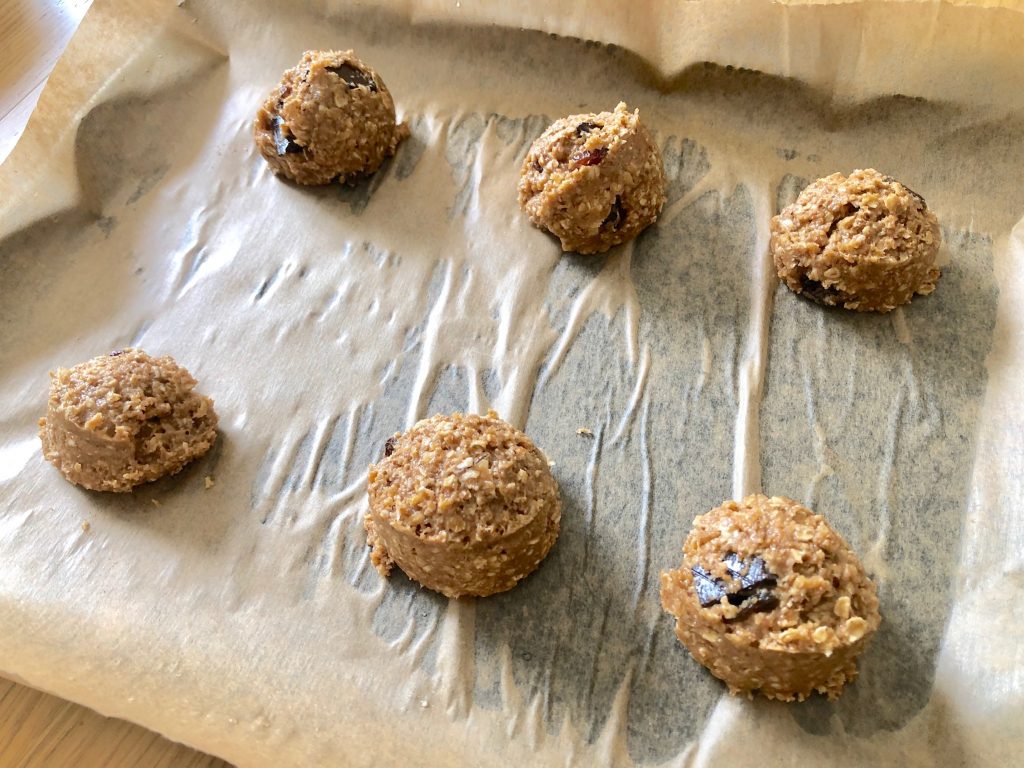 Put them into your preheated oven for 10 – 14 minutes. I cooked them for 14 minutes. Once ever so slightly golden, take them out and leave them to cool on the tray. Now these cookies are AMAZING when they are still warm. Seriously comforting food. My favourite cookie recipe. Enjoy 😉