Nutella Cinnamon Rolls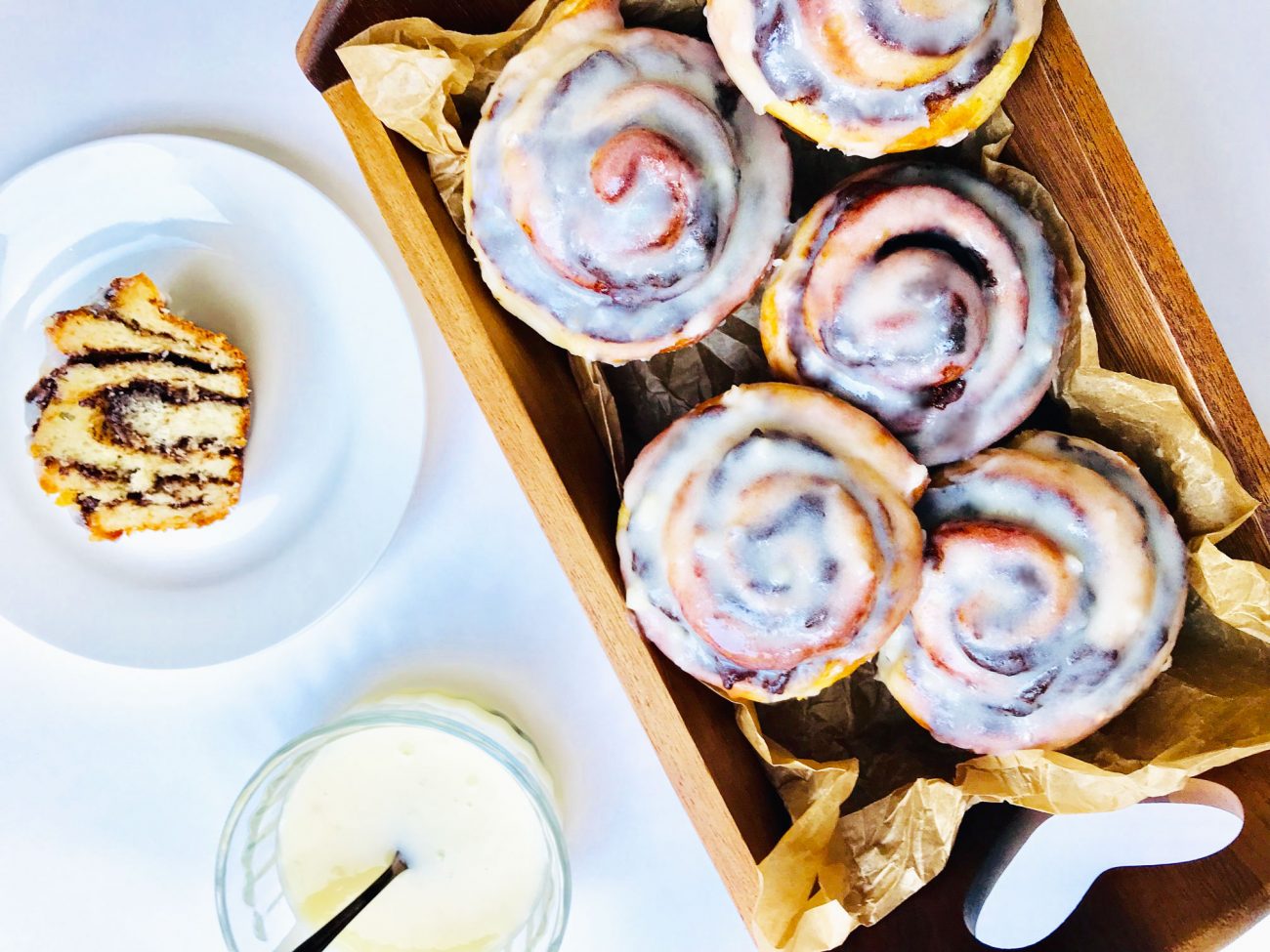 If a recipe has the word Nutella in it you already know it's going to taste amaaaaazing. Nutella everything is amazing, but to contrast its intense buttery texture with a light and doughy exterior is just perfection to me.
I recently posted a cinnamon rolls recipe already but they were a healthy version and today is not a day I am counting my calories for sure. I have a cold coming on and I want some comfort. I need the real thing.
I have again been craving that cinnamon bakery flavour and paired with this amazingly tasty spongey dough, it definitely hit the spot. The addition of chocolate really makes these buns special, it is another level of flavour. We also get to make the filling step super easy by just whacking on that Nutella straight from the jar and sprinkling over some cinnamon.
I considered doing a no yeast version of these because I wanted my cinnamon fix pretty quickly but I am glad I persevered for the beautiful enriched dough it turned out to be. So we will need around 3 hours to make these buns. If you don't have that much time right now you can always mix together the dough and leave it to rise at room temperature for 1 hour then leave it in the fridge for up to 48 hours. A cold atmosphere will slow down the yeast activity but not stop completely.
Prep Time: 3 hours Cook Time: 20 minutes Total Time: 3 hours 20 minutes Yield: 12 rolls Difficulty: Moderate
Ingredients
240g (1 cup) milk
1x 7g sachet dried instant yeast
2 eggs
68g (3/4 cup) granulated sugar
115g (1/2 cup) butter, melted
262g (1 3/4 cups) all-purpose flour
262g (1 3/4 cups) strong bread flour
1x 250g jar Nutella
1 1/2 tablespoon ground cinnamon
Cream Cheese Glaze
100g cream cheese, room temperature
2 tablespoons milk
1 teaspoon vanilla extract
1 teaspoon salt
1 cup confectioners' sugar
Instructions
So before we start make sure your milk, eggs and melted butter is warm, almost room temperature. It should not be too hot otherwise it will kill the yeast or too cold where the yeast wont do its thing.
Mix together your sugar, melted butter, milk and eggs. Whisk it all together.
Sprinkle the yeast on top and stir it into the mixture
Leave for a few minutes until you see some throff or bubbles starting to form.
Once you see the yeast is activated mix in both of your flours until everything is combined.
Form a ball with your dough and place in a lightly oiled bowl to prevent sticking.
Cover with cling film and leave to rise for 2 hours.
This is what the dough should look like. You can see it has some air holes and it is light and spongey.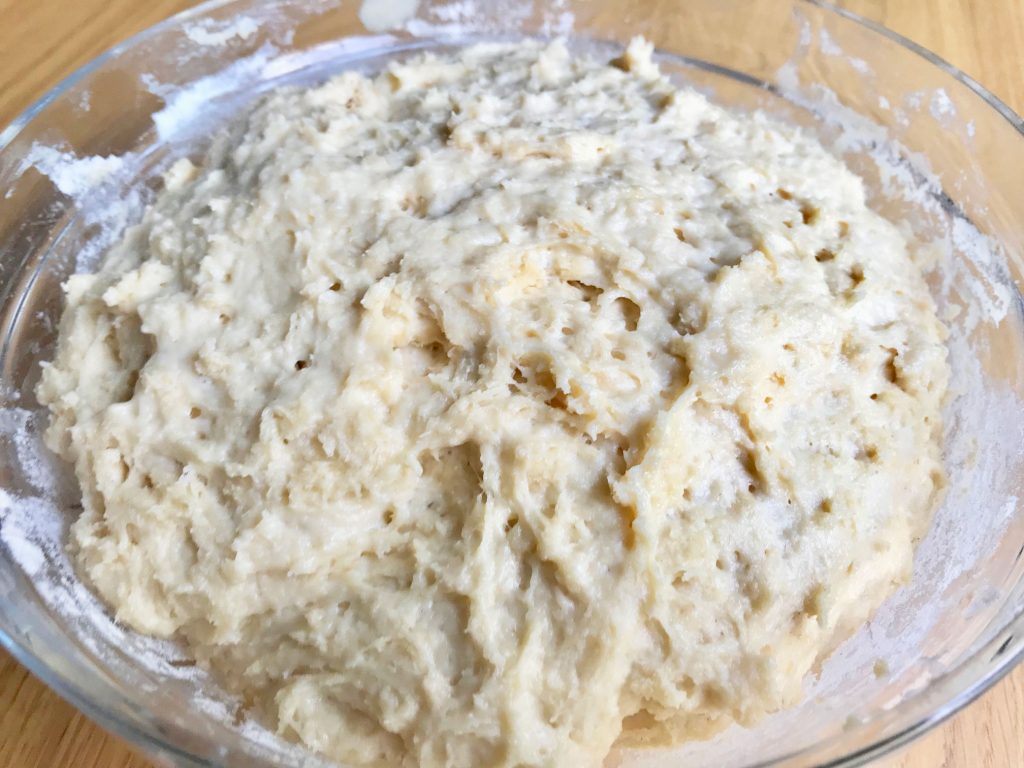 Flour a clean surface and roll out the dough with a rolling pin into a large rectangle approximately 12inches in length. If the dough is too sticky use a little more flour.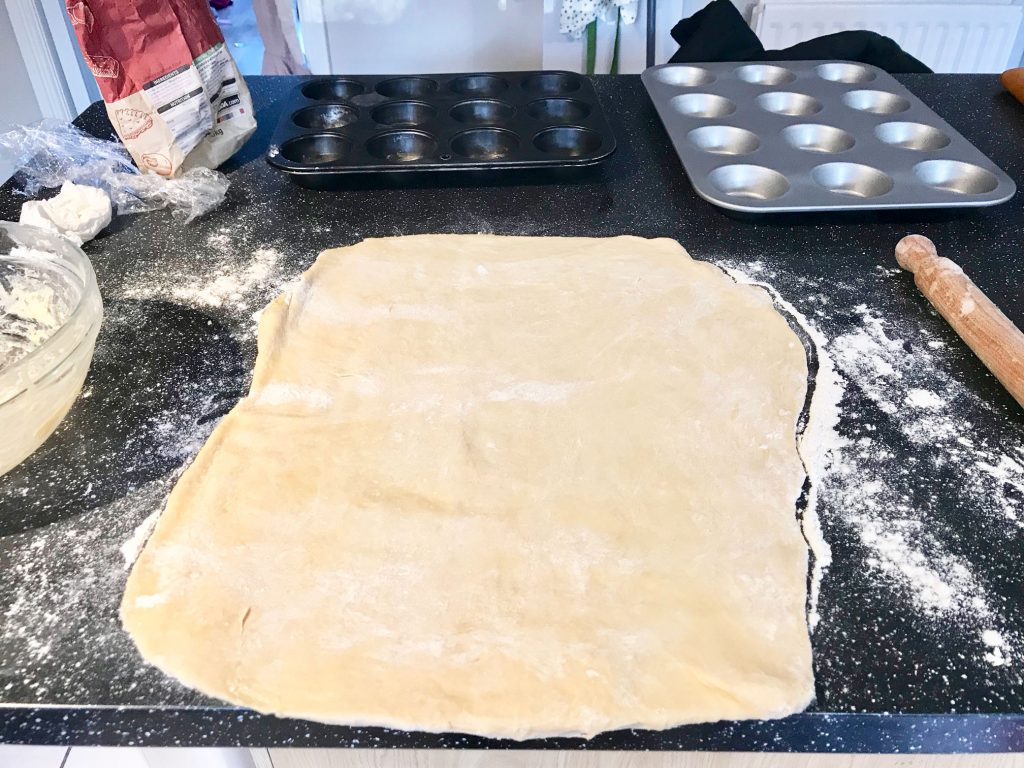 Spread on about 3/4 of a 250g jar of Nutella. Leave about a 3cm gap from the edge.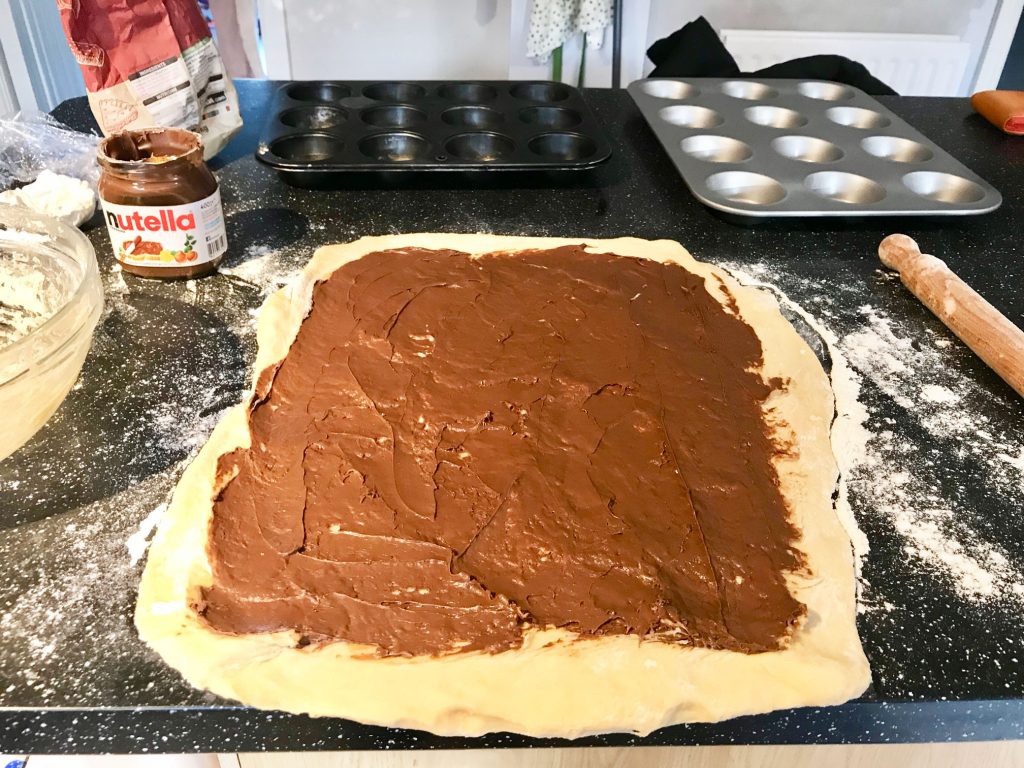 Use a pizza cutter to slice off approximately 1 inch strips. You can slice off the excess dough from the top and bottom of the rectangle to ensure every rolls has a nice serving of Nutella. Roll the slice of dough up and put into a muffin tray. Repeat until you have 12 doughy rolls in your muffin tray.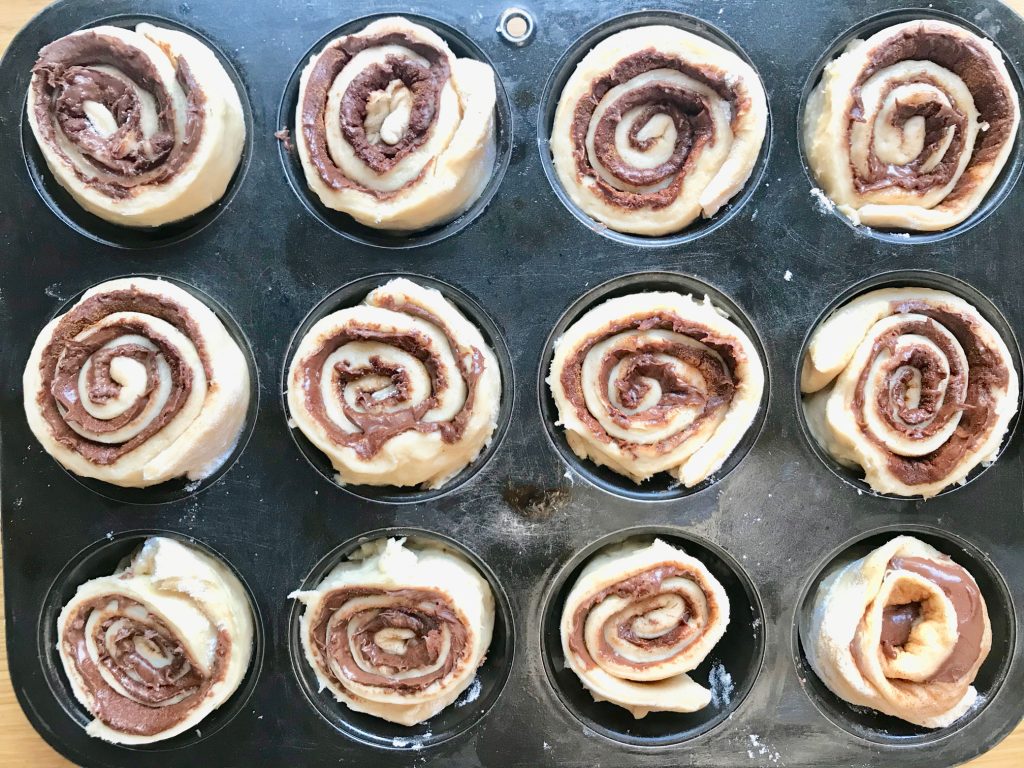 Now we will need to leave the dough rolls to rise again for 45 minutes. Cover the tray with a tea towel and leave at room temperature. Preheat your oven to 175°C/350°F.
After 45 minutes they should now of puffed out and really fill each hole.
Melt a tablespoon of butter in the microwave or on the hob. Use a pastry brush or drizzle with a spoon over the top of each dough roll.
Pop them in the oven for 15 – 20 minutes.
While they cook we can make the cream cheese glaze. Whisk together the cream cheese with the milk and vanilla until combined. Next sift in the icing sugar. Whisk until combined.
Once your rolls are out of the oven feel free to glaze them right away and enjoy them warm. Oh my lordy they are so good warm and they smell AMAZING.
You can store these for 2 days at room temperature or 5 days in the fridge, but i'm sure they will be gone soon enough 😉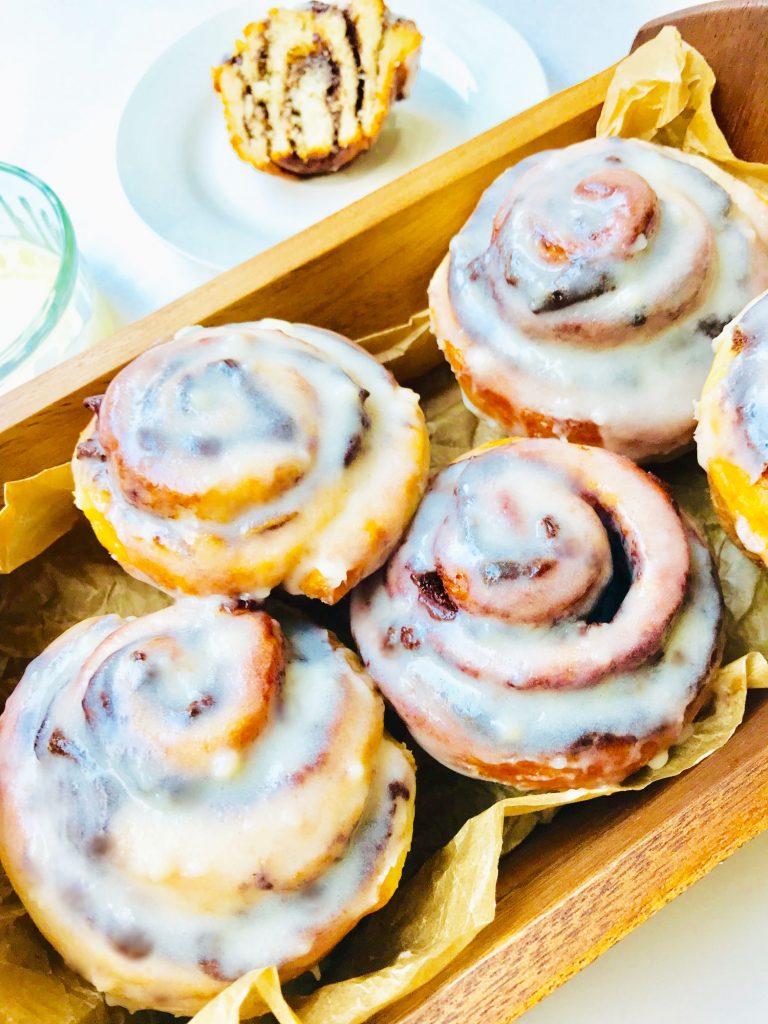 This dough was inspired by Bigger Bolder Baking Sticky Bun Recipe