Healthy Protein Chocolate Cake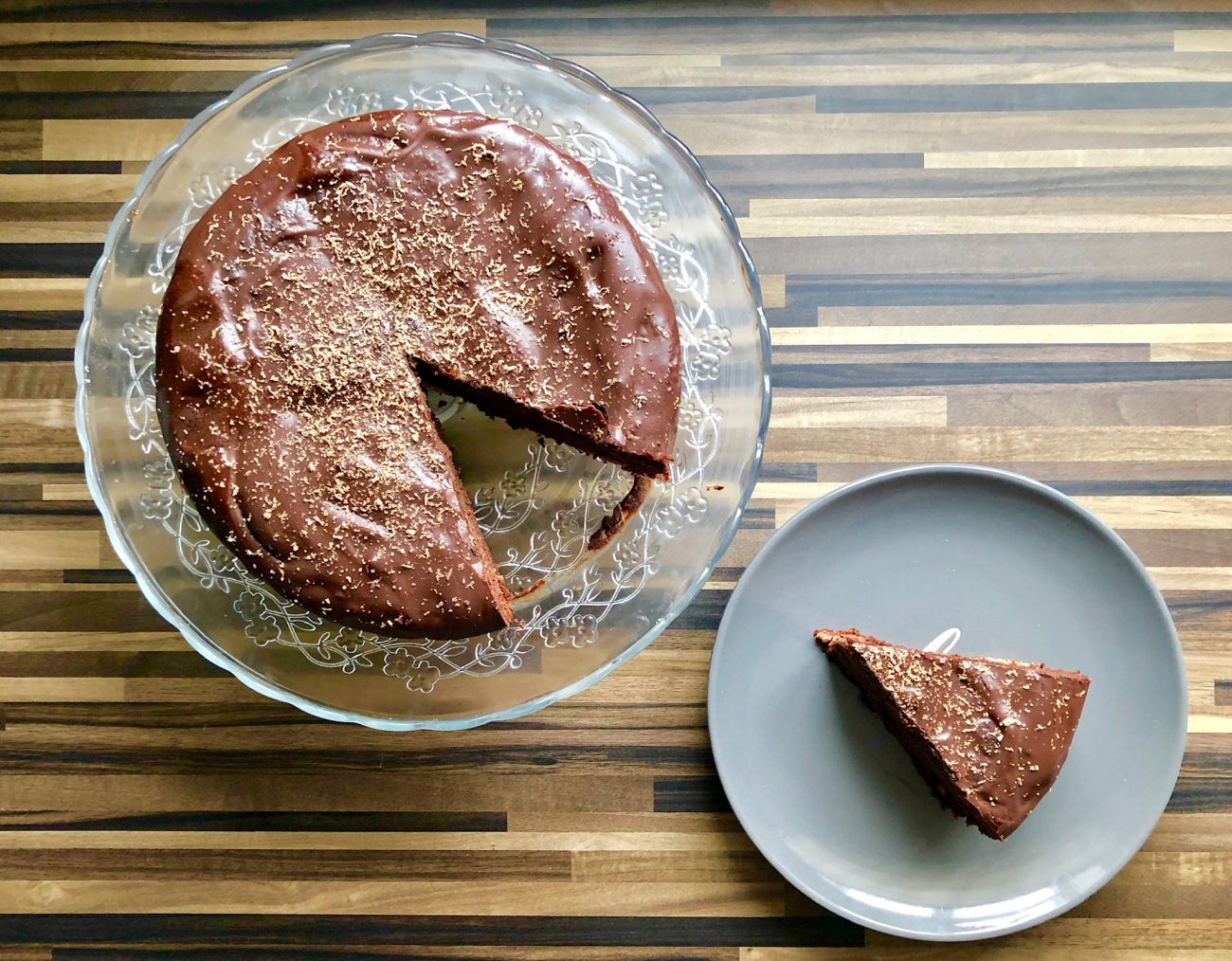 I promised my gym crazy little brother I would make this cake for his birthday. Unfortunately I've been away around his birthday so its a little late but better than never hey.
I can only assume he takes after me with his health conscious eating. So this cake had to be on the healthier side. I'm actually really surprised at how absolutely delicious this cake turned out – thats why I'm posting about it. It was moist. It was decadent.
I used wholewheat flour, extra virgin olive oil instead of butter and honey instead of sugar. The chocolate ganache was made with dark chocolate, coconut oil and almond milk. All relatively nutrient friendly ingredients. I added peanut butter for depth of flavour, I LOVE peanut butter and chocolate together – who doesn't? Well people with nut allergies maybe… Then with 6 eggs and 20g of protein powder I think it will give him the protein kick he's after. It was a little time consuming but its a birthday cake and it was damn worth it!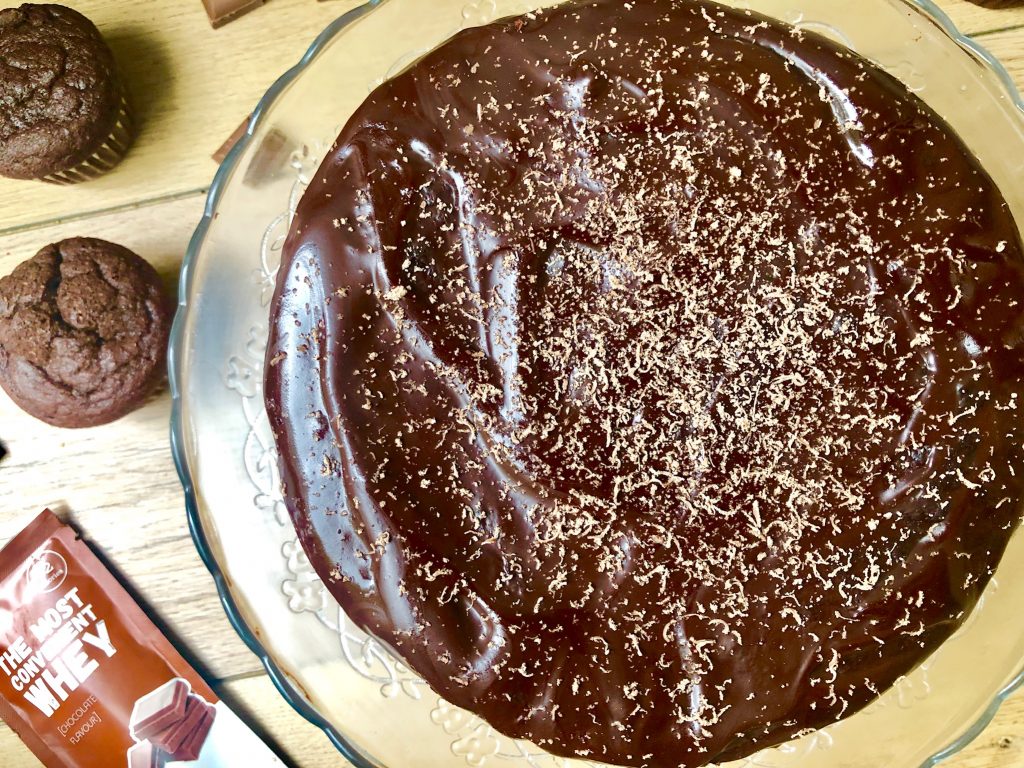 Prep Time: 1 hour Cook Time: 1 hour Total Time: 2 hours Yield: 8 – 12
Ingredients
For the cake
64g (1/2 cup) wholewheat flour
50g (1/2 cup) unsweetened cocoa powder
20g chocolate protein powder
2 1/2 tsp baking powder
1/2 tsp salt
6 medium eggs
170g (1/2 cup) raw honey
125ml extra virgin olive oil
125ml canned coconut milk
2 teaspoons vanilla extract
3 heaped tbsp natural peanut butter
For the ganache
170g (1 cup) 70% dark chocolate
56g (1/4 cup) raw coconut oil
60ml (1/4 cup) unsweetened almond milk
1 tsp vanilla extract
pinch on salt
The Cake
Preheat your oven to 160°C/325°F (fan assisted oven).
Line a 8 inch baking tin with greaseproof paper. Stick it to the bottom and all around the side with a little butter or oil. This is going to be a very deep cake so we don't want any sticking in the cooking process. I only used one tin and cut the cake in half as this seems to be working for me lately.
In a large bowl sieve together the flour, cocoa, protein powder, baking powder and salt. Whisk in the eggs, honey, olive oil, coconut milk, vanilla and peanut butter.
Try to mix the peanut butter in the best you can but don't worry if there are still chunks of it. Chunks of peanut butter in your cake? Yes please. During the cooking process the peanut butter will likely sink to the base of the cake.
It should be a runny batter. Poor the lot into your baking tin and put it in the middle of the oven. Bake for an hour but check at 45 minutes. If the cake wobbles, it is definitely not done. Insert a skewer or knife into the middle, if it comes out clean it is done. Be very careful not to over cook this cake as we want to reserve the beautiful moisture as much as possible.
Leave the cake to cool in the tin for a while. Once cooled for a bit pop it out and take all of the paper off. It should be quite thick. I actually left it in the fridge over night for better precision when cutting. In the morning I got the cake out of the fridge and used a large sharp knife to slice in half to create a sandwich. Next we make the ganache.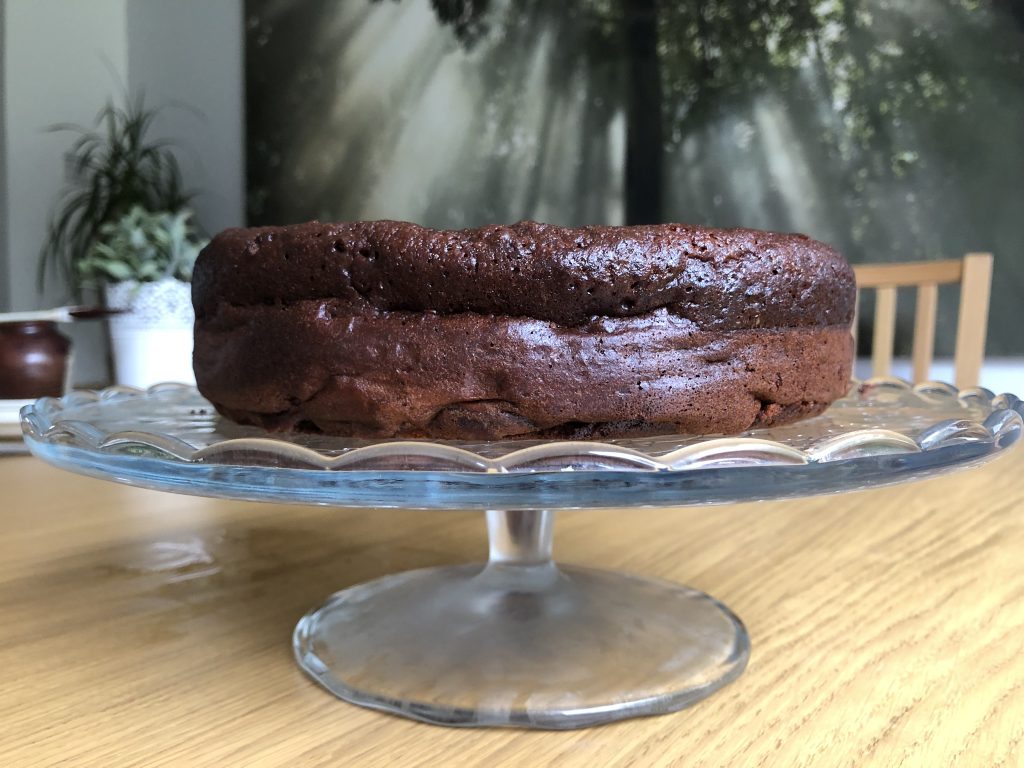 The Ganache
Measure out your ingredients. Fill a medium boiling pan with 2 inches of water. Bring to the boil and then down to a simmer. Place a heat proof (I used glass) bowl over the top. Make sure the water doesn't touch the bottom. Put your dark chocolate into the bowl and gently melt by stirring. Add in your coconut oil and keep stirring. Lastly add your milk, vanilla and salt. It should be beaaaautifully silken. Once combined. Take the bowl off the heat and allow to cool but not fully.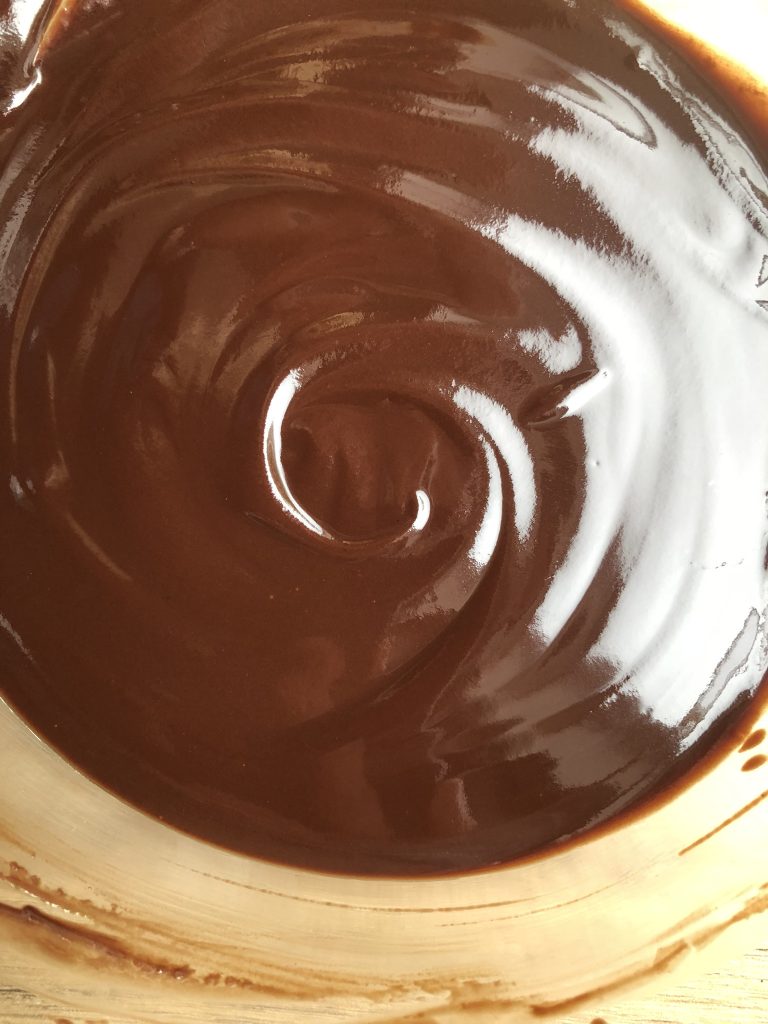 Take one of the cake halves and place onto a cake stand. Poor or spoon over some of the chocolate ganache, spread it to the edges. Dont even worry if it spills over. I was quite messy with this. Messy, dripping, melted chocolate is beautiful.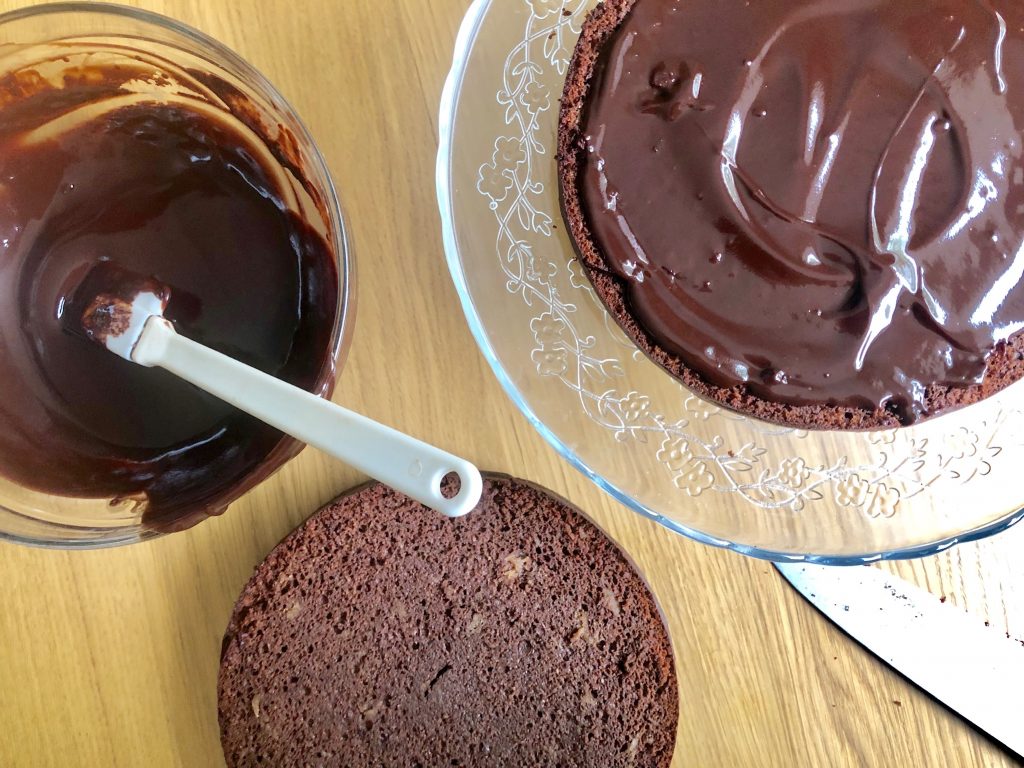 Place your other half of cake on top and pour over more ganache.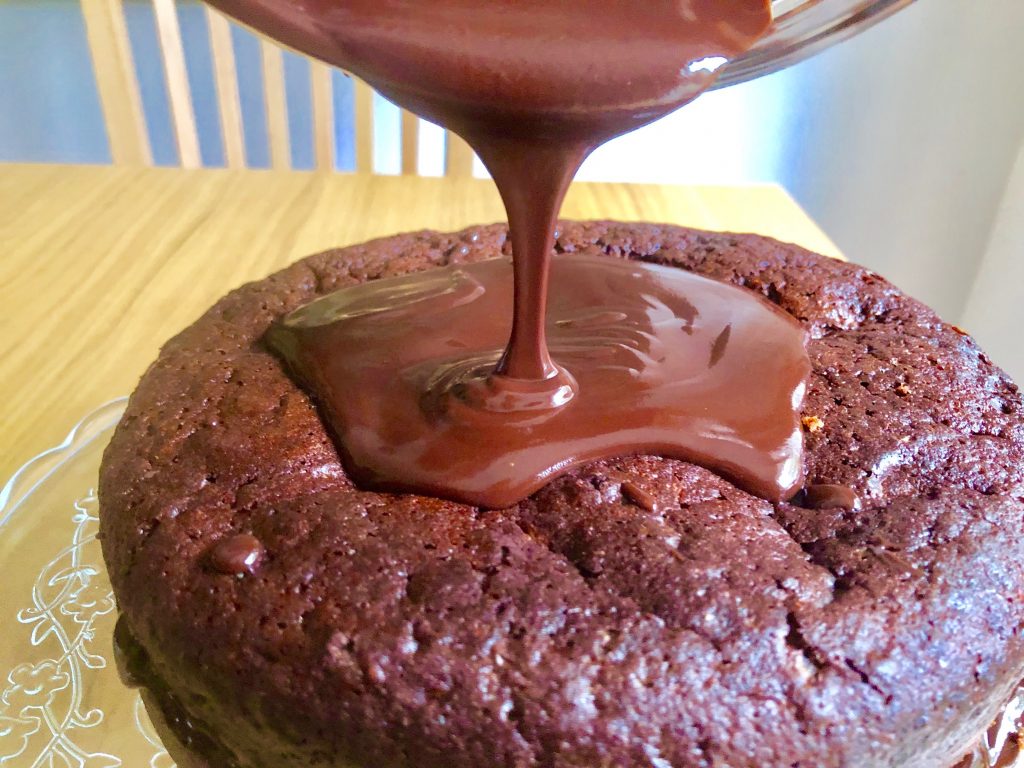 Spread over the top and around the edges. Grate over some milk chocolate for decoration. It's a thing of beauty. For your eyes and your taste buds. Happy Birthday Ben!