5 Superfood Breakfast Recipes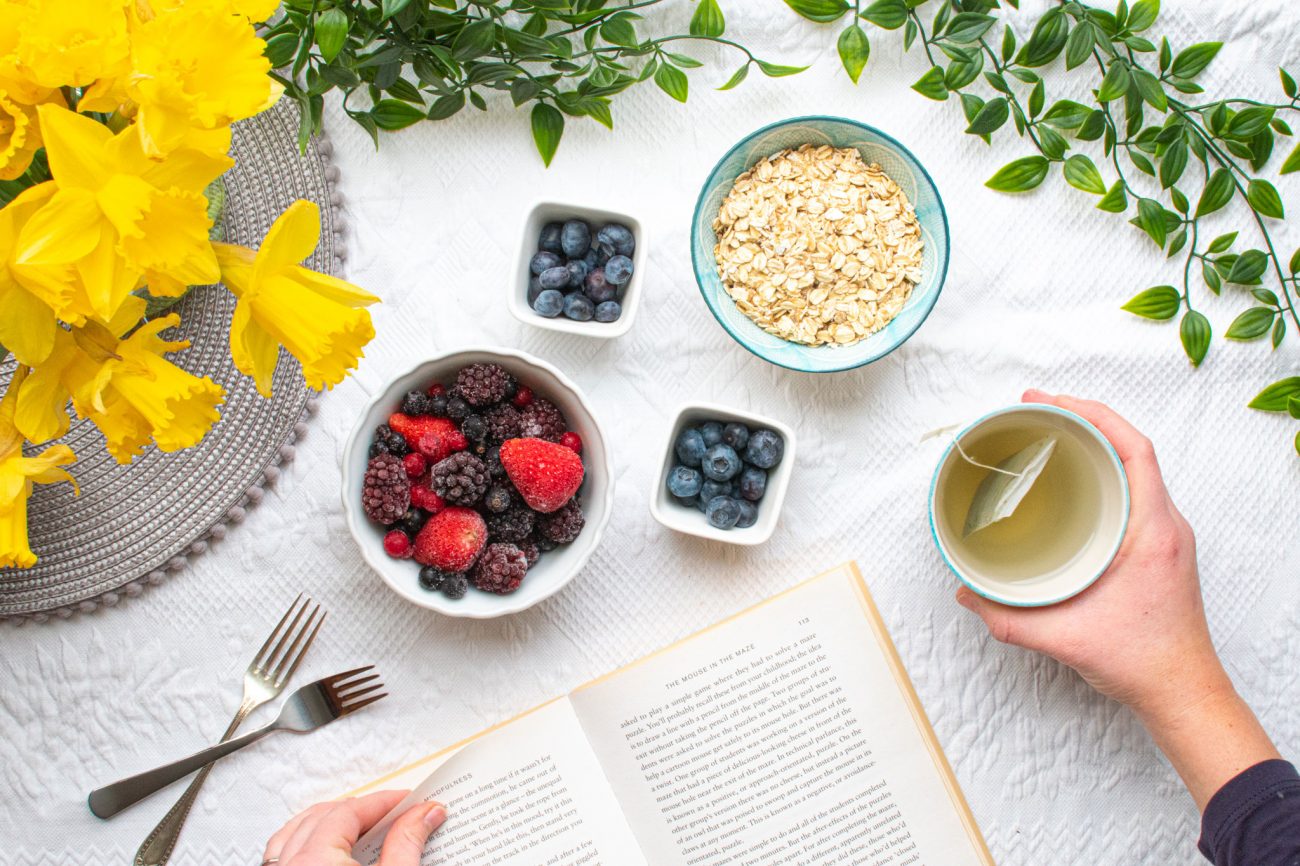 Set out to eat healthy today? Well it starts with breakfast. Here are 5 superfood breakfast recipes to start your day in the best possible way. These breakfasts make you feel fuelled and energised rather than sluggish first thing in the morning.
All of these breakfast recipes include at least 3 superfoods. It is great to get those superfoods in at the start of the day to ensure good digestion, make sure your brain function is on point and having peace of mind that you have already had some of your nutritional 5 a day.
1. Beets & Berries with Homemade Granola
Superfoods used: Kale, Beetroot, Berries, Nuts & Seeds
Boosts: Brain function & anti inflammatory
Smoothies are a quick and easy way to get a huge nutrition boost. Use your favourite fruits with undetectable superfoods like spinach and kale. Add in some healthy fats such as chia seeds, nut butter or coconut. You can also add in extra superfood boosters such as maca powder or flax seed. Use a sugar free, diary free milk or coconut water to keep it healthy and lean.
Smoothies alone I feel aren't quite enough to satisfy me at breakfast time so I love to top it with healthy homemade granola made with oats, nuts and seeds. Adding even more superfoods and making us feel fuller for longer, because of the oats and the healthy fats from the nuts and seeds.
It is really good to add veggies into your smoothies as they are low in sugar and calories yet packed with amazing nutrients. The flavour of beetroot goes undetected in this smoothie when mixed with the berries and nut butter. There are so many benefits of eating beetroot such as helping with circulation, brain function, anemia and reducing blood pressure. Beets really are a wonderful superfood. Not to mention the beautiful colour.
Recipe:
For the smoothie
Handful of kale
1/2 banana
1 beetroot chopped, frozen
1/2 cup frozen mixed berries (strawberries, cranberries, blackberries, raspberries)
1 tbsp peanut butter
1 cup unsweetened almond milk
For the granola
Oats
Skin on almonds
Skin on hazelnuts
Pumpkin seeds
Sunflower seeds
1 tbsp honey
1 tbsp coconut oil
Mix all of the granola ingredients together and bake on a baking tray for 15 minutes at 175°C for fan. Once cooled sprinkle over your smoothie.
Check out my step by step guide for homemade granola here.
Here are 5 other delicious nutritious smoothie recipes for the base of your smoothie bowl.
2. Pepper & Onion Omelette with Spinach
Superfoods use: Spinach, eggs, red pepper
Boosts: Hair & Skin
When I was pregnant I found that spinach was an amazing source of iron and folate, which pregnant women need a lot of, so I used to have this for my breakfast most days. If I want to boost my nutrition, this is a breakfast go to.
After eating this breakfast on a regular basis, hair and skin are noticeably glowing and healthy. Spinach and red peppers are loaded with vitamins A and C, all of which help hair growth. Vitamin A helps the skin glands produce sebum. This oily substance helps moisturise the scalp to keep hair healthy.
Recipe
1/2 medium onion chopped
1/4 red pepper chopped
3 medium eggs
2 handfuls spinach
Fry the onion and pepper for 5 minutes until soft.
Whisk the 3 eggs with salt and pepper and pour over the veggies. When nearly cooked flip to finish.
Serve with raw spinach
3. Eggs on sourdough with avo
Superfoods used: Avocado, eggs, sourdough
Boosts: Energy & Digestion
I like how the title of this rhymes a little. If the last recipe idea left you lacking in carbs and satisfaction you can fill yourself up more with this wholesome superfood breakfast. I wouldn't eat this every day but it is perfect the days following an intense workout when your body is eating up so much energy and you need to feed it!
Avocado – avocados are one of the most nutritious foods you can eat. They are one fo the richest fruits in folate, fibre, potassium, and vitamin E. Avocados are full of healthy fats that boost your heart, eyes and skin. They keep you full and satisfied in a healthy way.
Eggs – eggs are a great source of protein, making you feel fuller for longer. They also include folate, calcium, zinc, vitamin A, D, E K B6, B5, B12 and B2… need I say more?
Sourdough – okay this may not always be considered a superfood but it is some of the healthiest bread out there as this bread is actually good for your gut and easy to digest. Sourdough bread is made with a living wild yeast in which good bacteria lives in. The lactic acid bacteria which contains antioxidants, is grown during the fermentation of the sourdough and remains even after baking the bread in the oven. Check out this beginners guide to making your own sourdough.
Recipe:
Sourdough toast
2 free range eggs, scrambled
1/2 avocado slices
1/2 fresh chilli
A few sprigs of coriander
Salt & pepepr
4. Overnight oats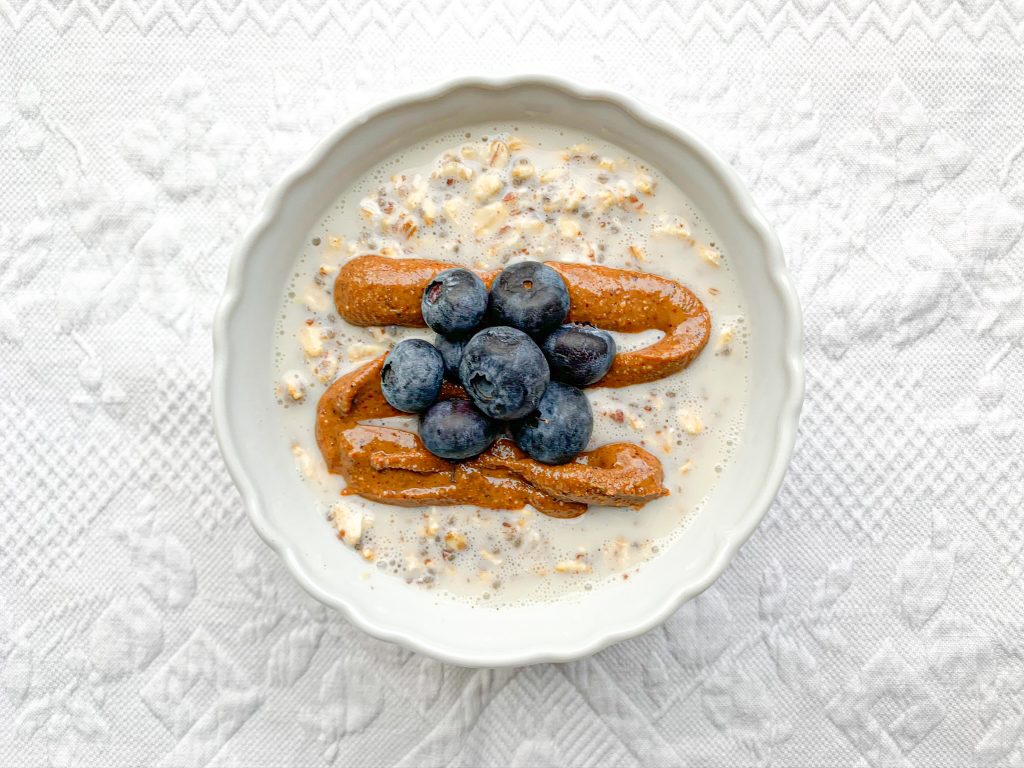 Superfoods used: Blueberries, chia seeds, flaxseeds, almond butter, oats
Boosts: Omega-3 & antioxidants
No breakfast gives me long lasting energy like a bowl of oats. I love this breakfast in the winter when I want something warmer than an ice cold smoothie! It is warm, filling and comforting without the sluggishness.
Overnight oats require hardly anytime to prepare, remember to throw it all in a bowl the night before and you're good to go in the morning. I like to heat it in the morning for a minute to have it warm. As these oats soak overnight you can do the same with the chia seeds and blue berries making them soft.
Recipe
40g oats
1/4 cup blueberries
1 tbsp chia seeds
1 tbsp flaxseed
1 cup unsweetened oat/almond milk
1 tbsp almond butter
drizzle of honey/maple syrup
Place oats, milk & seeds into a bowl the night before, mix and leave it in the fridge covered until the morning.
Heat in the microwave for 90 seconds then top with almond butter, honey and blueberries.
5. Oat, chocolate & nut smoothie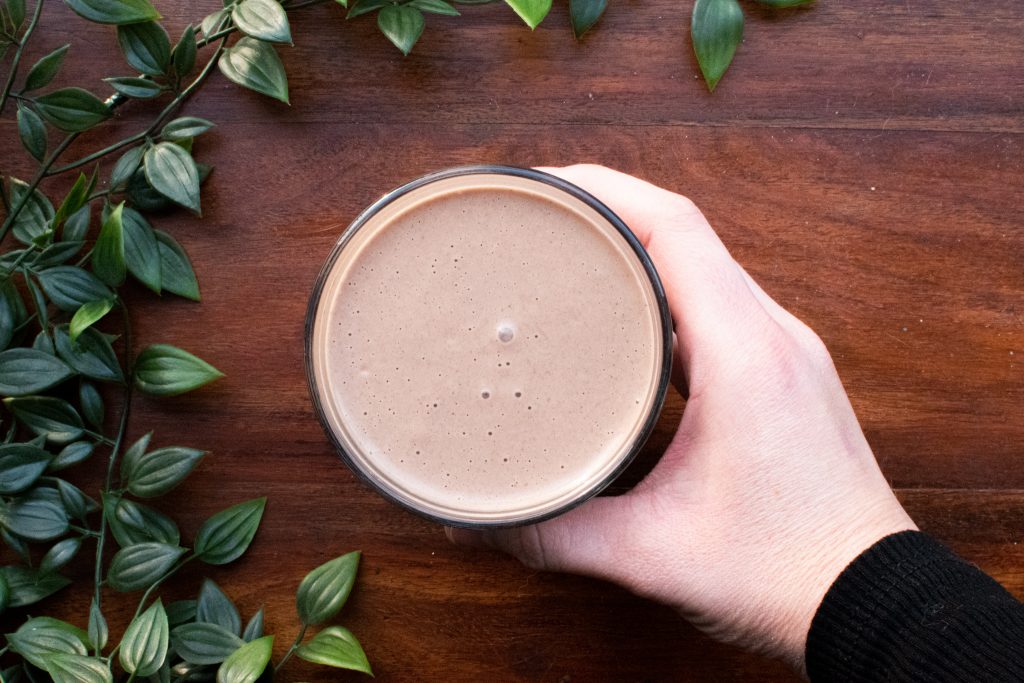 Superfoods used: Cacao powder, nut butter, oats
Boosts: Fibre & Brain function
Potentially the quickest possible superfood breakfast out there is throwing all of your superfoods into a blender and it's done. No prep. No cooking. Adding oats and a delicious nut butter to one of these smoothies makes it a balanced breakfast that wont leave you starving. The dates with the chocolate makes it taste like a chocolate milkshake. Mmmmm.
Cacoa powder – (not to be confused with cocoa) is considered a powerful superfood. Cacao powder is a raw form of product that comes from the cacao bean. Unlike cocoa powder it is not roasted or processed in a way that lessens the nutritional value or at least no where near as much. Cacao is an antioxidant, full of vitamins and minerals and keeps your heart healthy. You can buy cacao powder online or from health food shops. It also comes in different forms such as cacao nibs which are like chocolate chips and also cacao butter.
Recipe:
1/4 cup oats
1/2 banana
1 heaped tbsp peanut butter
1 teaspoon pure cacao powder
4 dates
1 cup unsweetened almond milk
Thanks for reading and I hope this article has given you some healthy food ideas. If you tried them or have any superfood breakfasts of your own, comment them below.